Mexican Rice Paper Rolls (Gluten-Free)
CeliacCorner's Featured Food Blogger for the month of August!

Hi! My name is Megan, and I am the author of The Gut Gazette – a gluten-free lifestyle blog. The Gut Gazette began in 2009 shortly after I was diagnosed with an inflammatory bowel disease called Crohn's disease. I initially created the blog as a coping mechanism to help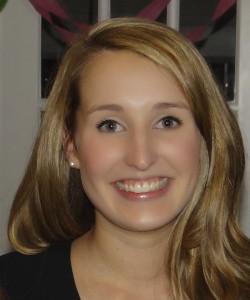 me document my new normal. As time went on, my diet, health and life went through many changes, and it wasn't until a few years ago that I realized taking the gluten free route was what was going to help me manage my symptoms the best.  My passion for food and health has truly helped me embrace the gluten free lifestyle.  Gluten free recipe development, product reviews and helpful tips and advice on digestive health and living a gluten free life with ease are just a few of the things that you will find on The Gut Gazette. I try to create recipes that are family friendly for everyone to enjoy – you do not have to be gluten free to delight in The Gut Gazette!
 I am very excited to be able to share with you one of my favourite gluten free recipes on The Celiac Corner this month. I hope you all enjoy it and I invite you to visit The Gut Gazette!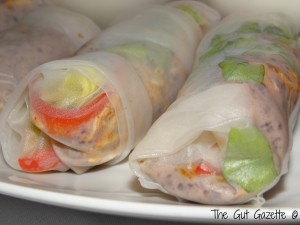 I love the versatility of rice paper rolls – you can fill them with whatever sort of ingredients you fancy – avocado, chicken, hummus, tofu, peppers, zucchini, etc. The best part about them is that they are gluten free! Having a new gluten free item to add to your list of 'safe' foods always results in a smile…don't you think? I also really enjoy Mexican food – so I thought, why not create a version of soft tacos using a rice paper roll as the shell! Excitingly enough they turned out delicious and the mild flavour of the rice paper roll really allows the Mexican flavours to shine through. This is the perfect recipe for an appetizer, a summer picnic or even for a meal. I personally love having a few of these rolls as my dinner…yum! These are also great if you have an allergy to corn, as the rolls are simply just made of rice. The recipe may look daunting due to the many steps, but trust me, they are delicious and very simple to make.
10 large rice paper rolls (usually found in the rice section of grocery stores)
2 chicken breasts
1 red bell pepper thinly sliced
5 romaine lettuce leaves finely chopped
2 cups pineapple thinly sliced into strips
1 can black beans
¾ tsp cumin
½ tsp dried oregano
¼ tsp chilli powder
1 tsp brown sugar
2 tsp ketchup
2 tbsp + 1 tsp olive oil
2 tbsp lime juice
1 tbsp butter
salt
sour cream
salsa
Makes 10

What you need: a cutting board, or clean surface; a couple clean dish towels; a large shallow bowl filled with a few inches of cold water; a tray; food processor
Instructions:
Preheat the oven to 450°F and bake chicken for 25-30 minutes.
While the chicken bakes, slice the pineapple into thin strips, about 2 inches long. Fry the pineapple in 1 tbsp of butter until golden and caramelized. Set aside.
Next, combine the can of black beans, ¼ tsp cumin, 2 tbsp lime juice, 2 tbsp olive oil and a pinch of salt in a food processor. Process until smooth. Set aside in a bowl.
Wash and slice up the peppers and romaine lettuce into thin strips.
For the chicken spice mixture, combine ½ tsp cumin, ½ tsp dried oregano, ¼ tsp chilli powder, 1 tsp brown sugar, 2 tsp ketchup and 1 tsp olive oil. Take the cooked chicken and place in a medium sized bowl. With 2 forks, start pulling and shredding against the natural grain of the chicken. You want it to look like pulled pork in the end. Once it is all shredded, coat the chicken with the spice mixture. It will only appear lightly coated, as you want to be able to taste the other flavours in the rice paper roll.
(See Left) After you have all of the ingredients for the filling prepared, create a working space using a cutting board or clean surface to start rolling your rice papers. Fill a large bowl with cold water (the package on the rice paper instructs you to use warm water, but I find that it doesn't work as well as using cold water). You will need a large enough bowl to be able to soak the rice paper in. Place the rice paper in the water (you can place 2-3 in the bowl at a time, just make sure they are not sticking together prior to placing in the water. Allow the rice paper to soak for a good 30-45 seconds until the rice paper has softened. Once soft, gently remove from water and place on a clean, dry dishtowel – pat dry. Now you can either roll the rice papers on the dishtowel or transfer the rice paper onto a cutting board.
Arrange ingredients around the top edge of the rice paper, leaving enough room at the top to fold over. Fold and roll it like you would a fajita. It's okay if there are couple rips or tears, as rolling it will help cover them.
Repeat with the remaining rice papers.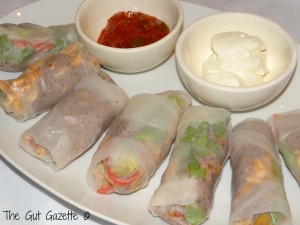 Arrange on a tray with a couple bowls of salsa and sour cream for dip.
Enjoy!
Thanks Megan!
For more delish gluten-free recipes, follow Megan:
Website   Twitter   Facebook  Pinterest
To see more CeliacCorner recipes, visit HERE