Warm Roasted Corn Salsa – by Jeanette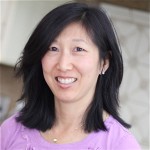 Jeanette has a passion for cooking delicious meals for her family and friends, while nourishing their bodies with whole foods prepared healthfully. She is the author and photographer of Jeanette's Healthy Living, where delicious and healthy come together.  Jeanette believes that a diet rich in whole foods is the best way to prevent illness and disease. Her recipes are always full of flavor and pizzazz
using whole ingredients and lots of spices.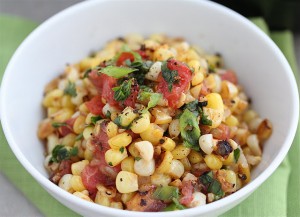 This salsa is wonderful
eaten by the spoonful, as a salad,
on top of grilled fish or chicken,
or with tortilla chips.
Ingredients:
2 tablespoons olive oil
3 ears fresh corn, shucked
1/2 large tomato or 1 small, chopped
1 scallion, chopped
1 large garlic clove, minced
1/4 cup cilantro, chopped
salt and pepper, to taste
Directions:
Heat olive oil in a cast iron pan or heavy skillet. Add corn and pan roast until there are brown spots on the corn kernels.
Toss in tomato, scallion, and garlic. Turn off heat.
Toss in cilantro.
Season to taste with salt and pepper.
Thank you Jeanette for contributing this hearty salsa recipe!
Jeanette always loved cooking, but when she began to prepare meals for family and friends with special dietary requirements she focused on using only healthy ingredients … "While each person's dietary needs and restrictions have been different, they have all shared a common thread: every meal has had to taste great – to be eaten, not left untouched, for the nutrients their bodies need and savored for the pure sake of simply being able to enjoy a great meal" (from Jeanette's blog!)
For more healthy, delicious recipes visit Jeanette's blog – Jeanette's Healthy Living http://jeanetteshealthyliving.com/