Veggie-tastic Mac & Cheese, gluten & dairy-free recipe
by Laura West Kong, MPH – Guest Food Blogger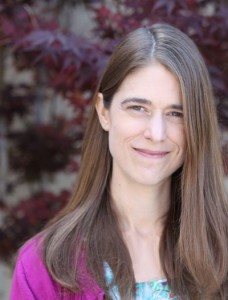 An artist at heart, Laura brings the same creative energy that she uses in her studio into the kitchen. She believes in whole food cooking. "Whole food" meaning a focus on natural or minimally processed ingredients. Think fresh, farmer's market, seasonal produce. If the food is packaged, no unhealthy additives or unpronounceable chemicals. Join Laura in her culinary adventures as she brings bold flavors from around the world into your kitchen, making them nourishing and gluten-free too!
View more of Laura's recipes by visiting her blog
Grain-Free Fabulous:
http://www.laurawestkong.com/gff/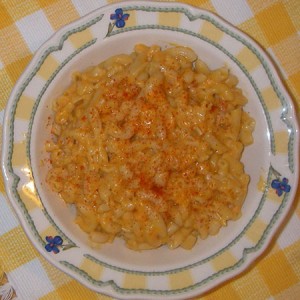 Mac & cheese without wheat or dairy is, well …
Actually if you take my usual mac & cheese recipe (from my pre-gluten- free, dairy-free days) and remove the wheat and dairy, you're left with Dijon mustard, salt, and pepper. Hmmm, you're not feeling very hungry today, are you?
Luckily, with a few secret ingredients a creative cook can make a delicious, comforting, and healthy mac & cheese dish. Do you thirst to know our secret ingredients? (Random bit of trivia: I'm a BIG Iron Chef fan in spite of the fact that I can eat almost nothing that they cook.) The secret ingredients are: Tinkyada Brown Rice Pasta-Fusilli; Daiya Cheddar Style Shreds; and Fresh Butternut Squash!
Ingredients
• 3 cups butternut squash, peeled, seeded, and chopped into 1″ cubes*
• 1 16-ounce package Tinkyada Brown Rice Pasta – Fusilli
• 1 8-ounce package Daiya Cheddar Style Shreds
• 1-1/2 tablespoons grape seed oil (or other mild-tasting oil)
• 1 teaspoon gluten-free Dijon mustard
• Sea salt
• Freshly ground pepper
• 1 pinch freshly ground nutmeg
• Smoked paprika
*A small butternut squash weighs about 2 pounds. You will probably use about half a small squash, or you can buy a bag of pre-cut butternut squash. 3 cups of squash cubes will cook down to about 2 cups.
1. Preheat the oven to 400°. Put the butternut squash and grape seed oil in a roasting pan and toss to coat. Roast for 20-25 minutes until tender. Stir the squash pieces halfway through the cooking time.
2. While the squash is roasting, bring a large pot of water to boil. Add 1 tablespoon salt and brown rice pasta when the water boils and cook pasta 10-12 minutes according to package directions. Reserve 3/4 cup of the pasta water before draining. Rinse the cooked pasta well with cold water.
3. Place the roasted butternut squash and reserved pasta water into a blender and blend until smooth.
4. Put the butternut squash puree into the empty pasta pot. Add the package of Daiya Cheddar Style Shreds and Dijon mustard. Stir to combine. Add sea salt and pepper to taste. 1 teaspoon of sea salt and 1/2 teaspoon of pepper is a good amount to start with. Add the pinch of nutmeg. Be careful not to overdo the nutmeg. Nutmeg can easily overpower the sauce. Stir to combine all ingredients.
5. Gently fold in the drained pasta to coat it with sauce. Warm the noodles and sauce in the pot over medium heat until the Daiya Cheddar Style Shreds are melted and the pasta is heated through. Gently stir occasionally to distribute the heat evenly and prevent sticking. Place a lid on the pot while warming to quicken the heating process, if desired.
6. Sprinkle with smoked paprika before serving.   Enjoy!
Thanks Laura for sharing your recipe with CeliacCorner as a Guest Food Blogger!
Love Quilting? Check out Laura's other blog "Adventures of a Quilting Diva": http://blog.laurawestkong.com/


To view all CeliacCorner recipes!