The Gluten-Free Table by Jilly & Jessie Lagasse: Cookbook Review
 "It was so easy, and so natural – a father sharing his acquired knowledge and passion for food and passing down long-cherished family recipes to his daughters .. until one day we literally couldn't eat them anymore  – Jilly & Jessie"
Jilly and Jessie grew up in a home that celebrated family and food, not surprising, since their dad happens to be celebrity chef Emeril (Bam!) Lagasse. Early on the girls were introduced to their dad's world of cooking and both naturally developed a joy for it as well.When Jilly and Jessie were diagnosed with celiac and a gluten-sensitivity, respectively, they had to learn to adapt their favorite recipes to eliminate gluten (a protein found in wheat, barley & rye), once they discovered it was harming their bodies.They transformed their beloved dishes to be gluten-free and once confident they mastered recipes for their classic Southern (New Orleans-style), New England and ethnic gluten-free cuisine, the girls wanted to share them with the gluten-intolerant community (lucky for us!). After years of back and forth phone calls and emails (Jilly lives in London part-time), they finally agreed which of their favorite appetizers, salads, hearty soups, sides, entrees and delectable desserts would be included in their recently released cookbook: The Gluten-Free Table.
This lovely cookbook which focuses on healthy lean meats, fish, vegetables and whole grains features over 100 mouthwatering recipes, with many accompanying photos, as well as easy to follow steps. You won't be intimidated by long lists of hard to find ingredients as Jilly and Jessie make it easy by using simple ingredients that you probably have on hand at home, or can easily locate in the market and many of the recipes are naturally gluten-free dishes.
Jilly and Jessie's Southern-inspired dishes include Collard Greens, Jalapeno and Cheddar Cornbread and Portobello Grits, as well as New Orleans' Jambalaya and Gumbo (sans the wheat-based roux!). Having grown up in New England, in a predominately Portuguese neighborhood, they've also included some of their favorites from this region such as Crab Cakes and Portuguese Chourico and Peppers Stew. The book includes an assortment of holiday side dishes: Pancetta and Sage Potato Pie and Stewed Butternut Squash with Apples and Smoked Bacon to name a few savory ones. Ethnic dishes include Chickpea and Ginger Curry and Spicy and Szechuan Chicken with Cashews, Broccoli and Green Onions.  And for Desserts … brulees, nut bread, custard, fruit pizza, cookies, cheesecake, and of course New Orleans-style Pecan Pie to name just a few. Yes, there is also a recipe of their dad's … gluten-free pizza with a crust made of white rice, soy and tapioca flours!
I prepared the Roasted Cauliflower dish, because we just love cauliflower in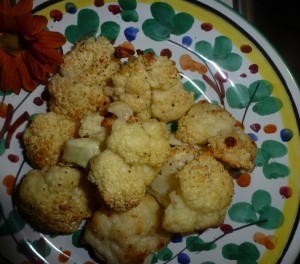 our family, though surprisingly I've never roasted it. The recipe is simple – add some butter, minced garlic, salt and pepper and pop into a 400 degree oven. I baked for 40 minutes (the recipe says 20 to 25 minutes, or until the florets begin to brown and are fork tender, which took a little longer in my oven).  When I took them out, they were perfect (the tops were crackly and lightly browned … comparing the florets to a beautifully toasted marshmallow!).  I spooned the garlic/butter sauce over the top and they were ready to serve. Outstanding taste and texture! Never will I boil cauliflower again!
Jilly and Jessie certainly share their dad's passion for creating beautiful and tasty food for others to enjoy and they have proven in The Gluten-Free Table that gluten-free cooking doesn't have to be bland tasting or difficult to prepare.
The Gluten-Free Table includes tips on gluten-free shopping and eating, stocking the pantry, and how to avoid cross-contamination in the kitchen as well as links to a few on-line resources for gluten-free products, celiac research centers and national organizations, and their favorite gluten-free magazines.  I enjoyed reading the foreword written by their dad, where he not only gushes a little (he is entitled!) over his daughters' new cookbook, but also discusses celiac … "I've seen food trends come and go during my years as a chef, but I'm here to tell you that this is not a trend, folks; this is a serious reality for people living with gluten intolerance and celiac disease". (Thanks Emeril for making that point!)
If I had to mention any "cons" about this cookbook,  I would only say that some of the "safe" foods listed in the "eating gluten-free section" were "generalized" as being gluten-free, and I believe they require more clarification, which I have included below.*
So whether you are looking to prepare gluten-free classic New England fare, zesty Southern cuisine, or spicy Ethnic, you will enjoy The Gluten-Free Table by Jilly Lagasse and Jessie Lagasse (Swanson). This book will appeal to everyone, not just the gluten-intolerant.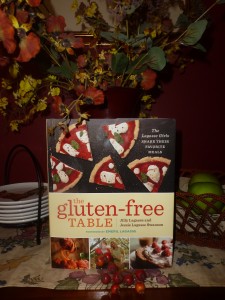 Treat yourself or a loved one to a copy of The Gluten-Free Table for the holidays! You can order a one, or two, here from our Amazon store.
Here is just a sampling of recipes:
Appetizers
Grilled Tuna Salad with Capers and Dill Zucchini and Polenta Fritters Mini goat Cheese and Fig Pizzas  
Salads
Waldorf-style salad Grilled Halloumi and Watermelon Salad Pear and Fennel Salad with Goat Cheese and Candied Walnuts  
Soups
Crab and Corn Bisque Pumpkin and Chili Soup with Autumnal Spice New Orleans Chicken and Sausage Gumbo  
Sides
Roasted Asparagus and potatoes Jalapeno and Cheddar Cornbread Baked Macaroni and Cheese
Entrees
Spinach and ricotta Lasagna Chicken Pot Pie with Lyonnaise Potato Crust Jazzy Jambalaya  
Desserts
Classic Key Lime Pie Lemon and Blackberry Cheesecake Grandma Cabral's Banana Nut Bread
Follow Jilly & Jessie
Check out this recent "Cooking with Emeril's Family"  segment on Good Morning America!
More on the Lagasse girls: http://lagassegirls.com/about/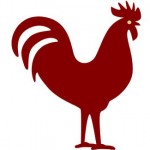 Camille's CritiqueCorner
(To See ALL Camille's Reviews click here) 
Products requiring further clarification:
*Cheese:  Only plain, hard cheeses should be considered gluten-free. Any packaged, processed cheeses should be checked. Gluten may be added as an anti-caking agent in bagged cheeses. Though rare, some blue cheeses contain wheat.
Juice: Only 100% juices should be considered gluten-free and though the majority of juices are free of gluten, some blended varieties may contain it.
Beans, Nuts, Dried Peas, Lentils, Soybeans, Peanut Butter and Almond Butter: Certainly any plain, unpackaged are safe, but if packaged/canned all of these items require label reading and/or a call to the manufacturer.  For example, on a bag of one leading manufacturer's plain dried bean there is a statement "may contain gluten".  Many canned nuts contain gluten.  Some varieties of nut butters contain gluten.
Jams and jellies, hard candy, chocolate, marshmallows, meringues, and spices: Ingredient labels on ALL of these products should be checked.  Many candies contain gluten, and wheat may be used as an anti-caking agent in some mixed spices. Only single spices should be considered gluten-free.
Coffee/tea:  flavored coffee may contain gluten, and some herb teas contain gluten (barley)
Wine coolers: Many contain barley malt