Tasterie – an allergy-friendly meal subscription service: Review & Giveaway
---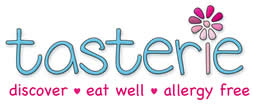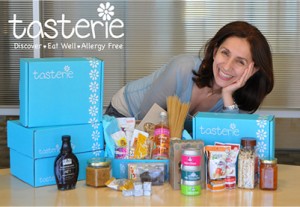 I was recently contacted by a rep of Tasterie, an allergy-friendly meal subscription service launched this past June. Founded by Dr. Lama Rimawi, MD, a practicing pediatrician from Massachusetts primarily out of the "frustration" she experienced trying to find healthy, allergen-free products to feed her two children, one of whom had multiple food allergies. "I can remember standing in the aisles of supermarkets trying to read labels, sleep deprived, with a newborn at home and a toddler between my legs wanting an easier and better option." Sound familiar? A subscription to Tasterie will get you one TasterieBox filled with products to fit your specific dietary needs delivered direct to your door on a monthly basis! Visit here to see the different boxes offered. Tasterie also offers vegan, top-8 allergen-free, & healthy & nutritious boxes! Can you trust that the products in your box will be completely free of the specific allergen(s)?  No worries, the Tasterie team performs a rigorous check of all products to ensure their safety. "We treat food allergy safety as no simple matter! Every TasterieBox item is carefully sourced by our team of physicians and nutritionists. You also receive detailed information on the contents in the box. Please contact us if you wish to get further details on the rigorous food screening protocol we employ." Team Tasterie, led by Dr. Rimawi, also ensures that each box contains a nutritionally balanced, healthy assortment of products which are both pleasing to the eye as well as the palette. The team is always searching for new and exciting products to include. TasterieBoxes come in two options (both chock full of  your specified dietary requirement products!): The Snack Box ($15/mo.) contains a variety of (6-8) delicious, healthy, "grab & go" snacks and the Signature Box ($20/mo) contains 8-10 items (prepared or require cooking) for a delicious breakfast, lunch or dinner.
If you are just plain tired of reading labels, simply don't have the time to shop for a variety of allergen-free products or don't live in close proximity to a market that stocks the products you, or a family member, require – then a Tasterie subscription plan is your practical solution!  (Don't miss our GIVEAWAY below!)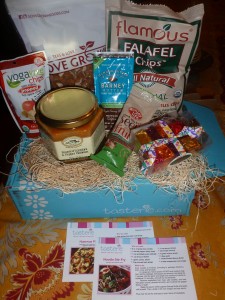 I was excited when my gluten-free TasterieBox arrived at the door!  Feeling like a kid at Christmas opening up a present, I excitedly unfolded the pretty blue packing paper, and there laying atop a bed of straw, was a delightful assortment of gluten-free products …  a full-size (12 oz) bag of Sweet Cranberry Pecan Granola by Love Grown Foods; Falafel Chips from Flamous (1.6 oz, organic); 2 pkgs. of Yogavive Apple Chips (.35 oz, organic); 2 pkgs. of Enjoy Life Seed & Fruit Mix (2 .75 oz); 2 pkgs. Almond Butter by Barney (1.06 oz); an 11.7 oz jar of Roasted Eggplant & Pepper Hummus from Robert Rothschild Farm; and yes, there was something sweet … not 2, not 4, but 8 chocolate squares from Amanda's Own Confections, which came in a clear box tied in a colorful ribbon! I was happy to see the majority of the products were certified gluten-free! Considering this Snack box is offered at $15, I'd say it is a pretty good value (have you checked the price of a bag of gluten-free granola lately?).
Consider becoming a member of Tasterie … then sit back, relax and just wait for your allergen-free "present" to arrive!
Why we love Tasterie:
–        Physican approved items –        Rigorous screening of foods to ensure they are safe –        Recipe cards are included (great suggestion for how to use one, or more, of the items contained in the box) –        Free shipping –        Company is community-minded (for each box shipped,Tasterie donates to the Greater Boston Food Bank) –        So Convenient
Consider giving a loved one a gift of a subscription to Tasterie … the holidays are coming!
You can read all the details about a Tasterie membership here!
Follow Tasterie on Facebook and Twitter!
And … lucky CeliacCorner visitors, you will have a chance to win one Tasterie Snack Box (see details below!)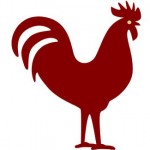 Camille's CritiqueCorner
(To See ALL Camille's Reviews!)
XX  TASTERIE GIVEAWAY  XX
GIVEAWAY NOW CLOSED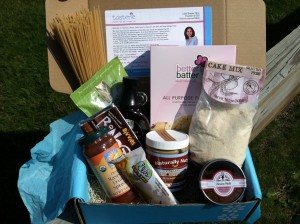 Check out these items!
One Tasterie Box –

of your allergen-free choice (winner will select from below list)
top 8 allergen free – Unique to Tasterie! gluten-free
gluten, dairy & casein-free
dairy-free
dairy & egg-free
dairy & soy-free
egg-free
soy-free
peanut & treenut-free
vegan
healthy & nutritious
(items may not be the same as pictured in CeliacCorner's sample box, or the one above, but will be similar)
Giveaway begins Monday, 10 September at 9:00  am (ET) and ends Monday, 17 September at 9:00 am (ET)
Leave a REPLY below telling us why you would love to try out a

TasterieBox

filled with an assortment of products which meet

YOUR

 (or a family member's) specific dietary needs!! (note: Reply awaits Moderation)
Like Tasterie on Facebook
Like CeliacCorner on Facebook  and

be sure to leave a comment that you entered the Giveaway

– we check 🙂
Follow CeliacCorner on Twitter (if you are a tweeter) and

Tweet at least once about our Giveaway, include our hashtag

– we check 🙂
Share our Giveaway with others (on your blog, FB page, etc.) – Thanks!!
One lucky winner will be announced and will have up to 3 days to contact us, otherwise another winner will be selected.
Open to US and Canadian residents only