Spinach Artichoke Dip (vegan, gluten & casein free)
This recipe comes to us from Nicci at gfcf doneeasy which is a wonderful blog about all things gluten and casein-free.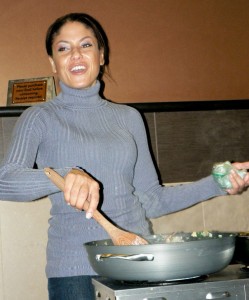 "gfcf doneeasy was inspired by the desire to encourage people to approach this diet with excitementand adventure. When we began our gfcf journey, it was a frustrating and arduous task trying to find all of the information needed in one place. Living gluten free/casein free is not easy in and of itself by any stretch of the imagination. However, by no means is it the highest hump you'll come to in life.
Our philosophy is just this – it's not that deep.
There is a simplicity that can be found in anything" – Nicci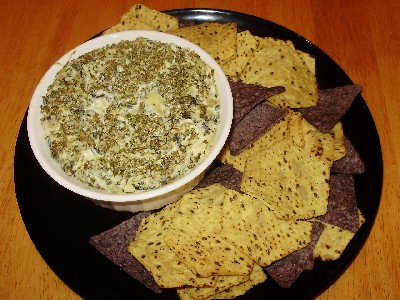 Ingredients:
8 oz frozen spinach
6 oz jar marinated artichoke hearts
1 Tablespoon Earth Balance vegan buttery spread
8 oz tub Tofutti Better Than Cream Cheese
¼ cup Follow Your Heart vegan sour cream
1 teaspoon lemon juice
1 teaspoon garlic powder
½ teaspoon sea salt
2 Tablespoons Nutritional Yeast
2 teaspoons gfcf Italian bread crumbs
Preheat oven to 375°.  Defrost spinach in the microwave.  Drain water from spinach and drain artichokes saving about a teaspoon of the oil.  Chop artichoke hearts.  In a medium size saucepan, saute spinach and artichoke hearts with the oil and buttery spread until tender.  Stir in remaining ingredients, except bread crumbs, until the cheese is melted and all ingredients are combined.  Transfer mixture into a small casserole dish and sprinkle with breadcrumbs.  Loosely cover and bake in oven about 20 minutes til bubbly.  Serve with gfcf tortilla strips or toasted gfcf focaccia bread from The Sensitive Baker.
For more delicious gluten and casein-free recipes from Nicci visit:  www.gfcfdoneeasy.com
Visit all recipes at CeliacCorner: http://celiaccorner.com/gluten-free-recipes/