snackTAXI Reuseable Bags: (Gluten-Free) Product Review and Giveaway
---

(Product Review & Giveaway)
We all try to be as environmentally conscience as possible. We reduce, reuse & recycle at home and in the office … but let's admit it some of us still purchase those ziplock baggies to pack our kids' (or our own) gluten-free sandwiches and snacks, right! We can do better! Why not consider purchasing a reusable bag/sack (or two) from a wonderful company called snackTAXI! Their collection of convenient, earth friendly, well-made reusable bags (which also happen to be just adorable) will save you from purchasing and repurchasing boxes of snack/sandwich bags, and will help keep our landfills and oceans free of more floating plastic. For those of us on a special diet, snacktaxi has a collection of bags that come with a stitched label of either "gluten-free" or "nut-free" which are not only great for carrying gluten and nut-free snacks, but also keeps them protected from other allergen-containing items (see our Giveaway below!).
Owner, Erin Kelly-Dill, created the first snackTAXI back in 2003 when her children started school. Admittedly, not a "natural" activist, Erin was basically looking for a solution to cut down on the use of ziplock bags, which would eventually end up in oceans and landfills. As her blog post states "I think that there are many paths to activism. I guess mine is a fairly narrow path (since I'm pretty much all about reusable bags!), but I'm happy on it. And whether you pack your kid's lunch with repurposed bread bags and yogurt cups, or reuse garbage bags when you can- those actions make a difference." And now Erin and her company are making an environmental difference, one snackTAXI at a time! Using a snackTAXI can be YOUR contribution to keeping the planet a little greener! And … your kids will just love you for packing their snacks in such a cute bag!
(these are just a few patterns that come with Gfree (or nut-free) labeling, there are numerous other unlabeled options)
snackTAXI's snack/sandwich bags come in a variety of sizes:
Snack Sack: 6"W x 4.5'H
Sandwich Sack: 7.5" x 6"H
Lunch Sack: 10"W x 11"H with a 3" bottom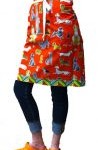 Other snackTAXI (unlabeled) products include: napkins, sporks (certified organic bamboo utensil), produce and bread sacks, even aprons in colorful, vintage designs!
snackTAXI's are great for everyone ..  students of any age, businesspeople, and moms (& dads) who may have the need to smuggle in a gluten-free snack when meeting a friend for coffee at a venue where no gluten-free snacks are available (been there)!
You can order on-line or find a retail store near you …  snackTAXI's are available globally!
Why we love this company:
snackTAXI's are made in the owner's rural Massachusetts' workshop by local sewers, avoiding outsourcing of labor
Green America Approved Business
Sales from some products (see Taxi's on a Mission on their website) benefit: Partners in Health, Global Women's Water Initiative  and Pick Up America
Visit snackTAXI's blog "The Snacktivisit" (access from website)
And … we can offer a lucky CeliacCorner winner one very cute reusable bag – just in time for kids going back to school! See details below!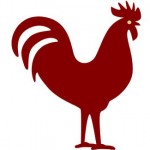 Camille's CritiqueCorner
A "Bite me Lime" Gluten Free snack-sack with GLUTEN-FREE label
The snack-sack neatly fits rice cakes, pretzels or corn chips, and is equally good for carrot or celery sticks!
Dimensions

6″ W x 4.5″ H
(Giveaway runs from August 21st 1:00 pm EST through August 28th 1:00 pm EST)
GIVEAWAY NOW CLOSED! 
Giveaway Rules:
LEAVE a REPLY below telling us why you must have this ADORABLE sandwich-sack labeled gluten-free (reply will not show up immediately as it awaits moderation)
LIKE snackTAXI on Facebook
LIKE CeliacCorner on Facebook (be sure to leave a post on FB that you have entered our Giveaway)
FOLLOW US ON TWITTER, if you are a tweeter, and tweet about our great Giveaway (at least once!)
SHARE with your Facebook friends
That's it! Good luck!
Giveaway runs from August 21 (1:00 pm EST)) through August 28th (1:00 pm EST)
One winner will be notified by email. Winner will have three days to respond, otherwise a new winner will be selected.