Simply G Free (gluten-free) labels – Review and Giveaway
---

Co-mingling of gluten-free food items with gluten-filled items is a serious problem for celiacs and the gluten-sensitive, and must be avoided at all costs.  Even the tiniest amount (1/64 of a teaspoon)* of gluten can cause intestinal inflammation in some celiacs, so it is important to eliminate cross-contamination issues in the kitchen.
I was happy to receive my sample kitchen labeling kit yesterday from Simply G Free, containing a few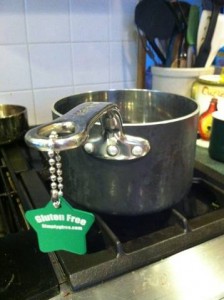 "gluten-free" metal tags, stickers and wrist bands! (See our Giveaway below!) I just finished applying all the stickers and metal tags where I needed to … my dedicated Gfree toaster, spatula, condiments, flours, freezer shelf, etc.). Generally I use round colored stickers on my condiments, etc., but when my husband dipped into my peanut butter jar not too long ago, explaining he thought the colorful label had been put on by the store, I was thinking it was time for a better labeling system, so the Simply G Free labels arrived just in time! I made good use of the labels which come in a bright green color and are clearly marked "gluten-free", so now everyone in my family, and my visiting relatives, will know without a doubt which items are for this celiac only!
Simply G Free offers a Kitchen kit, which is a great starter kit and includes:  6 metal tags for pots and pans, 25 large sized star stickers, 25 rectangle food marker stickers and 2 gluten-free wrist bands. ($19.99 plus shipping).  You can also order a sample kit for $1.50 (includes shipping) which consists of: 1 metal kitchen tag, 1 star sticker and 1 rectangle sticker. Personally, I would just spring for the larger quantity, as you will be able to make good use of them.
Attention bakery, café and restaurant owners!  These labels/tags would be great to use to label your gluten-free pots and pans, ingredients and designated gluten-free cooking areas to keep your celiac and gluten-intolerant patrons safe.
Visit Simply G Free's website which offers some great tips on how to gluten-proof your pantry, freezer, kitchen utensils and pots and pans: http://www.simplygfree.com/shop/page/7?shop_param=
*read "What is Gluten – How Much Gluten will cause small intestinal inflammation?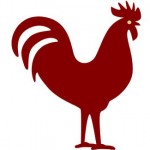 Camille's CritiqueCorner
xx Giveaway xx
NOW CLOSED
Simply G Free kit containing:



15 Rectangle Adhesive Stickers (great to stick on food, utensils, pantry items)
10 Star Stickers (oversized star shaped – adhesive)
3 Star Metal tags (star shaped use on pots, pans, utensils)
plus – 2 bright green Simply Gfree wrist bands
Giveaway Rules:
Please comment below why you Simply must have these handy GF labels in your home!
Like CeliacCorner on Facebook, and be sure to leave a comment on FB that you have entered Giveaway! (we check)
Follow CeliacCorner on Twitter
Follow Simply G Free on  Twitter
Share with at least three people, via twitter or facebook
GIVEAWAY ENDS: Monday, May 21st at 5:00 pm – good luck!
Giveaway open to US and Canadian residents only