Senza Glutine! Gluten-free in Rome, Italy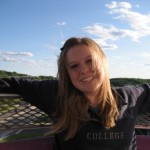 I have been diagnosed with celiac disease for less than two years and the advances in my health have been life changing.  I appreciate my health more than I ever have.  This and for many other reasons is why I am a public health major at the University of Massachusetts Amherst.  My goal is to raise awareness about celiac disease by expanding the gluten free market and raising diagnosis rates.  My love for travel has opened my eyes to how far behind the United States are in celiac awareness compared to some of the European countries I have visited.  Using my education and personal experience, I hope to change the way America sees gluten free.
by Kelsey Laning
The best purchase I made before going to Italy was not a map of Rome or a book on walking tours.  It was Triumph Dining's restaurant cards in a foreign language, namely Italian.  It provided little brochures that could fit in your wallet and had phrases to help you advocate your allergy. "Io sono celiaco" means I have celiac.  That combined with senza glutine which means without gluten, was all I needed.  There was no need to explain what rye or barley was, they knew already.  I did not need to explain the inner workings of my small intestine because they knew.  All I said was io sono celiaco.
Most of the time I did not even look at a menu.  I said the one phrase I knew in Italian and the waiter or manager would bring food out.  I didn't complain. It was always delicious.  My first night in Rome was very confusing.  I had been diagnosed for less than a month and here I was in Rome trying to tell my waiter that I couldn't eat spaghetti but he insisted that I could.  We argued with my brother being the translator before I realized that every restaurant makes gluten free pasta as well as their regular pasta.  He was trying to tell me that the spaghetti was gluten free that night.  I was blown away.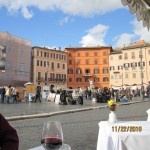 The best meal I had in Rome was in Piazza Navona. The Yellow Squash was absolutely amazing. The staff spoke very little English compared to other restaurants but they managed to explain that there was no flour in any of their sauces. The manager even came out after we ordered to ask if I was fine to eat dairy. They took very good care of me.  I got risotto with their pumpkin/squash sauce.  It was unlike anything I had ever eaten.  It wasn't just butternut squash ravioli, which the Italian restaurant I work at offers.  It was creamy and cheesy like an alfredo sauce but was sweet because of the squash. It was so good my family and I went back for lunch later in our trip instead of trying a new place.
Another restaurant I enjoyed was called MoMo. It took us two cab rides to get there but only because it was on the outskirts of Trastevere. I was able to put any sauce I wanted onto the risotto and I chose a creamy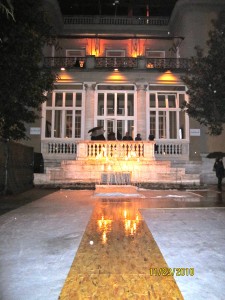 alfredo with salmon.  It was a portion sized for three and my only complaint is that Italian restaurants don't understand what a doggy bag is.  It was thick and rich and I was only able to eat about a fourth of it but I remember pushing myself to eat more because I knew if I stopped I would regret it.
I couldn't of asked for a better trip or a better way to ease myself into a gluten free diet.  Rome knew more about celiac disease than any of my doctors. They sold gluten free products at every corner and at about half the price. Nobody looked at me like I was a burden and I did not get sick once.
Revised 6.3.12, The Yellow Squash may no longer be in business. Inquire with your hotel concierge.
(FYI – Triumph restaurant cards in foreign languages can be ordered here http://celiaccorner.com/traveling/)
Did you find this post useful?  Please comment below.