Red Curry Soup with Chicken and Rice Noodles
by Laura B. Russell, guest food blogger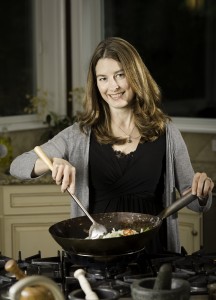 Laura Byrne Russell

is the "Gluten Freedom" columnist for the Oregonian and
the author of

The Gluten-

Free Asian Kitchen

(Celestial Arts 2011). Laura contributes articles and recipes to many magazines as well, including Prevention, Living Without, Easy Eats, and Portland's MIX magazine. She is the former associate editor of Food & Wine's cookbook division. Laura lives in Portland, Oregon with her husband and two children, where she's been gluten-free since 2007. You can find her blog, "Notes from a Gluten-Free Kitchen", at www.laurabrussell.com.
Or visit her on Twitter @laurabrussell or Facebook at Notes from a Gluten-Free Kitchen by Laura B. Russell.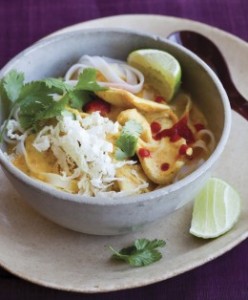 Reprinted with permission from
The Gluten-Free Asian Kitchen: Recipes for Noodles
, Dumplings, Sauces, and More.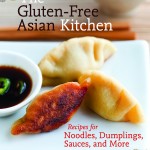 Copyright @ 2011 by Laura B. Russell.
Published by Celestial Arts, an imprint of Ten Speed Press
and the Crown Publishing Group, Berkeley, CA. Photo Credit: Leo Gong.
This curry soup, chock full of chicken, noodles, and a rich flavorful broth, makes a satisfying one-dish meal. Use the flat rice noodles similar to linguine (pad Thai noodles); thinner rice vermicelli may clump. If you plan on eating all the soup immediately, you can mix the noodles right into the broth; otherwise, keep them separate until you assemble the soup in bowls. As the soup cools, the noodles will soak up every last bit of liquid, leaving you with some tasty noodles, but no broth.
Ingredients:
8 ounces flat rice noodles
1 pound boneless, skinless chicken breasts, cut crosswise into thin slices and then into thin strips
2 tablespoons Asian fish sauce
2 tablespoons vegetable oil
1 small onion, thinly sliced
2 cloves garlic, minced
3 tablespoons red curry paste (gf), such as Thai Kitchen
1/2 teaspoon turmeric
1/2 teaspoon ground coriander
3/4 teaspoon salt
2 (14 ounce) cans unsweetened coconut milk
2 cups purchased or homemade gluten-free Chicken Broth
Cilantro leaves, for serving
Shredded cabbage, for serving
Lime wedges, for serving
Sriracha or other chile sauce (gf), for serving
Makes four main dish servings
Cook the noodles in a large pot of boiling water until just done, about five minutes, or according to package directions. (Remove a noodle with tongs and taste it for doneness.) Drain the noodles in a colander and rinse with cold water to stop the cooking. Set the noodles aside until ready to use. In a small bowl, toss the chicken with the fish sauce. Let the chicken marinate while you prepare the soup.
In a medium pot, heat the oil over moderate heat. Add the onion and cook, stirring occasionally, until starting to brown, about ten minutes. Stir in the garlic, curry paste, turmeric, and coriander and cook, stirring, for about a minute. Add the salt, coconut milk, and chicken broth and bring to a boil. Lower the heat and simmer, partially covered, to infuse the flavors, ten to fifteen minutes.
Add the chicken and fish sauce to the simmering broth. Continue cooking until the chicken is just done, about five minutes. To serve, divide the noodles among four bowls and ladle the soup over the top. Top with the cilantro, cabbage, a squeeze of lime juice, and hot sauce to taste.
Variation:
Brew up a delicious seafood curry soup: Instead of the chicken, add a pound of medium shrimp, bay scallops, crab, or a combination of these (tossed with the fish sauce) and simmer for five minutes.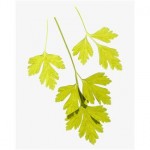 To see all CeliacCorner recipes: http://celiaccorner.com/gluten-free-recipes/