Nuwi Quinoa Smoothie Now Available in Banana Flavor (gluten-free, dairy-free, vegan)
---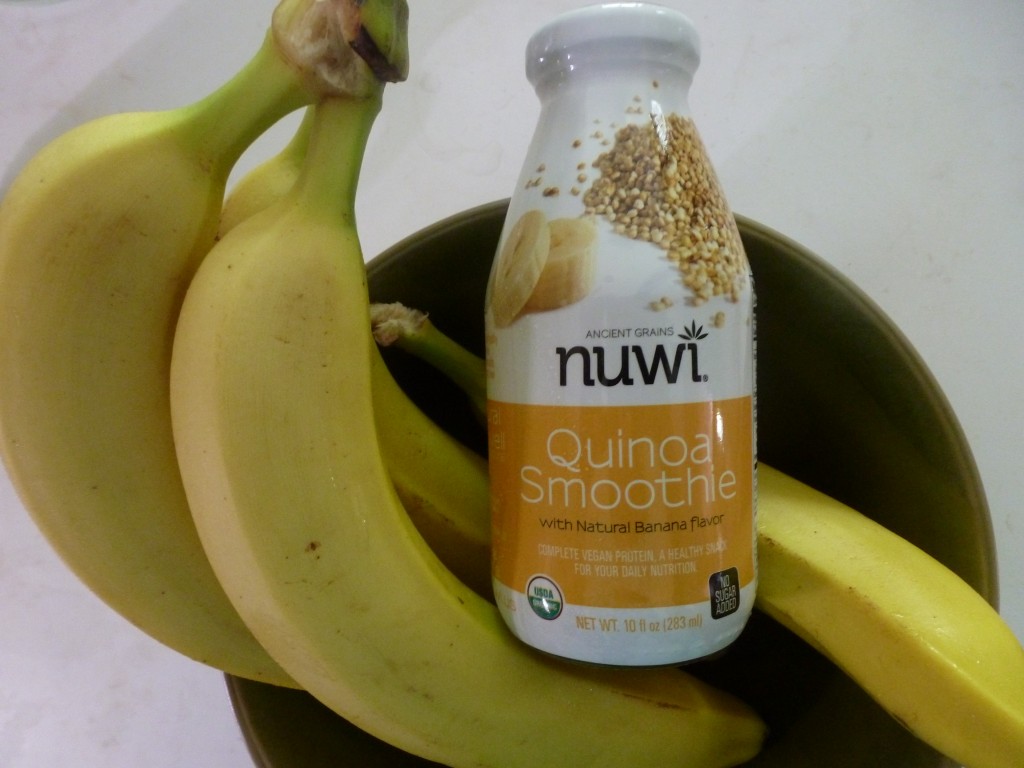 " … The NUWI® Quinoa Smoothie fulfills our dream of using quinoa in a pure, natural way that leads to a healthy, balanced diet. Because we believe that making wise choices about nourishing your body is key to health and wellbeing." Nuwi Founder(s) statement
A few months ago we were super excited to introduce you to Nuwi Quinoa Smoothies!  Made with the super food Quinoa, and a few simple, certified-organic ingredients, Nuwi Quinoa Smoothies are a convenient and refreshing way to get your daily intake of vegan protein, essential amino acids, fiber and iron, among other valuable nutrients. Nuwi premiered their Blueberry flavored smoothie several months ago. Though I found this flavor tasty, I also enjoy variety, so I was happy to recently discover that Nuwi is now offering a new BANANA flavored smoothie, which is absolutely delicious!
Both flavors are GLUTEN-FREE, LACTOSE-FREE, SOY-FREE, NON-GMO and CERTIFIED ORGANIC. Nuwi smoothies are a zero-cholesterol source of complex carbohydrates, and are sweetened with agave syrup.
Enjoy your  BANANA flavored Nuwi Quinoa Smoothie at breakfast, as an afternoon treat, post workout or anytime you desire a healthy, refreshing beverage.  I also love the convenience of grabbing one from the refrigerator as I'm heading out the door .. a much healthier snack choice than, say, a bag of salty chips!  The smoothies can be enjoyed by vegans, vegetarians and those with gluten and/or lactose intolerance.
Nuwi Quinoa Smoothies are thick, smooth and satisfying! For the best flavor and texture be sure to refrigerate and shake well.
I wonder if there will be a third Nuwi flavor … I'll let you know as soon as I hear of one!
To learn more about Nuwi Quinoa Smoothies and to order your 6-pack visit their website.
PRODUCT DETAILS:
Ingredients: filtered water, organic gluten-free quinoa flour, organic agave nectar, natural flavor & malic acid
Contains: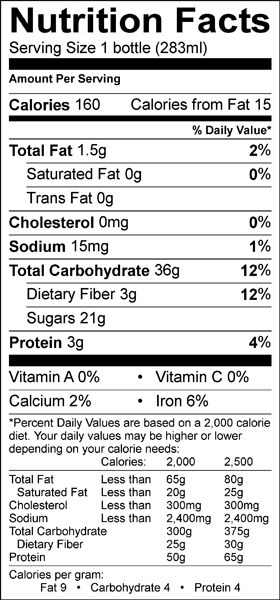 Organic ingredients
Complete Vegan Protein
High in Iron, Fiber, Calcium, Magnesium & Manganese
160 Calories
Essential/non-essential amino acids Lysine, Cysteine, and Methionine
FREE From:
Added Sugar (agave nectar used to sweeten)
Cholesterol
GMO ingredients
Preservatives
Gluten, Soy, Dairy/Lactose
More on Quinoa (from Nuwi website): Quinoa is one of the most protein-rich foods you can eat, and its vitamin and mineral content is exceptional. The entire plant is edible, and its tiny seeds alone contain all  of the amino acids essential for human cell growth. Because of its extremely high nutritional value, it is considered a super food and is included by NASA in its CELS program.