NUWI Quinoa Smoothie: all natural, gluten-free, dairy-free, vegan, organic, non-GMO (Review & Giveaway)
---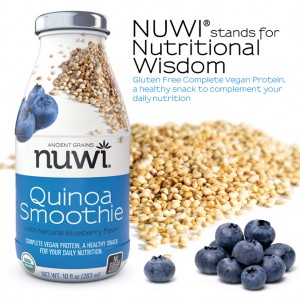 We enjoy introducing new gluten-free products to the celiac and gluten-sensitive community, particularly when they contain all natural, organic, non-GMO ingredients. Meet NUWI Quinoa Smoothie! NUWI (acronym for Nutritional Wisdom) was founded by two friends who left behind the corporate world, to realize their dream of creating healthy, organic products. "Fearlessly determined to make pure, organic food products in a responsible and sustainable way, we decided to create a nutritious gluten free, vegan healthy snack for people like ourselves who continually seek balance in mind, body and spirit .. from NUWI website"
By now most everyone in our community has heard of Quinoa (keen-whah), known as "The Ancient Grain" (actually it is a seed from a plant), and touted for being super rich in protein. Now you can conveniently drink it to receive all the healthy benefits!
xx Don't miss Giveaway below xx
The NUWI Quinoa Smoothie contains organic Quinoa flour and is free of gluten, dairy, soy, cholesterol, preservatives, with no sugar added, and is chock full of vitamins and minerals including: fiber, iron, calcium, manganese and magnesium, E and B vitamins, and offers complete vegan protein. NUWI is also high in essential/non-essential amino acids Lysine, Cysteine, and Methionine, making it an exceptionally healthy beverage snack.
The founders spent a considerable amount of time developing the recipe and I'd say they got it just right! Available in a 10 oz glass bottle NUWI tastes best when chilled. Shake well before drinking as the consistency is thick, but once shaken is delightfully smooth … hence the "smoothie"!  NUWI has a mild blueberry flavor and is sweetened with low glycemic, organic agave syrup. NUWI contains 160 calories and a low-cholesterol source of complex carbohydrates.
NUWI Quinoa Smoothie is a delicious option for the gluten-intolerant, lactose-intolerant, vegan & vegetarian, or anyone desiring a healthy, satisfying beverage snack whether it be at breakfast, lunch, post work-out or anytime.
Although the NUWI product is made in a shared facility, I was informed the company implements the best practices possible to avoid cross-contamination and each batch is tested to measure ppm (parts per million). NUWI tests at 5 ppm, well below 20 ppm, which is presently considered a safe level for those with celiac.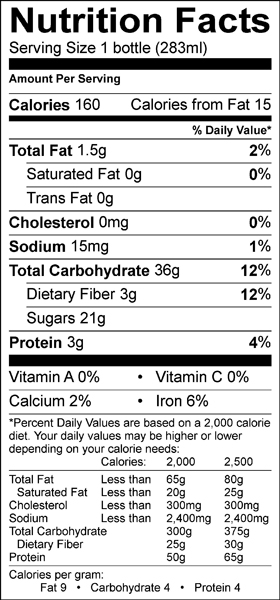 If you would like to order Nuwi Quinoa Smoothies,
head on over to the NUWI
ST
ORE
To receive a $2.00 discount, enter Code:  
CELIACCORNER

at checkout
(thanks
NUWI

!)
xx Giveaway xx
Courtesy of the kind folks at NUWI one lucky CeliacCorner will win a NUWI Quinoa Smoothie 6-pack, and gorgeous teal colored T-shirt (see above) with "Ancient Grains NUWI" logo (winner may chose from sizes: Women – small & medium; Men – medium & large). Don't miss out on this great opportunity to sample these delicious gluten-free, dairy-free beverage snacks.
Giveaway beings Friday, April 12th at 1:00 pm (est) and ends Friday, April 19th at 1:00 pm 2013
xx GIVEAWAY  NOW CLOSED xx
Giveaway Rules:
1.  Leave a message below (don't forget to complete captcha code, before hitting "submit"), telling us why you would love to win NUWI samples (comment awaits moderation & will not show up immediately).
2. LIKE NUWI and CeliacCorner on Facebook (if you have a FB account) … we check 🙂
3. Consider following CeliacCorner on Twitter (if you have an account).
4. Share Giveaway on your Facebook page, and Tweet about it (at least once).
One winner will be chosen, and contacted via email.
 Winner will have up to 3 days to reply, otherwise a new winner will be chosen.
Open to US residents only.
Good Luck!