Morrocco Method: Raw, Wild Crafted, Vegan, Gluten-free, Chemical-free, Organic Hair & Body Products – Review
---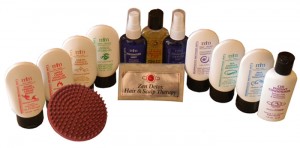 After my celiac diagnosis I began a quest to live (& breathe) healthier. From the food I put on the table for my family to eat, to the products I use to clean my home, I do my best to purchase products that are void of unhealthy, harmful ingredients. I began selecting healthier shampoos for my children years ago after one of my sons broke out in hives on a few occasions after shampooing. For myself, I've used many different brands of hair products over the years, some all natural, others with a list of ingredients so long, and in such tiny print, I usually gave up reading half way through due to eye strain and purchased them anyway (I'm convinced the tiny print is intentional so we can't see what is included). If I had Dermatitis Herpetiformis (the skin version of celiac), I would most definitely be scrutinizing every label to check for gluten, even if I had to bring along a magnifying glass when I shopped, but fortunately I don't have DH. Certainly I need to do better though when choosing healthy hair products especially after what I have learned during my research for this Review (hair, cosmetic and body products are among the least regulated and many harmful, some cancer causing, ingredients are often included).
Recently I was contacted by a rep of Morrocco Method International (MMI)  and was asked to sample a few of their hair care products. Honestly, I had never heard of them and only agreed because I was told the products were ALL NATURAL, RAW, WILD CRAFTED, VEGAN, GLUTEN-FREE, CHEMICAL-FREE, HOLISTIC, and ORGANIC.       (Don't miss Giveaway below!)
Morrocco Method was founded by Anthony Morrocco who began his career as a stylist at Kenneth's, a New York salon where he styled the tresses of among others Jackie Onassis, Lauren Bacall and Faye Dunaway. Unsatisfied with "traditional" hair products not getting to the root of his clients' hair and scalp issues (finding most products actually caused the issues), he left New York to travel the world, studying Chinese herbalism along the way, in search of the finest ingredients available that he could use in his own line of holistic hair & body products.
"…All Morrocco Method products contain only the finest natural derived minerals and botanicals harvested from around the world and selected for maximum potency. We have followed the principles of Old World farmers who understood that planting, harvesting and storing foods according to the lunar cycle maximizes the energetic potency of the plants .. MMI"
Morrocco Method's 5 Elements line includes shampoos, conditioners, hair & scalp rejuvenation and re-growth elixirs that promise to recondition, rejuvenate, repair and restore both hair and scalp. MMI's shampoos & conditioners are non-toxic, non-allergenic and are safe for the entire family, including babies and pets! Other MMI products include natural Henna for coloring, gels, hairspray, pomades, and face & body scrubs (check out their Feng Shea line for sensitive skin), handmade soaps and some cosmetics. Visit the MMI website for their complete line of products.
Because MMI's shampoos and conditioners are chemical-free, they are low-foaming. You won't get the "lather" that you normally would when using a traditional (i.e. chemical-filled) product. Bear with me for a moment as I share just a few unhealthy ingredients being used to make this lovely lather that we are all so accustomed to: Sodium lauryl sulfate (SLS), a type of detergent & Sodium laureth sulfate (SLES). Both of these have been proven to be unhealthy irritants for both hair and scalp, (why are they in hair & scalp products??). Studies have shown that use of these can cause follicle damage in rats resulting in hair loss, among other health issues.These are just two of the chemicals commonly found in shampoo (& other products). Read more below.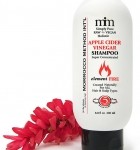 I sampled the Apple Cider Vinegar Shampoo, Pearl Essence Crème Rinse, and the Diamond Crystal Mist (great for hydrating).  I loved the aroma of this shampoo which stayed in my hair all day! Admittedly, when I first applied the shampoo I didn't feel like there was enough to clean my hair, because of the absence of lather. I find adding a little water to palm and mixing in with the shampoo works best (they are also highly concentrated so you only need a little). I was also skeptical about the conditioner because it just didn't feel the same as a traditional conditioner … but, the minute I rinsed my hair, I could "feel" the conditioner doing its thing, my hair felt thicker … smoother … well conditioned! I was able to comb through my wet, wavy hair more easily than I have in months.
The MMI website mentions hair will go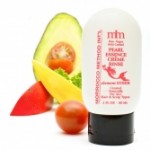 through a detox period to rid all of the chemical build-up, and results of healthier hair may take a few shampoos, but I noticed a difference the first day. Even when drying out straighter, my hair was shinier and smoother. I periodically spray the Diamond Crystal Mist Conditioner on dry hair which adds even more shine and reduces frizz!
I don't think I have ever said this before in a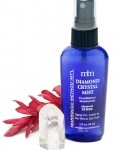 product review, but I really L.O.V.E. the MMI products, and I can't wait to order more for my entire family to use. They smell good, clean well, both nourishing my hair and scalp, and most importantly they are chemical-free!
Personally, I happily will give up 5 minutes of lathering (& I have!), to avoid putting these harsh chemicals on my head and body.
Ingredient list of the Apple Cider Vinegar Shampoo: Water (Aqua), Raw Apple Cider Vinegar (Acetic Acid), Aloe Vera (Aloe Barbadensis), Soapbark Extract (Quillaya Saponaria), Green Tea (Thea Sinesis Saponin), Naturally Foaming Cactus (Opuntia Erinacea), Blood of the Dragon Rare Protiens (Jatropha Dioica), Brown & Red Algae (Algae Macrocystis Purifera), Essential Oils of Almond (Amygdalus Communis), Ginger (Zingiber Afficinale), Sesame (Sesamum Indicum), and Tangerine (Citrus Reticulata), 92 Trace Minerals and Rare Plant/Marine/Fruit Proteins as Natural Preservatives
What about pricing? Sure, the products are going to cost a little more than your favorite drug store brand, but in my opinion, the cost is justified. You will be using chemical-free, all natural (really, all  natural) products that work great. 8 oz. shampoo and conditioner average $19 ea. (MMI offers (2 oz.) trial sizes for $4.95 ea – give them all a try!).  Also keep in mind, some if not all of the shampoos are a multi-purpose product and can be used as a body wash as well. Enjoy this video showing other ways you can use the products.  Check MMI's website "Sale" page for extra savings.
If you are experiencing thinning or loss of hair due to alopecia, chemotherapy, or age … MMI recommends the Silver & Gold Elixirs which stimulate hair follicles.  Learn more on their website or contact a representative directly.
MMI's shampoos (for humans) are so safe and non-irritant, they can even be used on dogs, cats and horses to help treat impedigo, mange, psoriasis & eczema!
Visit MMI's website to learn about the simple, daily routine that you can follow using their products to receive optimum results. The site has instructional videos, articles and many testimonials from people who, like me, love the products.
MM is also a GREEN company:
–        they use fair trade ingredients
–        products not tested on animals, and they do not purchase from suppliers who do
–        marketing material printed on recycled paper, uses recyclable product packaging,
  bottles and jars are made of recyclable glass or plastic
–        uses only recycled Styrofoam
–        utilizes workers from OPTIONS, a non-profit org helping people with disabilities
–        donates a percentage of profits to organizations such as: Blind Cat Rescue and Sanctuary,
  The Dolphin Project, PAWS, Sufi: Journal of Mystical Philosophy and Practice, among others
PLEASE READ:  For my research, I visited the website of The Environmental Working Group (Washington, DC), a "non-profit, non-partisan research organization dedicated to using the power of information to protect human health and the environment. The EWG Action Fund is a legislative advocacy organization that uses EWG research to promote healthy and sustainable policies."  You can search their database of over 74,000 brand name products to check for harmful igredients. The ingredients are rated for "LOW, MODERATE AND HIGH HAZARD".
Not surprisingly, MORROCCO METHOD products received a score of 0-2 LOW HAZARD rating! (Compare this to L'Oreal which I found to have a HIGH HAZARD score on many of their products). You can view the MMI scores here.
Don't be fooled into thinking that products labeled "all natural" are free of harmful ingredients. I was surprised that one very shampoo I have been using on my boys thinking it was healthy (Nature's Gate "Organics") received a "high hazard" rating from EWG.
In addition to the SLS & SLES, here is a list of other harmful chemicals often used in hair & body care (toothpaste) products.
–Triethanolamine (TEA): (detergent) eye irritation, dry hair and skin. Already restricted use in Europe because of possible carcinogenic effects. Increased risk of kidney or liver cancer with long-term absorption of TEA into the skin.
– Diethanolamine (DEA): (produces lather): can cause throat & nose issues when inhaled, causes liver & kidney tumors in mice. When mixed with other chemicals in products, it can produce a carcinogen (nitrosodiethanolamine) linked to bladder and other cancers.
– Phthalates: potential to become a carcinogen. (produces smell), possible liver cancers and birth defects, affects hormones
– Formaldehyde: (yes the one used for embalming) is released/found in two preservatives contained in shampoos: Diazolidinyl Urea, Bronopol and DMDM hydantion.  Often found in infant shampoo. Is considered a carcinogen, exposure can lead to DNA damage (some people have allergies to Formaldehyde which can cause eye and respiratory irritation.
– Butylparaben (& other parabens): Evidence has shown that absorption of some parabens can reduce male sperm count.
– Coal Tar Dyes: found in dandruff shampoos – also have carcinogenic qualities. Increase risk of Hodgkin's disease, no-Hodgkin's lymphoma and multiple myeloma. Severe allergic reactions, headaches, nausea and fatigue.
These are just a few of the harmful chemicals found in our everyday hair and body products. Just Google harmful ingredients in shampoo, etc. to learn more about the ingredients listed above and others.
Here is Morrocco Method's website again …
[I did not receive any compensation for this review, other than the sample products, and the opinions are my own]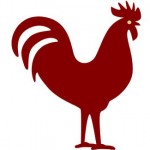 Camille's CritiqueCorner
Click here to read more CCC's reviews!
xx GIVEAWAY xx (NOW CLOSED)
(open to US & Canadian residents)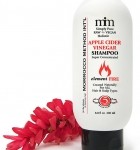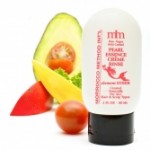 Courtesy of Morrocco Method, one lucky CeliacCorner winner will win
one 
(regular 8 oz. size) Apple Cider Vinegar Shampoo and
one  8 oz. Pearl Essence Crème Rinse (a $40 value)
Giveaway begins: 1 February at 3:00 pm (est) and ends 8 February at 3:00 pm (est)
Giveaway Rules:
1. Please comment below telling us why you would like to try MMI's holistic line of products.
2. Like MMI and CeliacCorner on Facebook
3. If you are a tweeter, follow CeliacCorner and MMI
4. Share at least once on your Twitter & Facebook pages
One lucky winner will be chosen, and the products mailed out directly from MMI. Winner will have up to 3 days to claim prize, otherwise another winner will be selected.
Good Luck!
(CeliacCorner cannot be held responsible for any adverse reactions as a result of using any of the items offered in this Giveaway)