Larabar (gluten-free) has a new fan! (Review & Giveaway)
---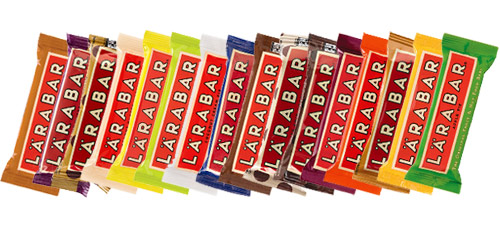 Who hasn't heard of Larabar? I don't see any hands raised … I'm still looking, nope none!  You see these fruit and nut energy/snack bars everywhere – at mainstream markets, nutritional stores, gyms, and even at the airport. Truth be told, I've never had one. I've been gluten-free for years, but somehow a Larabar has never entered my gluten-free hands. So, when the UPS truck arrived with my box of samples, I did a little happy dance and couldn't wait to sit down and sample them to see what I was missing.
 [Enter Giveaway Below – Giveaway now closed]
First a little Larabar history.  While hiking the mountains of Colorado, Lara Merriken, the founder, came up with the idea of creating a food product that was "tasty, healthy and convenient". With a Cuisinart and rolling pin, she created and packaged the first 5 bars for retail. Larabar now offers 20 flavors  including such mouthwatering names as coconut cream pie, ginger snap, cappuccino, banana bread and cookie dough (sans the dough), and also a line of Uber and Jocalat bars. According to Wikipedia, in 2008 General Mills acquired the original producer of Larabars, Humm Foods, Inc., created by Lara Merriken.
I was sent the Chocolate Chip Cherry Tort, Cashew Cookie, Tropical Fruit Tart and Blueberry Muffin. The primary ingredients are a blend of unsweetened dates, almonds and cashews. Most all Larabars have 9 or fewer natural ingredients and are gluten-free, sulfite-free, kosher, non-GMO, free of preservatives, fillers, colorings (most are vegan, soy and dairy-free with the exceptions of the Chocolate Chip varieties – the chips are not actually made with dairy or soy, but due to cross contamination they may contain trace amounts of each). Calories range from 190 to 230 and each bar contains 23-32 grams of carbohydrates.
All the bars were moist and chewy (they break well, leaving no crumbs on lap!) and had a bit of crunch to them provided by the nuts. The flavors were subtle, with the exception of the Chocolate Chip Cherry Torte which provided a blast of yum chocolate, and the Tropical Fruit Tart which was both sweet & tart, and the pairing of coconut, pineapple & orange flavoring was delicious. The bars were just sweet enough without being overwhelming. I enjoyed them all, but by far the Tropical Fruit Tart was my favorite. If a choco-holic you will love the Chocolate Chip Cherry Torte!
Why did I wait so long to try a Larabar? I have no idea, but I can say now that I have finally tasted these yummy fruit & nut bars, I have become a FAN, and can't wait to try other flavors! Larabars are a guilt-free pleasure.
Pros:
All natural, healthy, simple ingredients (no junk!)
Free of Gluten, Preservatives, Fillers, Colorings, Sulfites, Cholesterol, Sodium and they are GMO-Free – most are dairy-free, soy-free and vegan, some contain peanuts (check labels)
Great tasting energy bar (take one or two on a hike, to the gym, give your athletic child one to snack on during a sport's practice or game)
Provide Fiber, Iron & heart healthy Omega 6 fatty acids
Contain at least a ¼ cup of fruit in each bar (some varieties contain ½ cup of fruit – wow!)
Kosher (certified by Orthodox Union, Chocolate Chip Cherry is Kosher Dairy)
Shelf Life: 12 months (look for best buy date on package)
Company donates to community events
FYI: The original Larabars do not contain brown rice syrup – not that BRS is unhealthy and many bars and snacks contain it, but if you are trying to limit your intake of BRS due to arsenic, it's nice to have a snack on hand that doesn't contain it.
Cons:  a little on the caloric side (190 – 230), but the calories come from healthy fruits, and the fat comes from the nuts; the bars are on the smaller side (avg. 1.6 oz ), but really do we need to supersize our energy/snack bars – probably not. And they are packed with flavor … I think I need to move this to the "Pros"!
[Raw Foodists take note: Statement from Larabar's website: "Many raw foodists enjoy our products as part of their diet.  However, because there is no consistent definition for what can be labeled as "raw," we have chosen to take the word raw off our label.  LÄRABAR products are made by a simple process in which fruit, nuts, and spices are ground and mixed together. They are not baked or cooked. We use simple ingredients, as close to their natural state as possible.  Practitioners of the Raw Diet should be aware that to ensure the safety of our products some of our nut ingredients are steamed or roasted and our few juice concentrates are pasteurized"]
Ingredients:
Tropical Fruit Tart:  (gluten-free, dairy-free, soy-free, non-GMO, vegan, kosher, contains nuts). Ingredients: dates, pineapple, unsweetened coconut, almonds, extra virgin coconut oil, cashews, orange juice concentrate, orange peel 
Blueberry Muffin (gluten-free, dairy-free, soy-free, non-GMO, vegan, kosher, contains nuts). Ingredients: dates, cashews, blueberries, blueberry juice concentrate, lemon juice concentrate & vanilla extract
Chocolate Chip Cherry Torte (gluten-free, soy-free, non-GMO, kosher, may contain milk ingredients, contains nuts). Ingredients: dates, Fair Trade Certified chocolate chips, almonds, unsweetened cherries, cashews, sea salt
Cashew Cookie (gluten-free, dairy-free, soy-free, non-GMO, vegan, kosher, contains nuts). Ingredients: cashews & dates
Visit Larabar's website for complete nutritional information and to order your bars! They make a great stocking stuffer!
Follow Larabar:  Facebook & Twitter
(Disclosure: CeliacCorner was provided free samples for this review, but was not compensated monetarily. The opinions expressed are the opinions of the reviewer)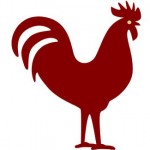 Camille's CritiqueCorner
To see ALL Camille's Critiques click HERE
x x GIVEAWAY x x  NOW CLOSED
1 lucky winner will receive directly from Larabar*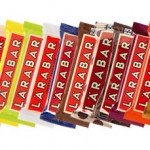 a Larabar Variety Pack (includes 16 full-size flavors – woo hoo)
Giveaway begins 28 Nov. 2012 at 1:00 pm est & ends 5 Dec. at 1:00 pm est. 
Giveaway Rules:
1. Reply BELOW telling us why you would love to win Larabars (comment awaits moderation)
2. LIKE Larabar's Facebook Page
3. LIKE CeliacCorner's Facebook Page –  be sure to leave us a comment on FB that you have entered Giveaway.  SHARE Giveaway on your blog if you have one, and with others .. you can conveniently use the share button below!
4. FOLLOW CeliacCorner on Twitter (if you are a tweeter), and send out a few tweets about our Giveaway!
That is it – good luck!
Giveaway begins 28 November at 1:00 pm (EST) and ends 5 December at 1:00 pm (EST)
One winner will be notified by email and will have up to 3 days to claim prize, otherwise another winner will be selected. The variety pack will be mailed to the winner directly from Larabar.
Open to US & Canadian residents only. 
*if winner is from Canada, CeliacCorner will mail directly.
(CeliacCorner assumes no responsibility for any adverse reactions due to consumption of product.)