Kellogg's Gluten Free Breakfast Kit Giveaway and Dietitian Tips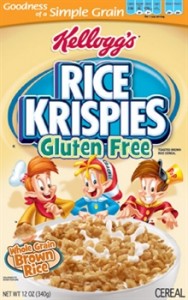 Eating gluten-free should neither be a budget buster nor an inconvenience, especially when thinking about feeding your children at breakfast, which as everyone knows is a hectic time of day … trying to get them fed and off to school. Busy moms and dads need gluten-free products that are affordable, easy to prepare, as well as being healthy and tasty. Think Snap, Crackle and Pop! Yes, Kellogg's, one of the world's leaders of breakfast cereal, snacks and frozen food, has reformulated their Rice Krispies cereal by eliminating barley (malt) so the boxes marked "gluten-free" are now safe for celiacs and the gluten-sensitive. Breakfast just got a whole lot easier, and I can hear moms and dads around the globe rejoicing! Kellogg's Rice Krispies are made with whole-grain brown rice and fortified with 10 essential vitamins and minerals. Though I am the resident celiac and required to eat gluten-free, my non-celiac boys also look forward to a bowl of gluten-free Rice Krispies, with or without milk!
So thank you Kellogg's for making the lives of busy moms and dads just a little easier at breakfast and snack time. We applaud your efforts for considering the celiac and gluten-sensitive community, by offering a gluten-free cereal.
We also thank you for offering one lucky CeliacCorner winner, an amazing – yes amazing, celebratory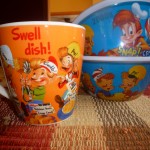 "Kitchen Kit" to share with their family, as I was able to do with mine – see Giveaway details below!
In conjunction with Celiac Awareness Month (May), Kellogg's has teamed with dietitian Tricia Thompson, MS, RD  to bust the many myths surrounding gluten-free products, especially breakfast items, so that families will know that following a gluten-free lifestyle is not as inconvenient as originally thought, especially when there are options such as Rice Krispies' cereal and snacks (you can now make the gluten-free version of marshmallow treats!).
According to Thompson, three such myths of living a gluten-free lifestyle are:
Myth One: You always have to pay more for gluten-free products.
Gluten-free doesn't have to mean more expensive or a trip to a specialty store. For example, a box of Kellogg's Rice Krispies Gluten Free cereal costs the same amount as Kellogg's Rice Krispies and is sold alongside the original blue box.
Myth Two: All gluten-free snacks for kids require extra attention from mom and dad.
Not all snacks require a lot of time and preparation. With many favorite products now available in gluten-free varieties, it's easy to whip up a quick gluten-free snack that the whole family will love, like Rice Krispies Gluten-Free Treats™.
Myth Three: Food that's labeled "gluten-free" is healthy.
Not all gluten-free products qualify as healthy. When grocery shopping, look for gluten-free cereals, breads, and pastas that are made with gluten-free whole grains or have been fortified or enriched as they are good sources of iron and B vitamins, which may be lacking in gluten-free diets.
"There are ways to eat a gluten-free diet without sacrificing several nutrients, including fiber, iron, folate and niacin," said Thompson. "For example, a breakfast that includes a whole grain- or vitamin and mineral-fortified cereal, like Kellogg's Rice Krispies Gluten Free, served with sliced bananas and milk is a quick, healthy and delicious way for kids to start the day."
Great advice Tricia!
To Learn more about Kellogg's Rice Krispies Gluten Free cereal and find some wonderful family-friendly gluten-free recipes visit www.ricekrispies.com. Visit Kellogg's on Facebook at www.facebook.com/ricekrispies.
Note: Just be sure to look for the words "gluten-free" on the box at time of purchase to be sure you are buying the gluten-free Rice Krispies, and not the "original" Rice Krispies, which still contain barley malt.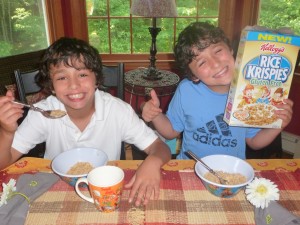 Here is a photo of my boys,
Marcus (right) and Benjamin,
enjoying their breakfast of
gluten-free Rice Krispies
using products from the  Kellogg's Breakfast Kit!
x x Kelloggs Breakfast Kit GIVEAWAY x x
NOW CLOSED
ONE (1) KELLOGG'S® RICE KRISPIES® GLUTEN-FREE BREAKFAST KIT ($70 value)
Kit includes:
one (1) nine-ounce box of Gluten-Free Rice Krispies ®, one (1) Kellogg's Rice
Krispies® Assorted Mugs, four (4) Linden Street Boston Checks Placemats from JC Penny, four (4)
Gerber Daisy White Napkin Rings from Crate& Barrel, one (1) Set of Monogrammed Napkins from West
Elm, and two (2) Rice Krispies Snap!™ Crackle!™ Pop!™ Bowls . Total ARV: $70.
xx   A Big Wow, right!   xx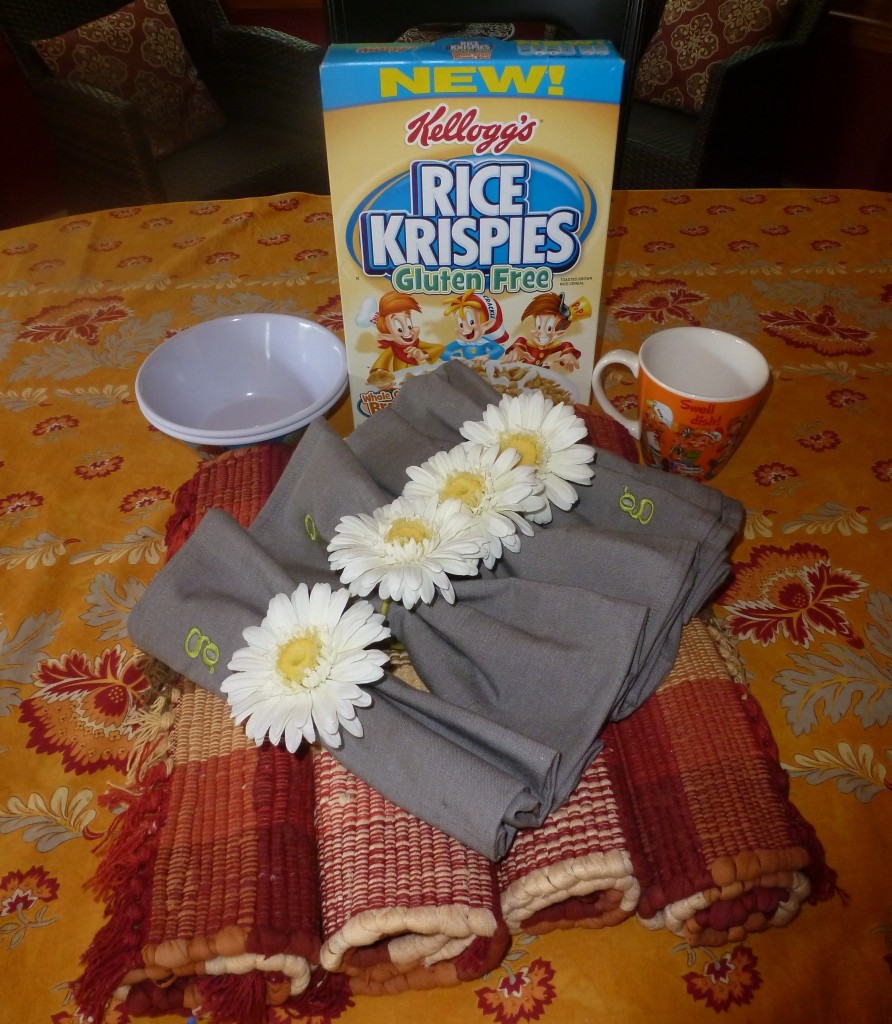 (Tablecloth not included)
Giveaway begins Wednesday, 30 May at 3:00 pm ET and ends Friday, 8 June at 5:00 pm ET
(Don't miss out on this one!)
To enter Giveaway:
–        LEAVE A REPLY BELOW TELLING US WHY YOU WOULD LOVE TO RECEIVE THIS GREAT KELLOGG'S BREAKFAST KIT
–        LIKE CELIACCORNER ON FACEBOOK AND LEAVE A COMMENT ON FB THAT YOU ENTERED KELLOGG'S BREAKFAST KIT GIVEAWAY – We check :), YOU CAN ALSO LIKE KELLOGG'S FACEBOOK PAGE, LINK NOTED ABOVE
–        FOLLOW CELIACCORNER ON TWITTER, IF YOU TWEET (you can still enter if you are not a tweeter)
–        SHARE GIVEAWAY VIA FACEBOOK AND TWITTER
–        GIVEAWAY BEGINS WED., 30 MAY at 3:00 pm  ET and ENDS FRIDAY, 8 JUNE at 5:00 pm ET
–        KELLOGG'S WILL SEND THE KITCHEN KIT DIRECTLY TO WINNER
Giveaway open to US residents only, per Kellogg's (apologies to our Canadian visitors)
Official Giveaway Rules by Kellogg's:
KELLOGG'S® RICE KRISPIES® GLUTEN-FREE BREAKFAST KIT
NO PURCHASE NECESSARY. VOID WHERE PROHIBITED.
The winner of the "KELLOGG'S® RICE KRISPIES® GLUTEN-FREE BREAKFAST KIT" will be selected at
random using www.random.org. The winner will be contacted by e-mail and will have 48 hours to respond
and confirm his/her prize of one (1) "KELLOGG'S® RICE KRISPIES® GLUTEN-FREE BREAKFAST KIT"
giveaway: with a value of $70. To enter the giveaway, readers must abide from blogger's specific
guidelines (SEE ABOVE – To Enter The Giveaway)
Limit one (1) Giveaway entry per person for entire Giveaway. Entrants for the KELLOGG'S® RICE
KRISPIES® GLUTEN-FREE BREAKFAST KIT" giveaway may not participate with multiple e-mail
addresses. Any entrant who attempts to enter with multiple e-mail addresses, under multiple identities or
uses any other device will be disqualified from participation in the promotion and all entries submitted by
that entrant will be void.
1. ELIGIBILITY: Open to legal residents of the fifty (50) United States and District of Columbia who are
18 years of age or older at time of entry. Employees of Sponsor, its affiliates, subsidiaries, advertising and
promotion agencies and their immediate family members and/or those living in the same household of
each are not eligible to participate.
WINNER SELECTION: Giveaway winners will be selected at random on June 8th at 5:15 pm or thereabouts
among all eligible entries received during the Giveaway.
2. Winners will be determined by the Sponsor. Winners will be notified by email. In the event the
Sponsor is unable to contact the winner within 48 hours of first notification, prize will be forfeited and
an alternate winner selected.
3. PRIZES/APPROXIMATE RETAIL VALUES: One (1) "KELLOGG'S® RICE KRISPIES® GLUTENFREE
BREAKFAST KIT: one (1) nine-ounce box of Gluten-Free Rice Krispies ®, one (1) Kellogg's Rice
Krispies® Assorted Mugs, four (4) Linden Street Boston Checks Placemats from JC Penny, four (4)
Gerber Daisy White Napkin Rings from Crate& Barrel, one (1) Set of Monogrammed Napkins from West
Elm, and two (2) Rice Krispies Snap!™ Crackle!™ Pop!™ Bowls . Total ARV: $70. Odds of winning
Giveaway prize depend on total number of eligible entries received during the Giveaway. Unclaimed
prizes will not be awarded. Limit one (1) prize per person for each promotion.
4. GENERAL: Subject to all federal, state and local laws/regulations. Neither Sponsor, nor its affiliates will
have any liability whatsoever for any injuries, losses or damages of any kind caused by any prize or
resulting from acceptance, possession, use and/or misuse of any prize or participation in these
promotions. Acceptance of a prize shall be construed as and signify the winner's agreement and consent
that Sponsor may use the winner's name, voice, likeness and/or prize information, without limitation, for
promotional purposes without further consideration, review, approval or payment, where allowed by law.
By participating in this promotion, entrants agree to be bound by the Official Rules and the decisions of
the Sponsor, which are final and binding in all respects. Sponsor not responsible for any typographical or
other error in the printing of the offer or in administration of the promotion.
5. INTERNET: Sponsor is not responsible for electronic transmission errors resulting in omission,
interruption, deletion, defect, delay in operations or transmission or alterations of entry materials, or for
technical, network, telephone equipment, electronic, computer, hardware or software malfunctions or
limitations of any kind, or inaccurate transmissions of or failure to receive entry information by
Sponsor on account of technical problems or traffic congestion on the Internet or at any website or any
combination thereof. If for any reason the promotions are not capable of running as planned for any
reason Sponsor reserves the right in its sole discretion, to cancel, terminate, modify or suspend the
Sweepstakes and select the winners by random drawing from among all eligible entries received from all
methods combined up to the point of the action taken by the Sponsor.
6. Winners names will be available no later than June 15, 2012 by emailing the respective blogger.
Though Kellogg Company provided me with a Kellogg's Gluten-Free Breakfast Kit to conduct a reader giveaway, my opinions on the product are entirely my own and I have not been paid to publish positive sentiments towards Kellogg Company or any of their products.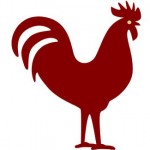 Camille's CritiqueCorner