Kaia – Alive & Radiant Foods – Raw, Vegan and Gluten-free – Product Review
---

Since my celiac diagnosis I've been on a quest to eat healthier. Less consumption of processed foods, and more dishes and snacks prepared with simple, healthy ingredients. Recently, I've read up on the Paleo diet and have also begun to research the benefits of consuming raw food.  The raw food diet is based on the belief that foods which are over heated … 1) become devoid of the nutrients they were born with, 2) contain toxins created during the heating process and 3), can also destroy the live enzymes that aid in digestion and health. Raw food can still be heated, but at a lower temperature, below 104 to 118 degrees. Following a raw food diet, has its health benefits such as an increase in energy, weight loss, lower risk of diseases such as diabetes and heart disease among others, and can even be beneficial to your skin. All good things! So when kaia (soon to be renamed kaya), a leading "raw" food company sent me a few samples I was very excited to try them out to see if I would become a raw food fan! (be sure to enter Giveaway noted below!)

About kaia (kaya) foods:  Located in Oakland, CA, the company which has two brands "Kaia Foods and Alive & Radiant Foods" believes in "simple living that balances body, earth, and community." They use minimally processed organic ingredients and give back to the community by donating a portion of their sales to food aid programs. kudos to kaia!
kaia's  statement on gluten-free: "We do not produce anything in our facility that has gluten in it, so in our facility there is no chance of cross contamination. Since we are certified gluten free, we have to do quarterly composites and check for possible contamination. We just recently did one, and got a 0% gluten result." Their facility does include the processing of tree nuts and soy, however.
kaia's line of raw products includes: Organic granola, sprouted* sunflower and pumpkin seeds, kale chips & krunches both of which come in a variety of flavors. Other products available: organic nutritional yeast flakes, chia seeds, cacao powder & cacao butter, palm sugar, goji berries and even a line of cookies!
I was sent the Buckwheat Granola, Kale Krunch (Quite Cheesy), sprouted Pumpkin Seeds (Sea Salt & Vinegar), sprouted Sunflower Seeds (Sweet Curry), and a Fruit Leather (Lime Ginger). Because I was sent only one package of the granola and the sweet curry sunflower seeds I decided to include them in our Giveaway (see below) and didn't get to taste them. I foresee a trip to my local Whole Foods soon to scout them out though!  (FYI: The sprouted buckwheat granola comes in a variety of flavors, among them: cherry pie, raisin cinnamon & date and spice, and the sprouted sunflower seeds also come in a variety of delicious flavors)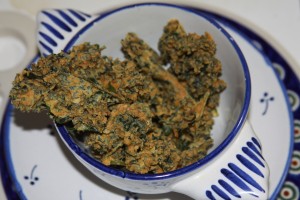 Kale Krunch – Quite Cheezy flavor (ingredients: organic kale, organic cashew, red bell pepper, organic lemon juice, nutritional yeast, Himalayan crystal salts) – raw and free of gluten, soy & dairy.  I must admit, at first glance they didn't look very appealing, let alone edible … somewhat resembling a dried flower.  Again, I'm a raw food novice, and I'm sure they would appear to be a delicacy to someone accustomed to eating dehydrated, raw snack foods!  The first few chews offered a nice crunch, and then the crunchy morsels began to melt away in my mouth. I was pleasantly surprised with both the delicate taste and texture. You can taste the kale, but it is not overwhelming, and the cheese flavor is mild and without the cheese of course! They are chock full of nutrients (Vitamins A, C, B12, Calcium, Thiamin, Niacin, Iron, Riboflavin and Folate) Though not an instant hit with me, I think primarily because of the appearance, I did eventually grow to really enjoy them and snacked on them for days! So, if you are looking for a healthy alternative to a bag of Ruffles, give Kale Krunch a try. Other Kale Krunch flavors include Cheezy Chipotle, Southwest Ranch, Tarragon Dijon, Spirulina Orange Creamsicle, & more! Kaia calls their Krunches & Chips "nature's perfect green supersnack"! I'd have to agree with that. Now I'm not going to assume everyone is going to like these raw "superfood" snacks, especially if you are used to snacking on sweet, colorful (dyes ugh!), packaged and processed foods. But if you, like me, are on a quest to choose healthier snack options made with simple, nutrient-filled ingredients, these are for you!
Sprouted Pumpkin Seeds – Sea Salt & Vinegar (ingredients: sprouted pumpkin seeds, raw apple cider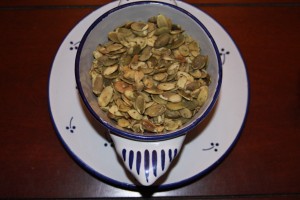 vinegar and sea salt). I found the seeds slightly salty and containing a very mild (almost non-existent) vinegar flavor.  They are a delicious, healthy snack providing 20% (daily value) of Iron, Vitamin A (2%) and Calcium (2%). Other Kaia sprouted pumpkin seed flavors include: Orange & Spice & Party Mix.  Great to pack in your kids' lunch, or as a snack for yourself.
Fruit Leather – Lime-Ginger (ingredients: orange, banana, kale, lime juice, ginger powder).  Think of your kid's fruit roll-ups – but heartier and healthier.  Just a hint of ginger and lime, and the right combo of sweetness and tartness. I found the fruit leather to be a satisfying snack which you can easily fit in your purse, or back pocket, when heading out the door, and is a considerably healthier snack  for your kids.
Overall, I enjoyed all of the kaia products that I tasted.  I wasn't sure if I was going to be a convert to raw foods (mainly the dehydrated kale), but I gave them a try and really liked them, and look forward to trying even more of kaia's exotic flavors!
*the process of "sprouting" includes soaking the grains/seeds in water so they will release their nutrients –  they also become easier to digest.
For more information on kaia (kaya) visit: www.kaiafoods.com www.blessingsaliveandradiantfoods.com; http://shop.kaiafoods.com/pindex.asp
As a CeliacCorner visitor, if you order on-line from kaia's webstore, you will save 20% off your order by entering Coupon Code:

celiaccorner

(all lowercase) at checkout! http://shop.kaiafoods.com/
More about the benefits of consuming RAW food:
http://www.rawfoodlife.com/#ixzz1nyTpJoAq
http://altmedicine.about.com/od/popularhealthdiets/a/Raw_Food.htm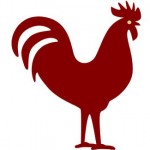 Camille's CritiqueCorner
See all Camille's CritiqueCorner Reviews!
CeliacCorner
GIVEAWAY – NOW CLOSED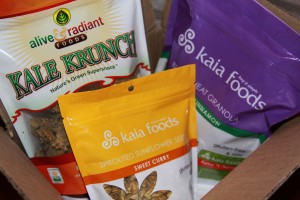 kaia/kaya Foods
(A free bag of Buckwheat Granola  (a $7.49 value), Curry flavored Sprouted Sunflower Seeds
and Kale Krunch-Quite Cheezy)
One lucky winner will receive the above kaia/alive & radiant products.  If you haven't tried their product line, this is a great opportunity!  Here is all you have to do to enter:
1.  Leave a comment below telling us why you would like to try these tasty, nutritional treats!
2.  Go to kaia's facebook page and LIKE it! http://www.facebook.com/kaiafoods?sk=wall
3.  Then go over to CeliacCorner's facebook page and LIKE it & leave a comment that you entered the Giveaway!! http://www.facebook.com/CeliacCorner
4.   Follow CeliacCorner on Twitter https://twitter.com/#!/CeliacCorner if you tweet
5.  Please SHARE this post …
Giveaway open to US and Canadian residents only.

The winner will be announced on Wednesday, the 21st of March, and will be contacted via email. THANK YOU & GOOD LUCK!