Increased Prevalence of Migraine Headaches in Celiacs
---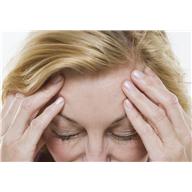 Celiacs, the gluten-sensitive and inflammatory bowel disease sufferers can add migraine headaches to their list of related symptoms. According to a recent study, there is an increased prevalence of migraine headaches among this population. Alexandra Dimitrova, M.D. and her team at Columbia University Medical Center set out to study the migraine association, aware that European studies have previously concluded the increased prevalence.
In the Columbia University Medical Center study, 502 patients (188 with celiac disease, 111 with inflammatory bowel disease, 25 with gluten-sensitivity and 178 people in the control group) completed a survey which included medical history, medications, alcohol, caffeine and drug use, celiac and IBD diagnosis details, duration of gluten-free diet, and headache details (type/how often).  The team used a ID-Migraine screen to diagnose migraine and a Headache Impact Test (HIT-6) to indicate severity of headaches.
Dr. Dimitrova and her team found 30 percent of celiacs, 23 percent of IBD population, 56 percent of the gluten-sensitive, and 14 percent of the control group reported having chronic headaches. Adjusting for confounding variables, celiacs, the gluten-sensitive and IBD showed an increased prevalence of migraines versus the control patients (odds ratios, 3.79, 9.53 and 2.66 respectively). In the celiac disease group, the severity of headaches (measured on the Headache Impact Test) was significantly increased compared with the gluten-sensitive and IBD groups.  Dimitrova commented that many patients reported improvements in the frequency and severity of headaches once they started a gluten-free diet.
 Based on their study findings, Dr. Dimitrova and her team concluded that migraine is a common neurologic manifestation in all three groups, and suggested "future interventional studies should screen migraine patients for celiac disease, particularly those with treatment-resistant headaches."
This  study was presented recently (April 21 – 28th 2012)  at the annual meeting of the American Academy of Neurology (AAN) in New Orleans. For more information on this event visit: http://www.aan.com/go/am12


To read more articles/blogs by CeliacCorner: http://celiaccorner.com/celiac-news/articles/