inbru coffee flavors (gluten-free) Review
---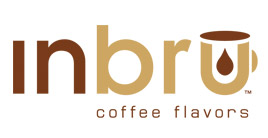 Coffee falls into the stomach … ideas begin to move, things remembered arrive at full gallop … the shafts of wit start up like sharp-shooters, similes arise, the paper is covered with ink … Honoré de Balzac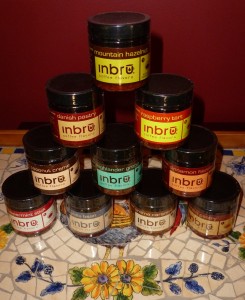 I enjoy coffee and look forward to my first cup as soon as my head rises from the pillow! I find my morning cup awakens both my body and mind, and my afternoon cup provides a form of relaxation (since I only drink caffeinated, probably "where"  I am drinking it contributes to the relaxation factor)! I like variety and up until my celiac diagnosis would often have a second bag of flavored coffee on hand if I desired an added burst of flavor. I basically avoided buying flavored coffee altogether, after reading some flavored coffees may contain gluten. It was just easier to give it up … but yes I've missed the aroma of vanilla wafting through my kitchen!
As luck would have it, Howard of inbru coffee flavors sent me an email. He introduced inbru, which come in a granulated form as opposed to a syrup and happen to be free of gluten (yay!) and most other allergens. Howard asked if I would like to sample a few. Woo-hoo – that would be a YES! When the box arrived I was so excited to pull out the cute jars of flavors (I'm a sucker for nice graphics/packaging!). First came vanilla bean, then crème caramel, toasted chestnut, cinnamon hazelnut, peppermint stick, raspberry tart, danish pastry … oh my! I couldn't wait to try them all, and I did, and honestly enjoyed every one of them but if I had to pick my top three I'd say vanilla bean, crème caramel and toasted chestnut! I can't wait to add the Raspberry Tart to a pot of brewed tea – yes, you can add inbru flavors to brewing tea as well! View inbru's entire list of flavors here – really there is a flavor to please everyone's taste. (See our GIVEAWAY below!)
The jars come with a tiny scoop. Just drop in a small amount to the coffee already added to the filter and brew (you should not add it directly to your cup .. it must be brewed-in flavor)! One jar can flavor over 80 (six-ounces) of coffee, so if you have several flavors on hand (I'd get one of each!) you can try a different flavored coffee each day. You can also adjust the amount of flavoring (subtle or intense) by adding more scoops to the filter, if desired. Inbru flavors are not considered a "sweetener" so you can still add your favorite form of sweetener, though I find I can cut down on the amount of turbinado I usually add (a good thing). I enjoy having a cup of vanilla bean one day and cinnamon stick the next, rather than having only one flavored option to drink all week – and due to their extended shelf life (1 yr.), they stay fresher than flavored coffee beans which can go stale. Still have questions on how to use inbru – view their handy video:  http://www.inbru.com/How-To-Use-Inbru_c_18.html
Inbru coffee flavors are a healthier choice for coffee flavoring for a variety of reasons. They are sugar-free (and no fake stuff & chemicals added), fat-free, carb-free, calorie–free, and free of allergens (no gluten, corn, dairy, soy, peanuts & tree nuts, diacetyl (a naturally occurring chemical used for flavoring which studies have shown to be unhealthy) and they are safe for diabetics!  Have you looked at the ingredients in your coffee creamers and syrup flavorings lately?).  Inbru's all natural flavors include: Vanilla Bean, Raspberry Tart, Cinnamon Stick, Peppermint Stick.  Only in their "nutty" flavors such as Hazelnut, Butterscotch Drop, Highlander Grogg are artificial flavors used.
Inbru is brewed flavor and is made from natural California rice hulls which is the tough parchment that surrounds the rice grain.  (from their website) "When hulls are removed from rice during milling, the product is familiar pure brown rice. The hulls, however, are generally discarded. Inbru captures, cleans and sterilizes these rice hulls. We then apply our incredibly delicious aromas and extractives to create Inbru Coffee Flavors. Rice hulls are an excellent natural flavor carrier. In fact, rice hulls are often used by home beer brewers as a filter medium because the material is absolutely taste-neutral, natural, and will not dissolve when exposed to high temperatures, moisture and pressure …. the hot water and gentle agitation of the brew process release the Inbru flavors as the coffee is extracted. Inbru doesn't dissolve in the coffee – it remains in the filter with the coffee grounds."
Inbru coffee flavors are safe for celiacs and the gluten-sensitive as not only are they free of gluten ingredients, they are also processed in a facility that does not process any other products containing gluten.
Why inbru coffee flavors make a good choice for everyone:
–        yum variety of flavors (try a different one each day!) –        convenient to take along to work to add to your office pot –        stay fresh longer while maintaining flavor (shelf life of one year!) –        you will save money on buying a bag of flavored coffee & will have more variety –        works in any brewer and with any roast (dark, light, decaf or blend) –        no refrigeration required –        contains healthier (& allergen free) ingredients than other flavorings –        flavors are 100% compostable, biodegradable & container, lid & spoon are recyclable –        kosher certified –        a great gift idea for celiacs, the gluten-sensitive or anyone loving a burst of flavor in their coffee/tea! 
https://www.inbru.com/Inbru-Gift-Certificates_c_32.html
–        free shipping if you order 3 or more of 24g jars
FAQ: https://www.inbru.com/FAQs_c_30.html
Attention Restaurant, Bakery, Café owners! Jars come in a 120g size!
Look for inbru at Williams-Sonoma stores in the US and Canada!
(Disclosure: I did receive sample products to try in order to write this review. No monetary amount was received and the reviews and opinion are my own (LOVE them!) CeliacCorner is not responsible for the misuse of the product reviewed.)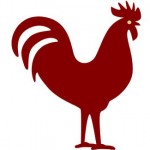 Camille's Critique Corner
(See All Camille's Critiques!)
xx inbru coffee flavors giveaway xx
Attention Coffee (& tea) Lovers
Want to spice up your life?
(GIVEAWAY NOW CLOSED)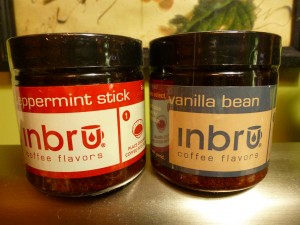 TWO lucky winners will receive TWO flavors each
(you can choose from a variety of flavors)
Giveaway begins June 18th and ends June 25th at 5:00 pm (ET)
Giveaway Rules:
1. In the REPLY box below, tell us why you would love to try inbru coffee flavors which are gluten-free! (note: reply does not show up immediately)
2. STOP BY inbru's blog: http://blog.inbru.com/
3. LIKE CeliacCorner on Facebook, and (important) be sure to leave a message on FB that you have entered Giveaway (a simply "entered inbru giveaway" will do) … we check 🙂
4. FOLLOW CeliacCorner on Twitter if you are a tweeter
5. SHARE with 3 people via Twitter or Facebook


(Two winners will be contacted via email, and will have 2 days from notice to claim giveaway items, otherwise another winner(s) will be chosen)
Open to US and Canadian residents only – GOOD LUCK, you will love these!