Gopicnic ready-to-eat (gluten-free) meals – Product Review & Giveaway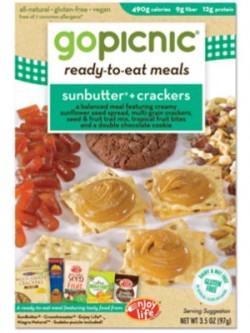 Convenience is a word which is not often synonymous with celiac and the gluten-free lifestyle. When planning a trip we need to think about packing gluten-free snacks or meals in our purses, backpacks and coolers to stave off starvation at any give time! Well, one company has made the lives of celiacs & others with special dietary needs (vegan, vegetarian, kosher), a whole lot more convenient! Gopicnic ready-to-eat meals had the ingenious idea of filling portable boxes with delicious and healthy gluten-free snacks. They don't require refrigeration or pre-heating which makes them even more convenient to take along! I was first introduced to gopicnic at the Phoenix airport a while back. It was a connecting flight and I didn't have any gluten-free snacks left to take on the next flight. Assuming I would just grab a bag of chips at a kiosk, I happened to find the gopicnic boxes at one of the shops, which I quickly grabbed up and later devoured on board!
I was thrilled to recently receive a variety of gopicnic ready-to-eat meals to review (and we get to share some with you – see our Giveaway below!). They couldn't have arrived at a better time as my family was planning to travel by air soon, so I was able to pack one box in my carry-on to enjoy in-flight, and also packed a few in my suitcase which I later enjoyed during my vacation.  While hubby and kids were lacklusterly snacking on wee packages of peanuts and pretzels, I was enjoying my turkey pepperoni, Asiago cheese spread and crackers, dried cranberries and pineapple, and sweet ending of buttercrunch toffee …  yes I did eventually share!
Gopicnic snack boxes are filled with a variety of delicious snacks from companies offering healthier and mostly allergen-free options: Sunbutter, Crunchmaster, Niagara Naturals to name a few. Though they are considered "snacks", you really feel as if you've eaten a meal, because they contain a good quantity of snacks and the portions are plentiful! The All-Natural Sunbutter & Crackers meal contains for example Sunbutter Creamy Sunflowerseed Spread, Crunchmaster Multi-Grain Sea Salt Crackers, Enjoy Life Seed & Fruit Trail Mix, Niagara Naturals Tropical Fruit Bites and an Enjoy Life Double Chocolate Cookie, and which in addition to being free of gluten, are all natural, vegan and free of most common allergens. Other gopicnic meals include such savory items as: the gopicnic brand of Chili Lime Salmon Spread, Seapoint Farms' Dry Roasted Edamame, Wild Garden's Hummus Dip, Brown & Haley's Almond Roca Buttercrunch Toffee! I'm just saying … yum!
At approximately 290 – under 500 calories per box (depending on variety), the elimination of artificial flavors and colorings, and the addition of protein and fiber, the meals are a healthy choice for a snack/meal! So, next time you are planning a trip which requires air travel, pre-order a few boxes to take with you! They are also great to pack in kids' lunchboxes, because they contain well-balanced, nutritional options. Kids will also enjoying reading the Fun Food Facts written "inside" the box! (Did you know that lemons were used to redden the lips of the women of Louis XIV's court? Just learned by reading the box!) I would also think the meals would be great for college students to have on hand during classes or even to take with you during a hospital stay.  And of course, they would be great to pack for a picnic!
FYI: Gopicnic has a gluten-free "Variety Pack" available which includes 6 assorted snack meals for $26.99, so worth it! Individual boxes sell for $4.99 each on their website. CeliacCorner visitors will receive a 10% discount for on-line orders by entering Coupon Code CS10 at check-out!
Why we also love gopicnic ready-to-eat meals:
Snacks chosen are free of trans fat, high fructose corn syrup, msg, artificial flavors and colors
Once you finish consuming the snacks, you can open up the box which contains a Sudoku puzzle, nice to have on hand during a long flight!
Though the gopicnic gluten-free meals are processed in a facility that also processes wheat, they are tested to ensure they contain 20 ppm or less. (We hope the company will continue to work with even more partner foods that are certified-gluten-free)
Company is environmentally-friendly (according to website – they try to use recycled material when possible)
They offer the convenience of a meal subscription plan to have them delivered directly to your door.
If you have a favoriate go-picnic snack  item (including both GF & others containing wheat), you can order it individually via their website
Notes:
Just be sure to select the right meal for you (i.e. read allergen labels), as not all of

gopicnic

products are gluten-free.
Read Frequently Asked Questions from their website: http://www.gopicnic.com/Frequently-Asked-Questions-about-GoPicnic
Can't find gopicnic in your favorite store, you can order on-line, but there is also something you can fill out and hand to your store manager (see FAQs).
Visit gopicnic's website: http://www.gopicnic.com/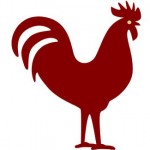 Camille's CritiqueCorner
(To see all Camille's critiques)
xx GIVEAWAY xx
Enter to Win 4  (gluten-free) gopicnic ready-to-eat meals
(1 turkey pepperoni & cheese, two sunbutter & crackers, 1 salmon & crackers )

Giveaway rules:
Leave a comment below telling us why you would love to win these delish ready-to eat meals.
LIKE our Facebook Page:  http://www.facebook.com/CeliacCorner, and be sure to leave a comment on our FB page that you entered Giveaway! we check 🙂
LIKE

gopicnic's

Facebook Page http://www.facebook.com/GoPicnic?ref=ts
If you tweet, follow CeliacCorner https://twitter.com/#!/CeliacCorner
SHARE with at least 3 people
Giveaway ends Friday, May 11 at 5:00 pm (CONTEST CLOSED – Congrats to Veronica!)
GOOD LUCK! If you haven't tried gopicnic, now is a great time – you will love them!
Open to US and Canadian residents only