Dr. Praeger's Sensible Foods (gluten free, vegan) Review & Giveaway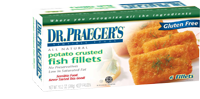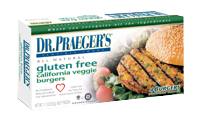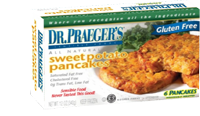 Honestly, years ago I wouldn't have considered eating a "veggie" burger. I liked my burgers grilled and made of beef. Fast Forward to the present and now living with celiac and eating gluten-free, I am eating healthier than ever, limiting my red meat and for some reason absolutely craving vegetables, which generally cover ¾ of my dinner plate.  I'm always looking for new and interesting ways of incorporating veggies into my entire family's diet. So when I received a coupon for California Veggie Burgers from Dr. Praeger's Sensible Foods, a company specializing in a line of healthier frozen (Kosher) foods, I was off to the market to pick up a box (See our Coupon Giveaway Below)! Dr. Praeger's offers a variety of gluten-free frozen products including fish sticks & fillets, sweet potato pancakes to name a few and other kid-friendly varieties (Sweet Potato Littles, Potato Crusted Fishies … see complete list below), which are packed with healthy ingredients, and free of the junk ones!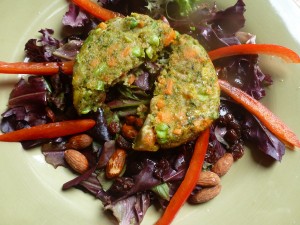 I popped the veggie burger, which come 4 in a box and fully cooked (retail $4.99), into the oven set on broil for about 10 minutes (cooking time may vary), and when finished laid it atop organic greens drizzled lightly with olive oil & balsamic vinegar and I thoroughly enjoyed my meal. Did I really just have a veggie burger!! Yes, I did … and I liked it!  The top of burger toasted just a bit which gave it a nice crunch, and I was biting into good sized pieces of carrot, corn, and beans!  It was delicious … healthy can taste good! I served it over greens, but you could certainly place it in between a gluten-free hamburger bun. The California Veggie Burgers contain carrots, string beans, zucchini, peas, spinach, broccoli, corn, red peppers, potato flakes, onions, garlic, soybeans, expeller pressed canola oil, arrowroot, corn meal, corn starch, rice starch, salt, parsley, pepper. No artificial flavors, preservatives or unhealthy fillers. These veggie burgers will not only appeal to vegetarians, but to anyone looking for a healthy, tasty meal. They are high in Vitamin A, fiber and iron and contain Vitamin C and Calcium. They are vegan, cholesterol-free, Trans fat-free, GMO-free, certified kosher, low-sodium, contain no artificial ingredients or preservatives (they do contain soy and corn). Sure, it's great to cook from scratch, but occasionally we all just need the convenience of a 10 minute prep meal, and a healthy, tasty one at that!
Parents, Dr. Praeger's kid-friendly gluten-free frozen meals include:  Broccoli Littles,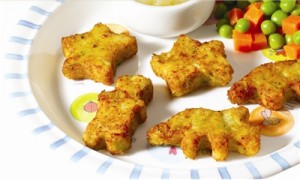 Spinach Littles, Sweet Potato Littles, Potato Littles, Potato Crusted Fishies which come in kid-friendly shapes – great way to get those much needed vegetables into your children's diet, and without all the unhealthy ingredients that many frozen boxed foods contain – have you checked the ingredients on your kid's box of fish sticks lately, gluten free or otherwise?
Though Dr. Praeger's products are not "certified" gluten free and they are prepared in a facility that also contains wheat, I asked them about their safety and testing procedures, if any, and this is what I was provided: "We periodically send batches of our gluten free products to an independent lab to test for trace gluten >10ppm.  We have never received a positive test for gluten in our gluten free products." I felt fine after consuming the veggie burger.
Dr. Praeger's line of gluten-free products includes more than just the veggie burgers! See a complete list of gluten-free products here: http://www.drpraegers.com/Gluten-Free-C65.aspx At the market, just be sure to look for the gluten-free labeling, as some Dr. Praeger's products are not gluten-free (the gluten-free products have a green line across the top)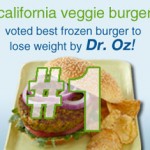 Looking to take off a little weight, while eating healthy, Dr. Praeger's Veggie Burger was voted best frozen burger to lose weight by Dr. Oz!
You can find Dr. Praeger's products at Whole Foods, Stop & Shop, Costco and they are expanding to many more markets.
The Story Behind Dr. Praeger's (from their website) http://www.drpraegers.com/
It all started in 1994 when successful New Jersey cardiac surgeon Dr. Peter Praeger and his medical partner, Dr. Eric Somberg, helped keep a family business alive. They bought Ungar's Gefilte Fish – a popular food company within the Jewish and Yiddish communities. The doctors set out on a simple mission – to help people see nutritious food in a new light. They expanded the company to include all-natural and sensible products that would appeal to a wider consumer base. They kept the Ungar's brand, which includes the original gefilte fish and other traditional Jewish foods, and developed Dr. Praeger's Sensible Foods, which now includes dozens of all-natural, kosher frozen foods.
Dr. Praeger's Sensible Foods was born and soon became a family affair, with Dr. Praeger's children – Larry and Danielle, and his nephew Jeffrey – working for the company. Dr. Somberg's wife, Ellen, and son, Adam also play an integral role in the company. The families now run the business out of a 60,000-square-foot manufacturing facility in Elmwood Park, NJ, with 70 employees who feel like family members, too.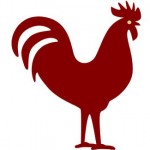 Camille's CritiqueCorner
xx GIVEAWAY xx
– NOW CLOSED –
Two (2)  coupons to Two (2) Winners!
for two Dr. Praegers Gluten-Free Frozen Products!
Giveaway Begins: Thursday, 24 May and  Ends: Thursday, 31 May 2012 at 5:00 pm
(Great way to try out Dr. Praeger's GFree products!)
Giveaway rules:
Please REPLY in the comment section below telling us why you would like to try Dr. Praeger's products?
LIKE CeliacCorner on Facebook – also leave a comment on FB that you have entered Giveaway – we check 🙂
Follow CeliacCorner on Twitter, if you are a tweeter (if not, that is ok, you may still enter)
Share Giveaway on your Facebook page and on Twitter

Giveaway ends 5:00 pm on Thursday, 31 May 2012.

Two winners will be announced and asked to submit a home address. Dr. Praeger's will mail the  coupons directly to the winners.
Giveaway open to US and Canadian residents only.  Good luck!