Chunks of Energy, 100% raw, vegan & gluten-free – product review
---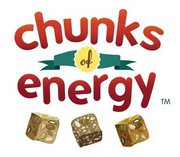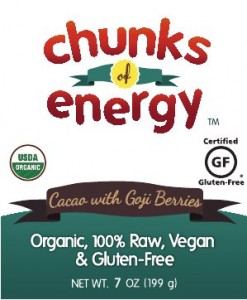 I really enjoy sharing reviews of healthy snack options. Personally, I've been trying to make better choices at the market when choosing snacks for myself and my family, and I'm sure other health-minded people are thinking likewise. So, I was excited to receive a sample package of Dancing Stars' Chunks of Energy – the Cacao with Goji Berries flavor – which are 100% raw, vegan, and gluten-free chunks, yes the name does describe them well. I found the Cacao with Goji berries chunks to be absolutely delicious and a completely satisfying snack of healthy and flavorful ingredients consisting of: (organic) date paste, sunflower seeds, raisins, apricots (may contain organic rice flour), cacao powder, sesame seeds, sunflower meal, coconut, goji powder, natural coconut flavor, natural vanilla & other natural flavors. The dominant flavor was date, with a mild taste of coconut and cacao. Never having eaten a goji berry, I couldn't easily identify the taste, but considering they are high in beta carotene and vitamin C, I'm just glad they are in there!  Overall, the chunk texture was smooth, but there were plenty of seeds for a nice crunch appeal!
Chunks of Energy are a delicious, bite sized, hearty snack, ideal for both adults and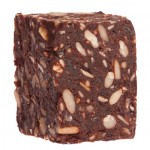 children … and as a bonus they happen to be filled with healthy, unprocessed, preservative-free ingredients! A Win-Win! Great for taking to the airport for a healthy gluten-free alternative to a bag of chips, or to feed your child at the playground … or just about any time you want to keep your energy up!
Though none of the Chunks of Energy products contain gluten-ingredients, only their individually packaged line is (GIG) certified gluten-free.  In addition to the cacao with goji berries, the gluten-free flavors include carob supergreens, chia orange, date flax with turmeric and lemon pomegranate which all sound so yum.  Other flavors in their "bulk" line which are not certified gluten-free (but do not contain any gluten ingredients) include such delights as: carob banana, carob spirulina (a super-high protein algae), chocolate almond chip, mixed berry, honey pistachio, peanut butter chocolate and vanilla almond.
Chunks of Energy was founded in 1992 by a gentleman who left New York's Wall Street behind to become an entrepreneur in the natural food business. After working at Whole Foods learning about organic bulk buying, and teaching classes in the Boston area on "simple and powerful" ingredients, he and his family moved to the Berkshires in Massachusetts, started an organic garden whereupon Chunks of Energy (which was named by the owner's 8 year old) were created with the first flavor being carob and spirulina.
Dancing Star, which is named after the owner's farm in the Berkshires, is located in Buckland, Massachusetts.  In addition to their "chunks" they also offer a line of powders including organic roasted carob powder, raw cacao powder, supergreens powder, and spirulina powder.
Try out the Chunks of Energy Sampler Pack for only $3.00!  When ordering from the Chunks of Energy website, just be sure to read the note at the bottom of the product pages, to identify which products are certified gluten-free!
Website:
http://chunksofenergy.com/
Tel: 413.625.8300
Facebook
Twitter
Why we love Chunks of Energy
–        (packaged chunks) are Certified USDA Organic & Gluten-free and are a healthy way to stay energized!
–        contain quality ingredients & no MSG used in flavoring
–        suitable for many people with special dietary needs (raw, vegan, dairy-salt-soy-gluten-FREE offerings)
–        we like small businesses focusing on providing healthy foods
–        free shipping for on-line orders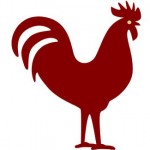 Camille's CritiqueCorner
(See All of Camille's Critiques)

// <![CDATA[ google_ad_client = "ca-pub-1534283337610275"; /* celiac 468-60 */ google_ad_slot = "7251333852"; google_ad_width = 468; google_ad_height = 60; // ]]>