Chocolate Zucchini Breakfast Bread (gluten-free, dairy-free)
---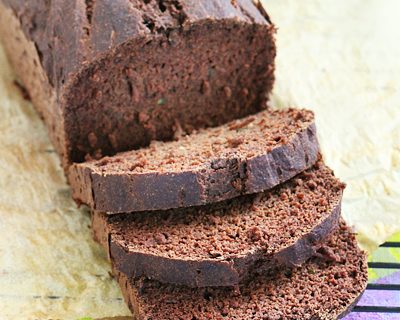 Recipe by Alyssa Rimmer (of Queen of Quinoa blog – now called Simply Quinoa)
our Featured Guest Food Blogger for the month of December!
It's one of my many weaknesses. One that tempts me each night. One that I can't stay away from as hard as I try. One that makes me do a happy dance with every bite."
 (Quinoa is pronounced like keen-wa)
Makes 1 loaf
Ingredients:
1/2 cup (64 grams) toasted quinoa flour (see the preparation here)
1/2 cup (70 grams) super fine brown rice flour
1/2 cup (90 grams) tapioca starch
1/4 cup (32 grams) raw cocoa powder (or unsweetened cocoa powder)
1/2 cup (55 grams) flaxseed meal/powder
1 teaspoon guar gum
1 teaspoon baking powder
2 teaspoons baking soda
1/2 teaspoon salt
1 1/2 cups shredded zucchini, pressed between two paper towels to remove the excess liquid
1 medium banana, smashed (about 1/3 cup)
1 large egg, lightly beaten
3/4 cup almond milk (or milk of choice)
1 teaspoon pure vanilla extract
Instructions:
Preheat the oven to 375 degrees F. Line a 9″ loaf pan with parchment paper and set aside.
Whisk together the dry ingredients and transfer to the bowl of a stand-up mixer, fitted with paddle attachment.
Add the shredded zucchini and banana and stirring until combined.
Beat together the wet ingredients in a small mixing bowl and slowly add to the dry ingredients, mixing on low until fully incorporated, 1 – 2 minutes.
Scoop the batter into the loaf pan and smooth the top with the back of a plastic spatula.
Bake in the center of a warmed oven for 50 – 60 minutes, until a cake tester inserted into the middle comes out clean.
Let cool on a wire rack until fully cooled, 20 – 30 minutes.
Slice and serve.
Top with your spreads of your choice. My favorites are almond butter or coconut butter.
Love baking with the superfood Quinoa, check out Alyssa's e-book Baking with Quinoa containing 26, free from gluten, dairy & refined sugar, recipes!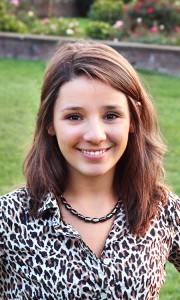 Alyssa Rimmer is the quinoa obsessed girl behind the gluten-free blog, the Queen of Quinoa. She loves experimenting with nutritious and whole-food ingredients, and hopes to show the everyday home chef that cooking and eating gluten-free can not only be healthy, but also delicious and fun.
After struggling with stomach issues throughout her college years, Alyssa decided enough was enough and took her health into her own hands. She started by removing gluten from her diet and hasn't looked back since. Two happy years have passed and her stomach issues have practically disappeared. Living gluten-free has also helped her to truly discover her passion for cooking and she has embraced her new lifestyle with open arms.
With the Queen of Quinoa, Alyssa shares her gluten-free recipes, many of which are focused on the superfood quinoa, and discusses her journey to living a more fulfilled and healthy life. She now also cooks refined sugar-free and although not all her of recipes are vegan, she has loved learning and experimenting with vegan baking. She lives in Burlington, Vermont where she is surrounded by fresh, local produce and is always inspired by the fabulous seasonal ingredients that make this state so special. She is excited to share her recipes with you, as she helps to uncover the amazing world of quinoa.