Beef Sichuan (gluten-free) Recipe
by Jenny Manseau, guest food blogger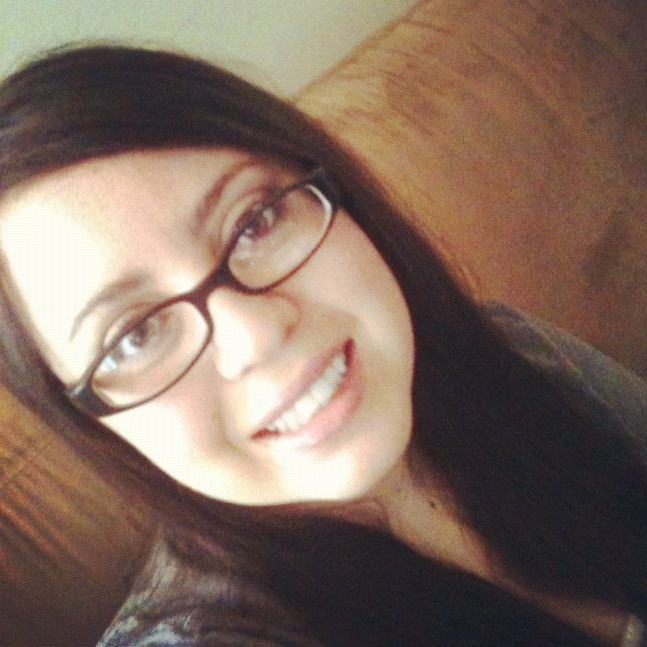 Jenny Manseau
is currently studying Culinary Arts at Johnson & Wales University in Providence, RI. She is completing her program as gluten-free as possible and is continually taking everyday recipes and adapting them to be gluten-free. Jenny is the author of the blog
Creative Cooking Gluten Free
and is a monthly recipe contributor on
Eat Smart Blog
. She lives in Portsmouth, RI with her boyfriend Bryan 
who also has several food allergies.
She has been gluten-free since 2008.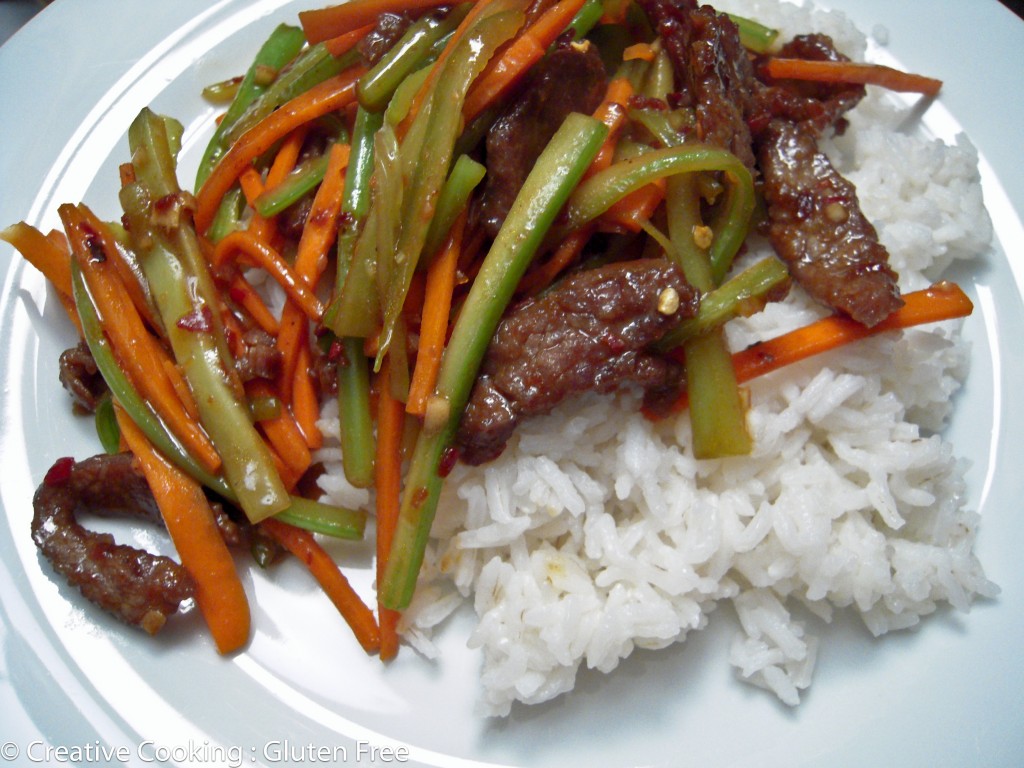 (adapted from a P.F. Chang'sgluten-free dish. The sauce was created from memory and adjusted to our spice level, so please adjust the heat to your liking)
Stir Fry Ingredients:
1 Pound Flank or Sirloin Steak Sliced thin 3-4 Medium Celery Stalks -Julienned 2 Medium Carrots – Julienned
Green Onion Stems – Cut on a bias (Optional) 1/2 Cup Peanut Oil or Canola Oil (you may use less if using a non-stick pan, I only use about 1/4 cup)
1/4 Cup Corn Starch
1/2 Teaspoon Red Pepper Flakes(or whole Tien Tsin Chinese Chili Peppers work great) 1 1/2 Teaspoons Sesame Oil
Sauce Ingredients:
3 Tablespoons Gluten Free Soy Sauce (I use San-J)
2 Tablespoons Gluten Free Hoisin Sauce (I use Dynasty)
1 Tablespoon Garlic Chili Paste
1/2 Teaspoon Chinese Hot Mustard
1 Teaspoon Rice Wine Vinegar
1/2 Teaspoon Chili oil/or Mongolian Fire Oil (made by House of Tsang) -(Optional)
1 – 2 Teaspoons Brown Sugar
1 Teaspoon Minced garlic
1/2 Teaspoon Minced Ginger
1/2 Teaspoon Red Pepper Flakes
Directions
Mix all of the sauce ingredients together and set aside.
Julienne your carrots and celery and set aside. It is important to get these done first because when it comes time to stir-fry them, it is a very quick process.
An important step is "velveting your beef" – Thinly slice your beef and place in a bowl. Add the cornstarch and  toss to make sure each piece is thoroughly coated. Set aside for 10 minutes.
Rinse beef free from all cornstarch and pat dry – you do not want any moisture or the oil will splatter when you add the beef to the pan.
In a skillet (or wok), fry the sliced meat in hot peanut (or canola) oil until crispy to your liking. Remove from oil, drain on paper towels.
In the same pan (or wok) add the following ingredients in this order with sesame oil: stir-fry celery, crushed red pepper flakes (or Tein Tsin Chinese Chili Peppers) followed by carrots. Do not over cook these ingredients – you want them to be nice and crispy. Add fried meat and green onions. Add sauce and bring to a fast boil, cook for 1 minute and serve immediately over white or brown rice.
This last step should take only 3-4 minutes – it is a very quick process so be sure to keep an eye on it so it doesn't over cook.
Notes:
I sliced my beef a little bigger than P.F. Chang's does but not by much and didn't fry it as much as they do.  Some times the beef can become a bit tough when it is fried too long so I left mine a little tender but still had a slight crunch to it.
The veggies were perfect – like the directions above say DO NOT OVER COOK them – they are supposed to be nice and crunchy.  This process goes very quickly.
You can cook this in either a large skillet or wok.
Thanks Jenny!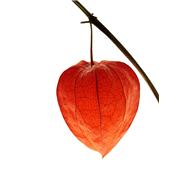 (physalis alkekengi – chinese bladder-cherry blossom)