Recipe for Tuna and Zucchini Cakes: Gluten-Free, Low FODMAP, Dairy-Free
Meet our Featured Food Blogger Joana of My Gut Feeling blog where she shares healthy and delicious, primarily low-FODMAP, gluten-free and dairy-free recipes as well as information (in both English and Portuguese) on the low-FODMAP diet (some in the CD/Gluten-Sensitive community are turning to a low-FODMAP diet after discovering eliminating gluten alone isn't enough to regain optimum gut health). Joana, who is Portuguese, has created a quicker version of traditional Portuguese fish cakes (bolinhos de bacalhau in the North of Portugal or pastéis de bacalhau in the South). Joana has lived in Portugal, Spain and Italy, and currently resides in Belgium. 

My name is Joana and I am a passionate foodie on the low FODMAP diet. 
My Gut Feelin

g

is a food blog featuring mainly low FODMAP, gluten free and dairy free healthy recipes
 both in English and Portuguese and resources for eating and cooking with food sensitivities.
These tuna and zucchini cakes are very versatile: you can easily take them to work, have them for dinner with a green salad or serve them as an appetizer!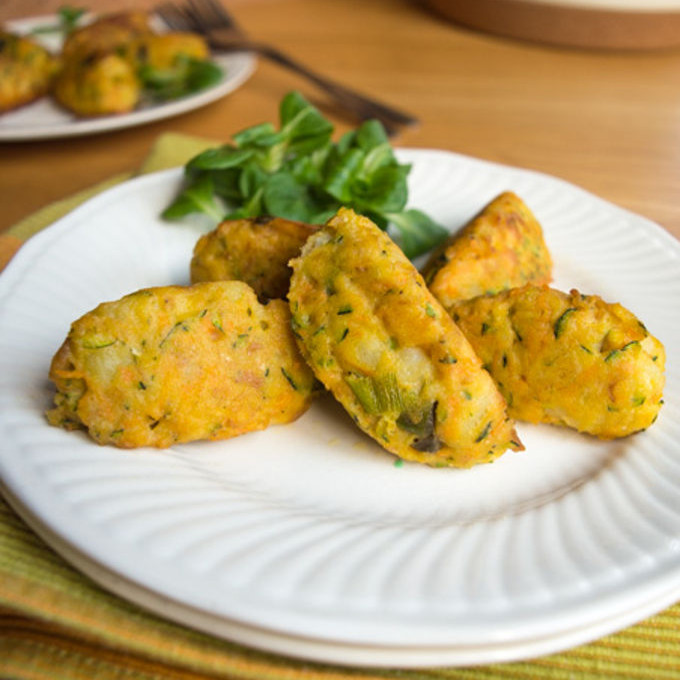 Prep time 15 min.
Cook time 15 min.
Total time 30 min.
Serves 25 cakes
Ingredients
1 can of tuna
2 medium potatoes, boiled and cut into little squares
1 medium zucchini, grated
1 medium carrot, grated
2 tbsp capers
½ cup of green onions (green tops only), chopped
3 tbsp rice flour
1 egg
Pinch of salt
Pinch of black pepper (optional)
6 tbsp of olive oil or any other oil of your preference
Instructions
1. Grate the zucchini in a colander over the sink and press to drain the water from the courgette.
2. In a large bowl, combine tuna, potatoes, grated carrot, zucchini, green onions, capers, salt and pepper (optional) and gently mix.
3. Add the flour and egg and combine.
4. Heat olive oil in a large skillet over medium high heat. Scoop a big tablespoon of batter for each cake. Use 2 tablespoons to make the desired shape (please check this video for instructions). Otherwhise you can flatten the batter with a spatula.
5. Cook and flip until all sides are nicely golden brown, about 2 minutes each side.
Serve immediately. Enjoy!
 Muito Obrigada Joana! 
Be sure to follow Joana and
My Gut Feeling
f
or more delish low-FODMAP, gluten-free, dairy-free (allergy-friendly) recipes!
Read more on the low-FODMAP diet HERE
To view ALL CeliacCorner recipes visit HERE