Recipe for Castagnaccio (Italian Chestnut Cake): Gluten-Free & Vegan
Meet our Featured Food Blogger for February
Emma Potts
of

 I'm Emma! A 20-something year old postgraduate student from England and author of Coconut and Berries, a blog devoted to sharing my love of healthy plant-based food. I enjoy exploring different types of cuisines- Middle-Eastern, Indian, Asian, raw food and more…
 Although I'm not coeliac I try to avoid gluten as I feel better without it in my diet. I've been living this whole foods, vegan lifestyle for the past 4 years and there's no going back. I've never felt better, physically or mentally. It's a fantastic feeling knowing that you're only consuming foods that are nourishing your body and avoiding those which are damaging to ourselves and our planet.
I hope you enjoy this recipe and pop on over to my blog for a browse!
"Castagnaccio is a traditional Italian dessert/snack, common in Liguria and Tuscany. It's made from chestnut flour (naturally gluten-free!) and olive oil and has no raising agents so it is dense and rich, rather than fluffy like the cakes you're probably used to. It's also very subtly sweet with most of the sweetness coming from the nuts and dried fruit added to it."
Ingredients: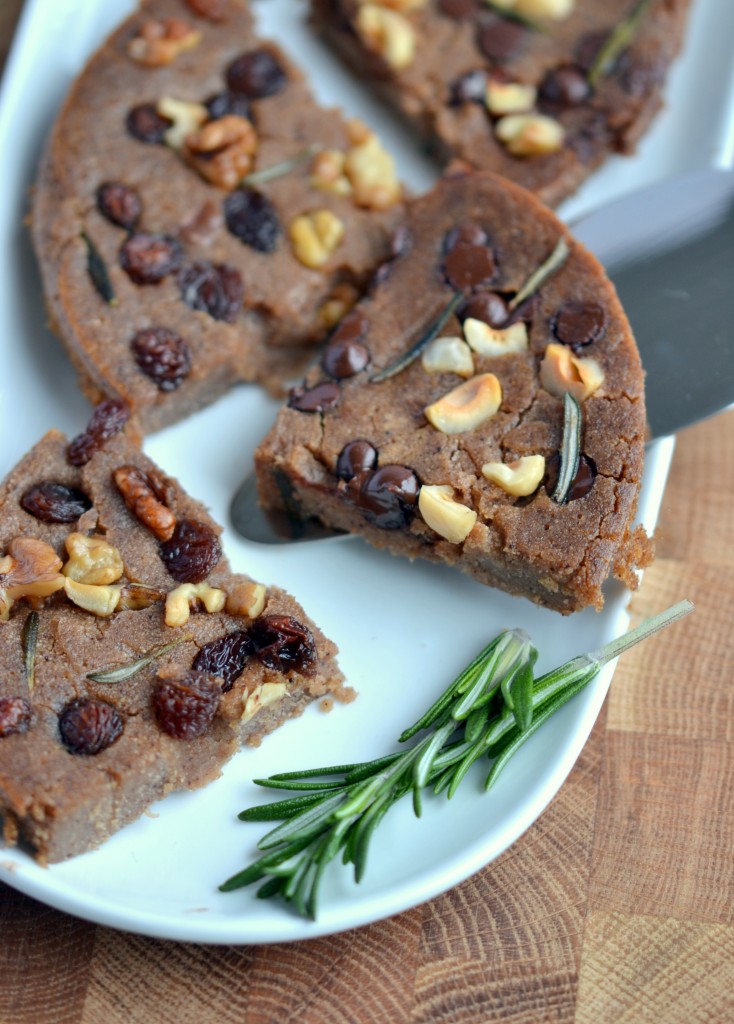 1 1/2 C Chestnut Flour
1 T Coconut Sugar (or other granulated sweetener)
Pinch of Salt
1 1/2 C Water
2 T Extra-Virgin Olive Oil
1/4 C Raisins or Chocolate Chips
1/4 C Walnuts or Toasted, Peeled Hazelnuts (I made two small ones so used half the amounts of dried fruit and nuts in each)
1 Large sprig of Rosemary, leaves removed from stem
Instructions:
Preheat oven to 200C/400F, lightly oil the edges of a pie dish (or 2 small ones).
Whisk together chestnut flour, sugar, salt and water until smooth and runny.
Add the olive oil to the prepared dish/dishes and place in the oven to warm up for a minute. Remove from oven, pour in the castagnaccio batter, swirl the olive oil through the mixture and scatter with the dried fruit/choc chips, nuts and rosemary. Return to oven and cook for 15-25 minutes until the surface is dry and cracked. Cooking time will depend on the size of dish you used.
Enjoy warm or cold. I like it as is but it's sometimes served with ricotta and a drizzle of honey, so for a vegan version you could try non-dairy yogurt or cashew cream, and a drizzle of agave nectar.
Serves 6-8
 Thank you Emma!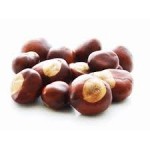 Follow Emma, to enjoy more of her delicious vegan/vegetarian and gluten-free recipes!
(Note, though many of the recipes on Emma's blog are GF, are few are not)
To see all CeliacCorner recipes visit HERE.