Meet our Featured Food Blogger, Writer, Recipe Developer, Cookbook Author: Nicole Spiridakis
Nicole shares a recipe for:  

Fudgy Flourless Chocolate Brownies (gluten-free, grain-free)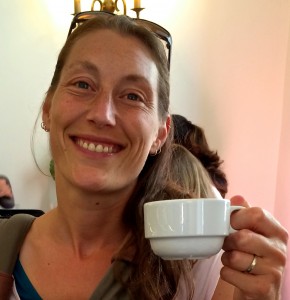 Nicole Spiridakis is a writer, recipe developer and cookbook author living in Casablanca, Morocco. She has written for NPR Online, the San Francisco Chronicle, New York Times, Washington Post, Point Reyes Light, and Reuters, among other publications, and posts regularly to her blog cucinanicolina.com. Her first book, "Flourless. Recipes for Naturally Gluten-Free Desserts", was published August 2014 by Chronicle Books.  Recently of San Francisco, Nicole is currently residing in North Africa with her husband and baby daughter, Sierra, for the next few years. More of Nicole's writing work is available on her website, nicolespiridakis.com.
Fudgy Flourless Chocolate Brownies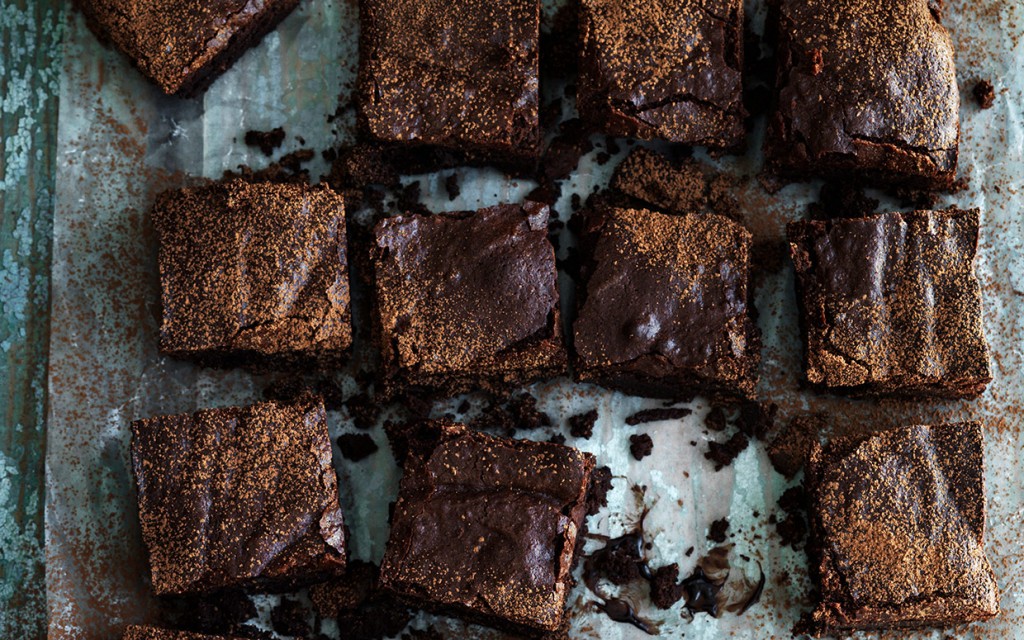 (photo courtesy of John Lee)
Because these brownies lack flour, they are more gooey than a traditional brownie, but I like them for that. It's best to let the brownies rest for a few hours after baking—even overnight—as the longer they sit, the firmer they become. The finished product is fudgy and smooth from the melted chocolate. Cut the brownies into small portions as they are very rich.
Makes 16 brownies
Ingredients:
5 oz semisweet chocolate
½ cup unsalted butter
1¼ cups packed light or dark brown sugar
3 large eggs, lightly beaten
½ cup unsweetened cocoa powder
¼ tsp salt
1½ tsp pure vanilla extract
Instructions:
Heat the oven to 350°F. Line an 8-by-8-in square pan with aluminum foil, then lightly grease the foil with vegetable oil.
In a heatproof bowl set over simmering water, melt the chocolate and butter, stirring until smooth. Remove from the heat and transfer to a large bowl; add the brown sugar, eggs, cocoa powder, salt, and vanilla. Stir well to combine. Spread the batter in the pan, smooth with a rubber spatula. Bake until the brownies are dry on top and almost firm to the touch, about 40 minutes. Remove from the oven and cool in the pan for 1 hour.
Gently lift the foil out from the pan after cooling to remove the brownies. Place on a cutting board and refrigerate for up to 1 hour to fully set the brownies. Remove from the fridge and, using a serrated knife, cut into 16 brownies. Serve at room temperature.
Store in an airtight container at room temperature for up to 1 week.
Excerpted from Flourless © 2014 by Nicole Spiridakis. Reproduced by permission of Chronicle Books. All rights reserved.
Check out Nicole's Cookbook "Flourless: Recipes for Naturally Gluten-Free Desserts"
"This collection of dessert recipes is so delicious no one will know they are gluten-free! With 75 recipes for naturally gluten-free desserts, author Nicole Spiridakis uses a wide range of non-wheat flours to finesse the balance between decadent and dietary."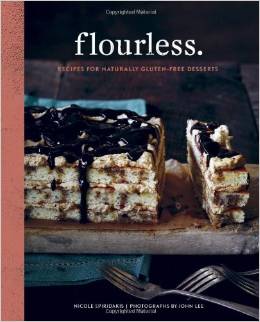 Thank you Nicole!
For more delish gluten-free recipes, follow Nicole:   
Note: Not all recipes on Nicole's blog or website are gluten-free, be sure to look for her "Flourless" recipe category!
To see ALL CeliacCorner recipes open here