Gluten-Free Chai Spiced Apple Cake
Recipe by:
 Balvinder
of
CeliacCorner's Featured Food Blogger for January 2014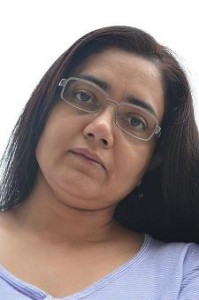 Hello, I am Balvinder from simpleglutenfreekitchen.
I was born, raised in India and now live in Richmond BC, Canada.
I was diagnosed with gluten intolerance in 2008 and severe anemia was the reason for testing. The idea of creating this blog came into being when later, I was recovering from a surgery and had lot of time to experiment in the kitchen. I always loved to create recipes from scratch and when my gluten free recipes were loved by my friends and (of course family), I thought of sharing them with others. So, here I am 2 and half years later.
"A beautiful apple cake baked with granny smith apples and Indian chai spices …"
Prep Time:  10 minutes
Cook Time:  40 minutes
Total Time:  50 minutes
Yield:  5 Servings
Ingredients: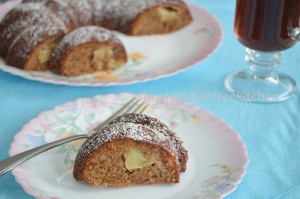 73 g (3/4 cup) almond meal
96 g (3/4 cup) brown rice flour
145 g (3/4 cup) golden brown sugar
1 tsp baking powder
1/4 tsp baking soda
1/2 cup butter
2 eggs
1.5 cup diced granny smith apple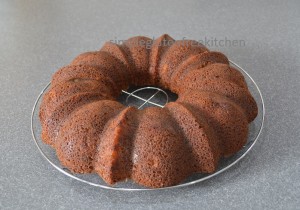 1/2 tsp cardamom powder
1/4 tsp ground cloves
1/4 tsp nutmeg
1/4 tsp ginger powder (optional)
1 tsp cinnamon
Instructions:
1.  Preheat oven to 350°f. Spray a bundt or a tube pan with cooking spray.
2.  In a small bowl mix flour, baking powder, baking soda and chai spices.
3.  In a mixer bowl or a large bowl, combine butter, brown sugar and eggs.
4.  Whisk in dry ingredients until just mixed.
5.  Stir in apple chunks.
6.  Spoon batter into the prepared pan, and smooth top.
7.  Bake for 40 minutes or until the tester inserted in cake comes out clean.
8.  Let cake cool in pan on a wire rack for 30 minutes. Invert onto rack to cool completely.
Recipe adapted from Apple cinnamon bundt cake by Martha Stewart.
Thanks Balvinder!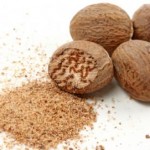 For more delicious recipes from Balvinder
visit Simple Gluten Free Kitchen
To see All CeliacCorner recipes click HERE