Flourless (Gluten-Free) Blueberry, Coconut & Chia Seed Pancakes
---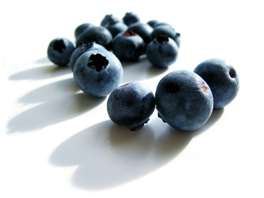 Periodically a recipe for FLOURLESS Pancakes floats through the CeliacCorner Facebook newsfeeds. Ingredients include one banana and two eggs and the instructions are simple: mix together and fry! (apologies, originator of recipe unknown, otherwise credit would be given here).
I've been intrigued … wondering what these "flourless" pancakes would actually taste like, and what about the texture?  In other words, just how would they stack up? I finally made them myself modifying the basic recipe, finding one banana was not enough for the amount of pancakes I desired (6 medium sized cakes), and I added coconut & blueberry along with chia seeds for additional nutritional benefit!
And the result …. delicious! Banana flavored, not in the least eggy-tasting, and although the texture was slightly different (a tad spongy) than a typical gluten-free or wheat flour pancake, I actually preferred the lightness of them and didn't feel weighed down after eating. Once I sprinkled with coconut, topped with the blueberries, and drizzled on the 100% pure maple syrup … they were as delicious as any gluten-free, or otherwise, flour pancake!
Ingredients:
2 bananas
2 eggs
coconut oil spray (butter, or favorite oil may be used)
fresh blueberries (or any berry of choice)
shredded coconut
1 tbsp. chia seeds
Makes 6 small-medium round pancakes
Instructions:
Mix the bananas and eggs together in a bowl, add in a sprinkle of shredded coconut and the chia seeds.  I first tried smashing them with a fork, but found that didn't produce the desired batter smoothness, so I pulled out the electric hand mixer and mixed on slow until a better batter formed. Pour batter into rounds on pre-heated grill pan (or non-stick pan) pre-sprayed with coconut oil. Add a few blueberries to batter rounds and heat over medium high heat, until both sides are golden brown. Be patient, f you try to turn them over too soon, they will likely fall apart.
Add to plate and top with more *coconut (add nuts if you have them!), additional fresh blueberries and pour on the maple syrup.
*If you prefer your coconut topping to be lightly browned and crunchy, fry in a small amount of oil and butter in separate pan (avoid overcooking).
To see all CeliacCorner recipes, click HERE.
Have you tried making Flourless Pancakes?