Fig Bars (Gluten Free) Recipe
by Nicole Wang, guest food blogger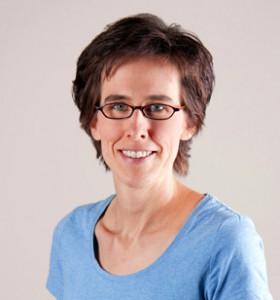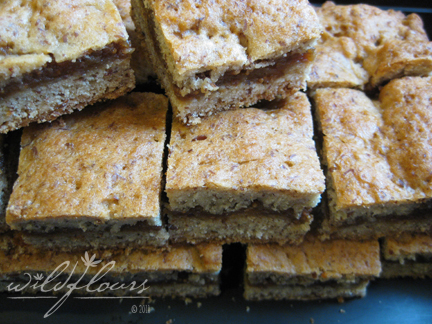 Nicole Wang,

has been cooking and baking gluten, grain and allergy free for the last 15 years.  Nicole grew up in the food service industry and spends her time teaching others how to find confidence in the kitchen after being newly diagnosed with food allergies and intolerances. Early on in life, she realized that foods definitely affected her health; but it was not until her own children came along that she realized the impact that gluten intolerance had on her health. Once she made the switch to a strict gluten free diet for herself and her family, many health struggles cleared up.  She began

WildFlours
™ (a support group) 
to provide support to others in the community who needed help cooking and baking without gluten, nuts, eggs and dairy.

The group meets monthly to help others learn to live gluten and allergy free with confidence

.  Nicole lives in St. Charles, Illinois with her husband and two children.
Visit Nicole's blog! WildFloursGFG
"…these are not very close to "Fig Newtons" as my version is a bit more cake-like in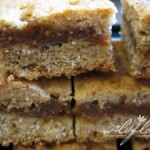 texture.  However, they have that really great fig filling… sometimes I just want to make these for the fig paste that is left over!  They are great for a crowd too.  You can make them really sweet if you want, but the fig filling more than makes up for a less sweet cake … these come together much faster than their "newton" counterparts as you do not have to go through the process of forming the bars… you just spread layers into a square baking pan and bake!"
Ingredients:
1 carton dried figs (about 10 ounces)
1 1/2  cups Gluten Free All-Purpose Flour Blend
1/4 cup ground flax seeds
2 tsp baking powder
1 1/2 tsp xanthan gum
1/4 tsp salt
1/2 cup – 1 cup brown sugar (use the lesser amount if you want a less sweet cake)
1/2 cup butter, softened (coconut oil works well too)
1 large egg
Method:
Place figs into a saucepan.  Add enough water to almost cover the figs.  Bring to a boil.  Remove from heat.  Allow figs to cool in the saucepan with the water.  Once cool, process the figs and a little of the juices in a food processor until a thick paste forms.  You want the paste spreadable, but not too thin so do not use more than a few tablespoons of the fig juices.  Reserve any leftover juices for use in the batter.
Preheat your oven to 375 degrees and line a square 8×8 or 9×9 baking pan with parchment paper.
In a separate bowl, add the GF flour mix, flax seeds, baking powder, xanthan gum, and salt.  Mix together with a fork to combine.
In your mixer bowl, cream your butter and brown sugar.  Then add the egg and mix again.  Add the dry ingredients and mix until well combined.
At this point, add 2 Tbls of the reserved fig juices so that the batter is still firm but spreadable.  You may need more or less of the fig juices.  If you do not have enough, you may use water or rice milk to get the spreadable consistency.
Spread one half of the batter into your baking pan with an off set spatula.  Spread a layer of fig past over the top of the batter.  Then spread the remaining half of the batter over the fig paste layer.  To spread the last layer, I usually dollop tablespoons of the batter all over the top of the fig paste layer.  Then, I dip my off set spatula into hot water and quickly spread the dollops so that they blend together.  You have to use a light touch and work quickly.  The top does not have to look perfect.  Baking will help fill in any gaps.
Bake at 375 degrees for 45 minutes.  The top of the bars will be lightly browned.
Remove to a wire rack and cool completely before removing from the pan and slicing into bars.  Store in an airtight container in your refrigerator.
You will not be able to resist having more than one!  These bars are that good!  In that way, they will remind you of the joy's of eating "fig newtons".  What do you like to make for your family when they need a treat to pick them up? I hope you give these gluten free fig bars a try.  Your family will love you for it!
Thanks Nicole!
Be sure to visit Nicole's blog WildFloursGFG
for even more yum (Gluten-free & Grain-free) recipes and learn more about her other services (order delish bread, classes & consultation)
http://www.wildfloursgfg.com/services/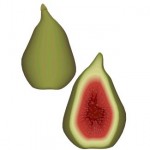 To see ALL CeliacCorner Recipes!