CeliacCorner's Featured Food Blogger for July: Allyson Kramer, Cookbook Author & Recipe Developer
Hi, I'm Allyson Kramer and I'm a best-selling cookbook author, recipe developer, and food photographer specializing in plant-based and gluten-free cuisine.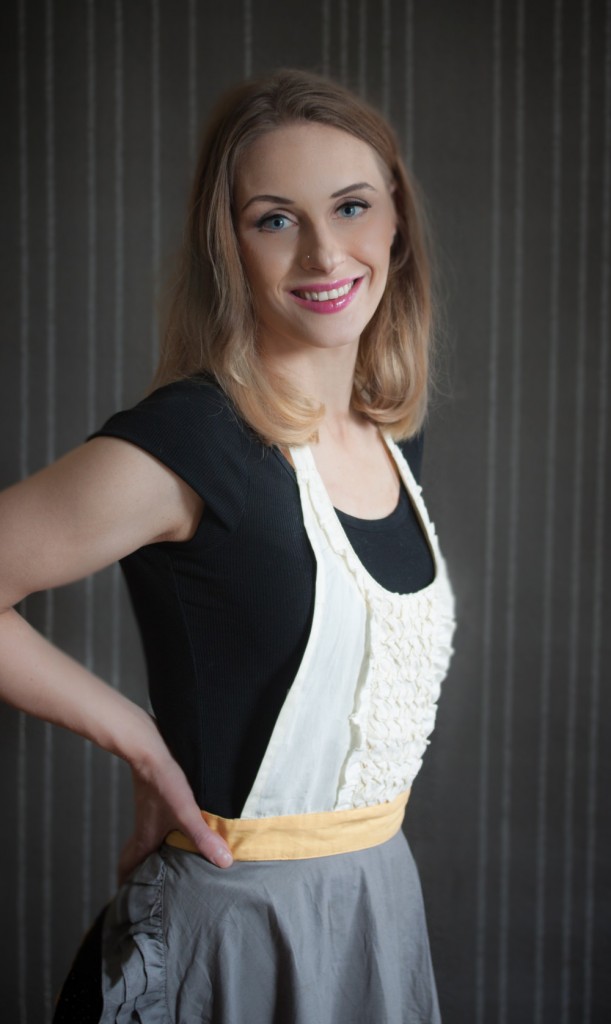 I started blogging in 2009–back before I was diagnosed with celiac disease–to share vegan recipes and random thoughts, and have happily turned it into a full-time gig. I studied Fine Art in college and have been cooking and baking since I was a small child. These days I write cookbooks, develop recipes for companies and publications, as well as style and shoot food photography. I also run the Vegan Food Site for About.com. I live in Philadelphia, PA, with my best friend/husband, our two kids, and a houseful of adopted animal friends.
My recipes have been featured in numerous publications, including The Huffington Post, Vegetarian Times, Bust Magazine, Easy Eats Magazine, All You Magazine, VegNews Magazine, and Glamour Magazine. My cookbooks have received acclaim in the food community, including Vegetarian Times naming my debut cookbook "Great Gluten-Free Vegan Eats" as Top 5 cookbooks of 2012, and VegNews Magazine naming it a Top 10 of 2012.
(Don't miss our Giveaway of Allyson's newest e-cookbook: Culinary Quandaries: A Gluten-Free Dinner Party  … below is just one delicious recipe from the cookbook!) –

Now Closed
Chocolate Swirl Banana Bread (Vegan & Gluten-Free)

Ingredients:
1 cup superfine brown rice flour
1/2 cup sorghum flour
1/2 cup cornstarch
1/4 cup tapioca flour
1 teaspoon xanthan gum
1 teaspoon sea salt
1 teaspoon baking powder
1 teaspoon baking soda
3/4 cup organic sugar
1/2 tablespoon ground chia mixed with 2 tablespoons water
1 teaspoon vanilla extract
4 very ripe (mostly brown) bananas
1 cup nondairy chocolate chips, melted
Instructions:
Preheat your oven to 350 °F. Lightly grease and flour (using brown rice flour) a standard sized loaf pan.
In a large electric mixing bowl, whisk together the superfine brown rice flour, sorghum flour, cornstarch, tapioca flour, xanthan gum, sea salt, baking powder, baking soda and sugar.
Add in the prepared chia gel, vanilla extract, and bananas and mix on medium to high speed until smooth. Divide the batter in half and stir in the melted chocolate chips into 1/2 of the batter until very well mixed.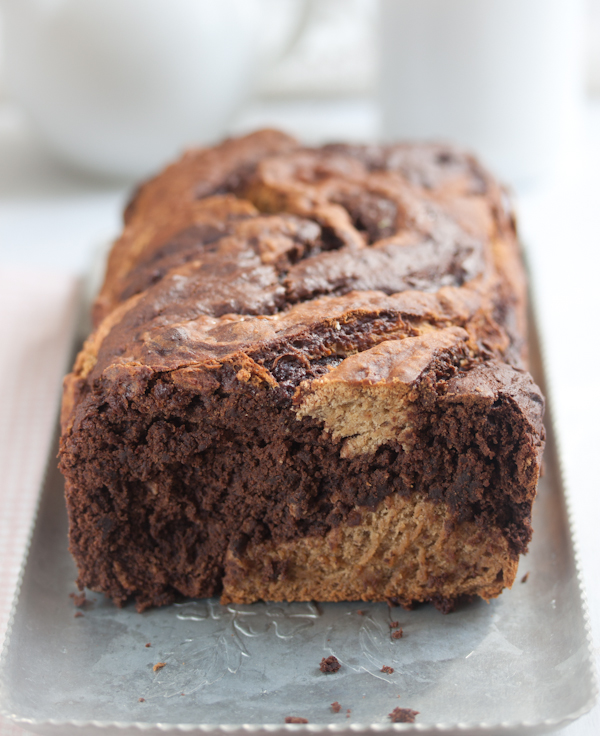 Drop spoonfuls of both colors of batter side by side and on top of one another until all has been transferred to the loaf pan, alternating colors as best you can. Take a butter-knife and slowly draw a swirl or two through the batter, but don't over do it. You want to try and swirl through each section to gently merge the batters, but if you mix them too well your swirls won't be visible. Bake in preheated oven for 60 minutes. Let cool at least 15 minutes before cutting.
Thanks Allyson!
For more delish gluten free & vegan recipes follow Allyson 

Check out the new digital e-cookbook 

Culinary Quandaries: A Gluten-Free Dinner Party

 
containing gluten-free (some vegan) recipes from
 Allyson Kramer & Samantha Stein (

The Happy Coeliac

)! The e-cookbook is the 2nd installment in the Culinary Quandaries series of e-books 
published by Erudition.
Recipes include: chorizo bites, cucumber basil avocado gazpacho, deep-fried risotto balls, best ever gluten-free pizza!, leek and ricotta stuffed shells, prosciutto-wrapped chicken stuffed with goat's cheese & buttery asparagus, green thai curry … and desserts such as pistachio semifreddo, strawberry and champagne cake, and tiramisu, oh my!
Enter Giveaway (below) to win a copy!
For ordering information and a preview of the e-book visit Kindle on Amazon, Apple iBookstore  & on the Erudition Website HERE.
Follow Culinary Quandaries: A Gluten-Free Dinner Party on Facebook  and Twitter
XX  GIVEAWAY  XX
NOW CLOSED, thank you for entering! 

"A Gluten-free Dinner Party is an enhanced eBook bursting with the creativity of some of the best and brightest coeliac food bloggers around. Contributors, including Allyson Kramer and Samantha Stein of The Happy Coeliac, share recipes such as chorizo bites, deep-fried risotto balls, chocolate swirl banana cake and pistachio semifreddo, Tiramisu which are guaranteed to delight even the most wheat-loving of all diners."
One lucky winner will receive a copy of the e-cookbook: Culinary Quandries: A Gluten-Free Dinner Party

containing beautifully photographed, mouthwatering gluten-free (some vegan) recipes contributed by 2 talented recipe developers!
Giveaway runs from July 1st at 9:00 pm (est) and ends July 11th at 9:00 pm (est)

Giveaway rules:
1.  Leave a comment below telling us why you would love to win this e-book of recipes (be sure to solve captcha code before hitting 'submit').
2.  Follow Allyson Kramer and CeliacCorner on Facebook (please leave a comment on the CC Facebook that you have entered … but you must also leave a comment at the bottom of this post, to be entered)
3.  Follow CeliacCorner on Twitter, and tweet about the Giveaway, at least once
4.  Share at least once on your Facebook page, so others will have an opportunity to enter – thank you!
That is it!
(One winner will be notified via email and will have up to 2 days to respond, otherwise a new winner will be selected. The winner will be provided with a code to access and download the e-book from the publisher's page)
Open to everyone, everywhere, ages 18 & older
 To See ALL CeliacCorner recipes visit HERE