A Kid-friendly (& Gluten-Free) Visit to New York City during the Holidays
---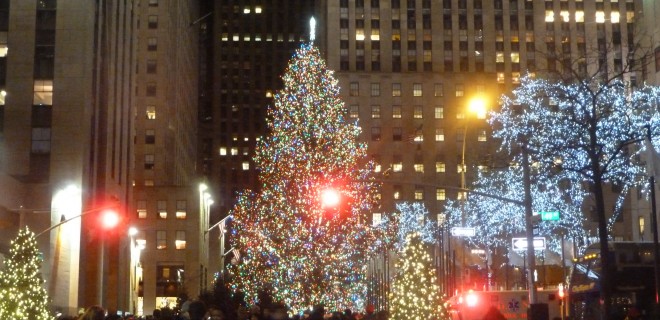 As soon as the 75' or so holiday tree goes up in New York City's Rockefeller Center, I begin thinking about planning our annual winter visit. My family enjoys visiting this vibrant city anytime, but visiting during the holiday season is when we find it the most dazzling. Sure, there are massive crowds at every tourist destination, but we don't mind rubbing shoulders with everyone else in the holiday "spirit"! Whether watching Macy's Thanksgiving Parade or viewing their festive window displays in December, strolling the avenues at night to see building facades illuminated with large snowflakes, or attending the Rockette's Holiday show, there is so much to see and do during the winter holiday months. We decided to make our December overnight stay all about the kids. Not that my husband and I don't consider the kids on all our travels, but this time we didn't drag them along to museums, art galleries, or other cultural happenings!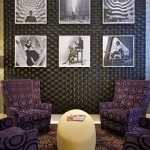 When booking a NYC hotel, we prefer to stay in one that comes recommended. We have a few favorites, but it's always nice to try a new place, so I reached out to New Yorker Erin (Gluten-Free Fun) and she recommended The Strand Hotel  located at 33 West 37th Street. According to Erin, the executive chef  at The Strand bistro is accustomed to preparing meals allergen-free. I must give a huge shout out to The Strand (and Erin for recommending it!). We loved it.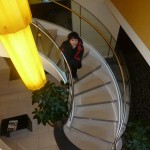 This boutique style hotel is located in the mid-town fashion district, not too far from Times Square and a short walk to Bryant Park. The staff is friendly and accommodating and the interior, designed by ABI Interior Design is modern and chic, and reminiscent of the glamorous 40's error. Vintage photography from the archives of Conde' Nast adorn the walls. The boys enjoyed walking up and down .. and up and down .. the curvy, contemporary staircase. Our standard room with 2 double beds was on the small side, but the custom furnishings which included a comfy bed with plush comforter made the room feel luxurious.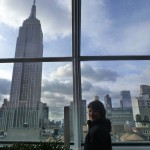 Best of all, our room came with a fantastic view of the 102-story Empire State Building. When the boys pulled back the curtain on the night we arrived, and saw the alternating red and green lights atop the building, they were beyond excited (me too)! The Strand also has a rooftop bar (Top of the Strand) which was ranked "Best Year Round Rooftop Bar" by New York Magazine, and worthy of a visit even if you aren't staying there. We could only visit during the day, since the boys weren't allowed during the evening, but even then the view of the Empire State Building and the surrounding cityscape was spectacular! The space was "staged" by Lydia Marks, the set designer for Sex in the City & The Devil Wears Prada and is very cozy and intimate. So next time in NYC, whether staying at The Strand or not, take the elevator to the 21st floor and check out the view! There is a retractable glass roof which opens up in warmer weather, so we would love to experience that and will definitely return. The Strand is well suited for families, business travelers, and a romantic getaway for two.
Arriving to the city early evening, we dropped our bags and headed out for dinner. Our first family-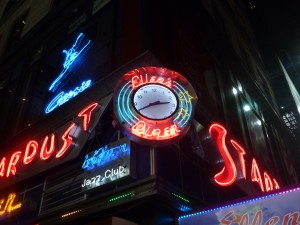 friendly eatery was at 1650 Broadway in the Theater district and home to Ellen's Stardust Diner  We arrived by cab, and as I literally had one foot out the door I heard the maitre 'd calling for parties of 4. Waving "here we are", we were escorted into the restaurant, avoiding a wait out in the cold.  If you haven't been to Ellen's Stardust it's definitely worth a visit, especially if you are travelling with friends or family with children of any age. The restaurant is open for breakfast, lunch and dinner and is not only known for its 50's style diner décor, but also for the singing wait staff,  all of whom are aspiring singers, dancers and actors.  Yes, one minute our waiter was serving our meal, and the next he was perched atop a nearby platform belting out a Broadway tune! The food is classic American fare and there were a few gluten-free options including Vegetable Lasagna ($14.95) and a variety of salads. I chose the Chopped Athenia Salad $14.95 topped with grilled chicken additional $2.50, and though pretty basic, it was tasty. Ellen's Stardust is very lively, loud, and the music is non-stop, so if you aren't in the mood for this type of atmosphere, consider going another night when you are  … or head in anyway and after 5 minutes I guarantee you will be in the mood! I saw people from the ages of 5 to 85 singing and clapping joyfully. Yes, I guess you could say Ellen's is the "best free show on Broadway".  Dinner for a family of four: $110/including gratuity. Have a peek inside Ellen's Stardust Diner!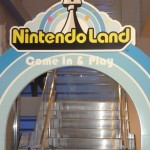 Of course no trip to NYC would be complete for our kids unless we stopped by the Nintendo store which we did after dining at Ellen's!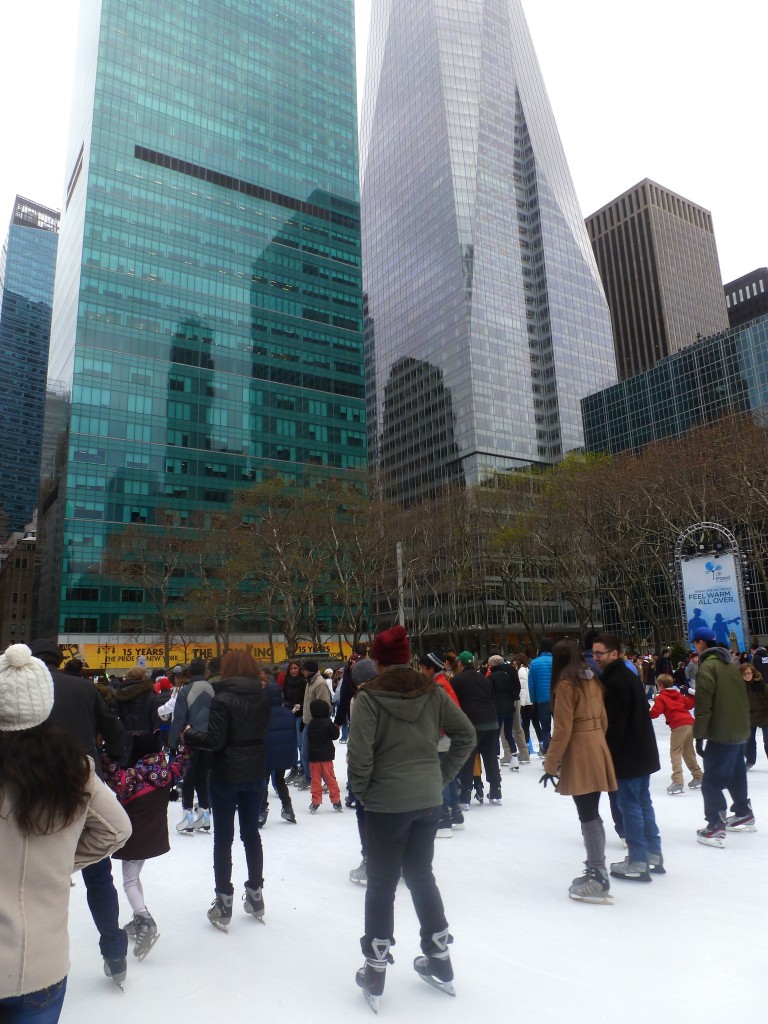 The following morning, after breakfast in The Strand's charming bistro we walked over to historic Bryant Park (intersection of 42nd St. & 6th Ave.) about 10 minutes away. Once a haven for druggies in the 1970's, this oasis in the middle of mid-town Manhattan has become a much loved green space for both New Yorkers and travelers alike and hosts many cultural events. In warmer weather, there are Chess, Backgammon, Petanque (a French ball game) and Ping Pong tournaments and both after-work New Yorkers and visitors enjoy the outdoor European-style café's.  The park's French-inspired gardens and lawn were more brown than green in December, but it was still enjoyable to meander around the retail & food kiosks, sipping hot cocoa, while watching families with younger children ride the full size carousel.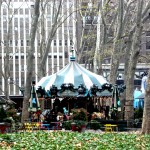 The park is a restful respite, even in winter. After our cocoa, we headed over to the Citi Pond ice-skating rink  also in Bryant Park, where you can bring your skates (skate for free) or rent for $14 and skate until your heart's content which is just what we did.  We loved being on the rink in the middle of the city enveloped by the monolithic skyscrapers, which was a very different experience from skating on our lakes and indoor rink at home!
After skating we were famished, so I checked my list of gluten-free eateries but unfortunately they all were located in lower Manhattan/Village/So-Ho, so we made a quick stop at a nearby deli where I had an unmemorable salad and then headed onward to our next kid-friendly destination located on the upper east side and a short cab ride away.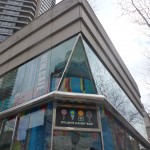 Dylan's Candy Bar located at 1011 3rd Avenue (between 60th & 61st St.), takes up an entire corner and is three levels of .. you guessed it .. CANDY! Hard candy, soft candy, 5 foot chocolate bunny candy. Ask for an allergen sheet to choose your allergen-free candy. Basically parents, if you are going to take your kids to Dylan's, just put your "no candy" rule on hold just this one time and let them go wild .. well within reason, I did need to empty out half of one of my son's unsupervised bulk bin fillings!  Kids will enjoy walking the stairway to the lower levels stepping on the candy-filled resin flooring.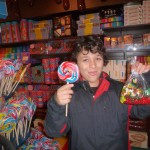 Dylan's has a chocolate bar, a candy café where you can sit in a cupcake booth and order a frozen hot cocoa, ice-cream Sunday, pizza and more while adults can order up a Mojito or Magarita from the adult bar area.  The store is colorful, the employees chipper, and the atmosphere fun. Our kids behaved … well, like kids in a candy store.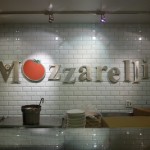 After a stroll through Central Park, it was time for an early dinner and the boys were asking for pizza. I noted that Mozzarelli's served gfree pizza, so we hopped in a cab and headed to 38 East 23rd Street.  Generally we are walkers, but since we only had a day and a half, we took lots of cabs to save time .. the boys loved the rides! When we arrived to Mozzarelli's the aroma of garlic and basil greeted us. This eatery, owned by 2 brothers, is small, casual, clean, and serves a variety of (award-winning!) gluten-free pizza, and by the slice no less, which is rare. The staff preparing the pizza assured me they do everything to avoid cross-contamination and given the option of variety (yay), I chose two different slices and both were DE-licious! The crusts were crisp and fluffy, and the ingredients fresh. Mozzarelli's also offers salads & gluten-free pasta dishes (ziti, penne vodka, basil pesto, penne alfredo, penne goat cheese primavera), a few gluten-free desserts (including Teramisu), and a large variety of gluten-filled pasta dishes, specialty sandwiches, etc. There are also gluten-free cookies and a few other gluten-free packaged items for purchase (Mozzarella's own gluten-free breadcrumbs, pizza crust & mix, and a few other gfree items). After pizza, we were off again, this time to a destination that was a must-visit for me, though I was pretty sure the boys wouldn't complain about being taken there as well!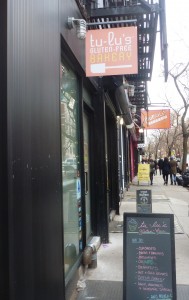 Tu-Lu-s …  finally. I have heard about this bakery for years in the gluten-free community. Located at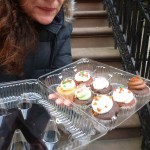 338 East 11th Street  (and in two Dallas, TX locations), and founded by Tully Phillips (diagnosed with gluten-intolerance 2008) and business partner Jennifer Wells (diagnosed with celiac in 2009) this cozy 100% dedicated gluten-free bakery (with vegan options) has a gorgeous selection of cupcakes, donuts, muffins, cookies & cookie dough balls, paninis and more. The boys ordered a cupcake each, and I ordered a  12-pack variety of mini-cupcakes  ($14.00) with assorted fillings, because I just couldn't decide on one larger one, and enjoyed nibbling while walking along the street. The vanilla butter cream icing was the BEST.
So, with the boys passed out in the back seat of the car, husband at the wheel, and my now 6-pack of Tu-Lu's mini-cupcakes positioned firmly on lap, we departed the city and headed back to New England.
Do you have a favorite kid-friendly NYC destination to share,  feel free to comment below!
A few more  details:
Hotel: The Strand – 2 double bed rate of $224/night plus add 14.75% tax. (the hotel quoted a little higher, but when I mentioned an on-line travel site had it for less, they met that price!). Valet Park: $50-$55 night. Though our European-style stone and granite bathroom was lovely, it didn't have a tub (some "Superior" rooms do) and shelf space is inefficient, so may want to consider an upgraded room for longer stays. Breakfast available in the lovely main floor bistro is not included in room rate. No gluten-free menu, no gluten-free bread, but the chef can certainly accommodate (omelet's, fruit bowls, etc.). You can view more images of hotel's interior (& rooftop bar) here: http://abidesigninteriors.com/the-strand-hotel.html
Bryant Park: http://bryantpark.org/ (FYI Bryant Park is built over an underground structure which houses the New York Public Library's archives, who knew?)
Dylan's Candy Bar: Info on Café: http://www.dylanscandybar.com/new-york-city_cafe/ Other locations include East Hampton, Houston, LA & Miami Beach. View video of Dylan's here: http://www.youtube.com/watch?feature=player_embedded&v=3qX9vWqsoLE
Here a few other gluten-free family-friendly eateries that I had on my list, but didn't have a chance to visit (next time!).
Otto (pizza)
Nizza (pizza) I've been here before, very good!
Pala (pizza)
Glaze Teriyaki Grill
Alloro (gf pasta)
Trattoria Trecolori (gf pasta)
DO YOU HAVE A FAVORITE GLUTEN-FREE KID-FRIENDLY NYC EATERY, FEEL FREE TO COMMENT BELOW!