Blooms Restaurant – New York City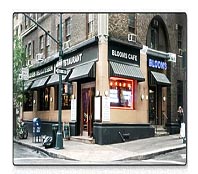 Serving breakfast, lunch and dinner, 7 days a week.
Thought NYC-style deli's were off limits, think again! Bloom's has an extensive GF menu.  Try the 2" high hot pastrami on toasted GF bread sandwich with a side order of golden french fries!   Breakfast items include GF omelette's, pancakes and waffles; for lunch there are numerous burgers (pizza, turkey) and sandwiches (chunky chicken salad, pastrami, roast beef, etc.) and an assortment of salads.  Entrees include: NY Cut Sirloin, Lemon Sole, & Red Snapper. And for dessert … try the rice pudding! Typical deli-style décor, casual & family friendly. The servers were well accustomed to answering questions regarding GF menu items – which definitely adds to the comfort level!
Gluten Free Menu:  http://www.bloomsnewyorkdeli.com/ShowMenu.tpl?vShowMenu=2095