World-famous Montgomery Inn BBQ Sauce & Other BBQ Favorites now Gluten-Free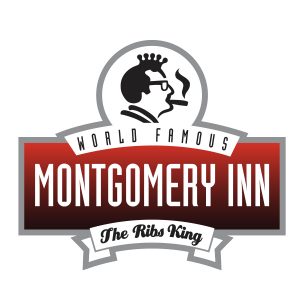 It is officially summer (do I hear a yay!)
Many of you will be firing up grills and adding your favorite meats, poultry and veggies! If you are a fan of BBQ, you will be happy to learn the family-owned company, Montgomery Inn, has reformulated their mouth-watering BBQ sauces to be free of gluten and other unhealthy ingredients. They offer other GF items as well (keep reading!). Let the BBQ season begin …
First, a little history of Montgomery Inn, the restaurant(s). In 1951, owners Ted and Matula Gregory opened the original Montgomery Inn restaurant in the town of Montgomery, a suburb of Cincinnati, Ohio. Matula, a talented cook, soon became known for her delicious recipe of barbequed ribs and sauce and diners traveled from near and far to enjoy them. Eventually the husband and wife team became known as the "Ribs King & Queen"! Fast forward to the present, there are now two additional locations in Ohio and one in Fort Mitchell, Kentucky. The restaurant was named one of the top 10 BBQ restaurants in the US by Fox News and also received a Diners' Choice Award (2015). Their ribs and BBQ sauce are so popular, even the former Speaker of the House, John Boehner, sent a package of them to President Obama for his 52nd birthday!
If you are a fan of barbeque and live near one of the Montgomery Inn restaurants, you can drop in anytime to get your BBQ fix, but if you don't have one nearby, no problem, as their steak, ribs, pulled pork, chicken, pork chops and famous BBQ sauces, are also available in retail stores and on-line (in 2013 The Today Show named Montgomery Inn's famous ribs "one of the best mail order food purchases from CincyFavorites.com"). Montgomery Inn takes quality control measures seriously. "Each slab is hand-trimmed and has to pass through twelve quality checks before it reaches your table". Only choice, fine cuts of meats are selected and are seasoned to perfection!
And the best news of all for the celiac, gluten-sensitive, wheat allergy community, Montgomery Inn's BBQ Sauces, fully-cooked ribs, and pulled pork are

GLUTEN-FREE

!
Sure you could cook your own pulled pork with BBQ sauce for say 4-8 hours in a crockpot, and it will certainly taste delish, but having sampled Montgomery Inn's fully-cooked Hickory Smoked Pulled-Pork with BBQ sauce recently, you may want to save some time and simply open up a package, heat in a pan and serve! Easy-peasy, done in 10 minutes. My family loved the pulled-pork sandwiches I served on GF buns. The package I sampled contained 2, 1 pound packages of pork, which was more than enough to make 12 sandwiches. The pulled pork was deliciously juicy and very fresh tasting (Montgomery Inn's cuts of pork are slow smoked for several hours over hardwood coals with added spices and BBQ sauce). We also sampled slabs of BBQ Loin Back Ribs (available in various slab options from 2  to 20, see website for pricing). They were cooked perfectly, very tender and seasoned well. I let the pre-cooked ribs thaw, drizzled with the warmed Chipotle BBQ sauce and then popped them in the oven. Sweet, Tangy, Smoky and Spicy! (Don't miss our Giveaway of the same "BBQ ribs, pork and sauce kit", a $90 value, coming soon!)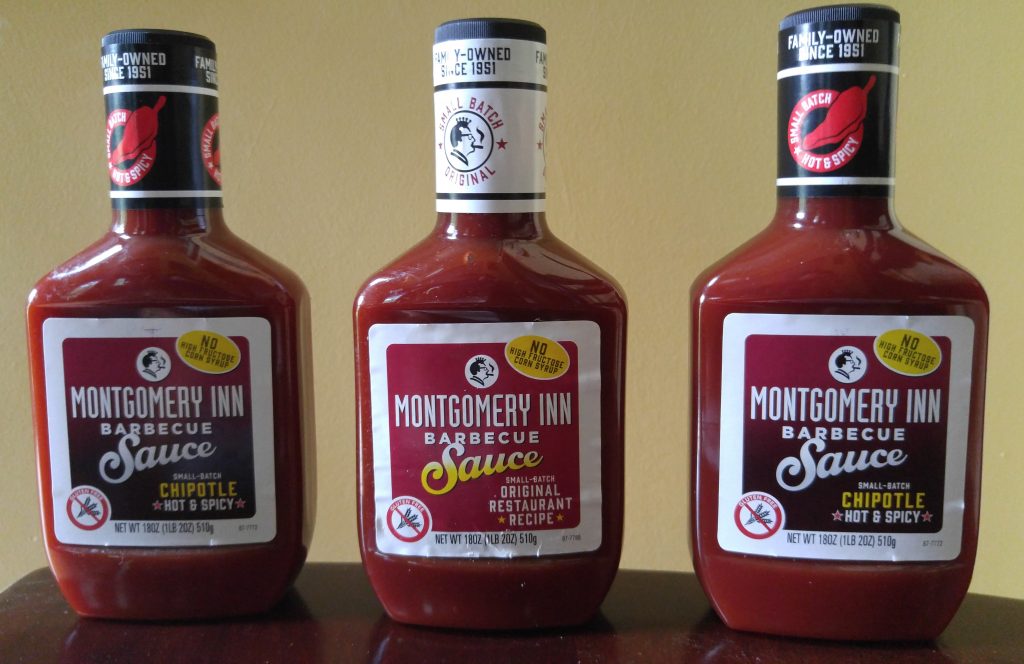 Montgomery Inn's world famous BBQ sauces are available in two flavors: Original (a blend of tomatoes, garlic, onions molasses and other secret spices) and Chipotle (to the original sauce, roasted jalapeno peppers and other ingredients were added for a tangy, smoky flavor). The BBQ sauces ($2.49 retail for 18 ounce bottle) are:
gluten-free

.. 100% fat free .. peanut-free .. soy-free .. dairy-free .. tree nut-free .. made with all natural ingredients and in small batches .. no high fructose corn syrup!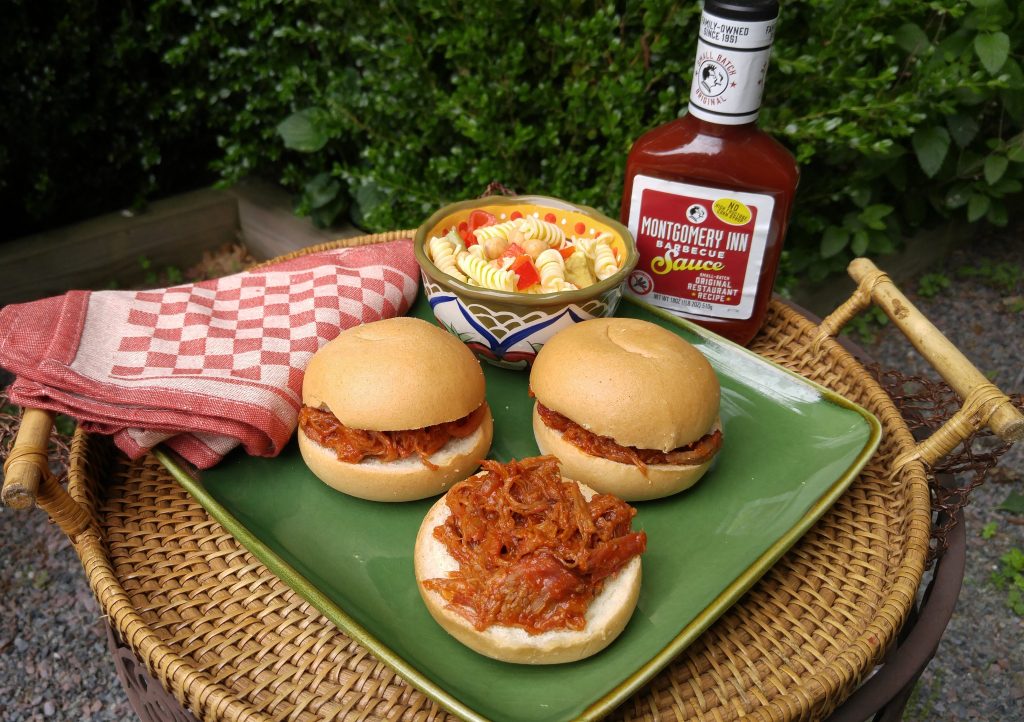 The Gluten-free, pre-cooked, BBQ pulled-pork and slabs of ribs arrived via UPS, packed frozen in dry ice and included preparation and care instructions (conventional oven, outdoor grill or microwave!), bibs and wet naps. All I had to do … heat and enjoy (see pics at left & bottom, from our GF BBQ)!
Want to serve Montgomery Inn's famous pre-cooked pulled pork and loin back ribs along with delicious BBQ sauce at your next outdoor (or indoor) BBQ or other event, see below for purchasing and ordering options:
Check out a retail loca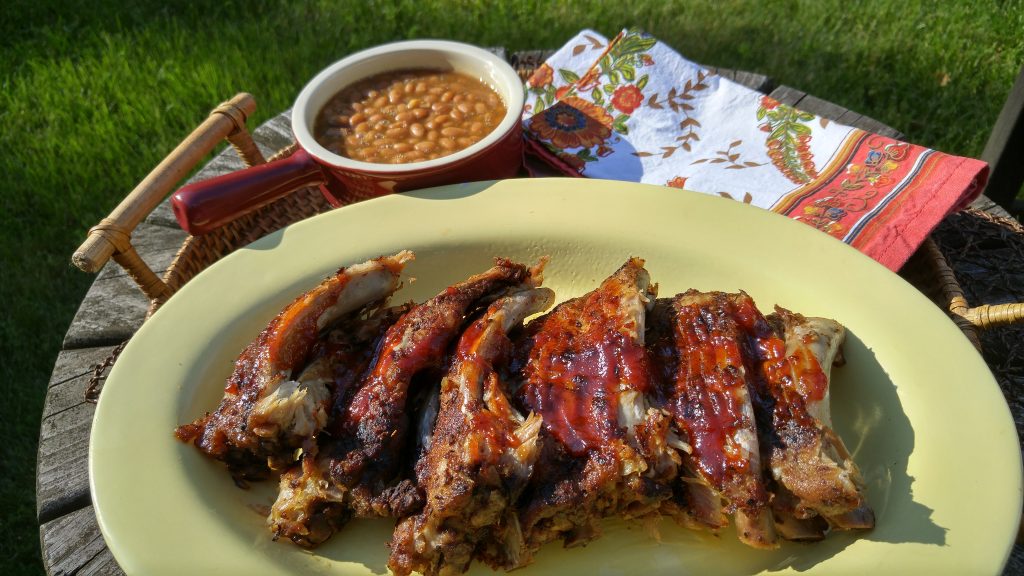 tion near you (found in many grocery stores in Ohio, Indiana, Michigan, W. Virginia, Kentucky, Tennessee, Georgia & Virginia)
Call 1.800.USA.RIBS
Order on-line at CincyFavorites.com / call 1.877.246.2999
Text MONTGOMERY to 33733 to download App
Important to Note: Only the BBQ sauces, INDIVIDUAL packages of Fully Cooked Pulled Pork with Barbecue Sauce (Hickory Smoked) and the slabs of Pork Ribs are Gluten-free (great!). The pork 'KITS' contain non-GF buns, though they are wrapped separately, perhaps your non-GF family members could enjoy those, if you decided to order a kit. Burgers, Chicken and Pork Chops are not Gluten-Free.
Special Offer 
for CeliacCorner fans!
Purchase two ribs slabs and two sauce kits (GF) for $49.99 through Cincy Favorites.com (Retail value is $64.99, a $15 savings for you! Open link here). Offer runs through August 14, 2016. [NOTE when you are on ordering page: ONLY the BBQ sauces, Pulled Pork with Barbecue Sauce (Hickory Smoked) and the slabs of Pork Ribs are Gluten-free. The Chicken, Burgers and Pork Chops, which are on the same ordering page contain gluten.]
 !! Stay Tuned for Giveaway COMING SOON (JULY) !!
Attention fans of CeliacCorner and BBQ! Would you like a chance to win the same gift box of Montgomery Inn's Gluten-free,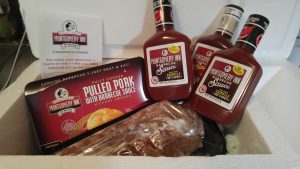 pre-cooked pulled pork and ribs with BBQ sauce, just like the one CeliacCorner received (see picture to right), compliments of Montgomery Inn? Enter our Giveaway, coming in July. Be sure to visit CeliacCorner website and Facebook page for Giveaway details.
Check out the 4 Montgomery Inn restaurant locations:
The Original (Montgomery), Ohio 
The Boathouse (Riverside Dr., Cincinnati) 
Dublin, Ohio 
Ft. Mitchell, Kentucky 
Learn more about Montgomery Inn's reformulation of BBQ sauce here.
CeliacCorner cannot be held liable should anyone suffer adverse effects after consuming any of the above named products, or other products, from Montgomery Inn.