Udi's Granola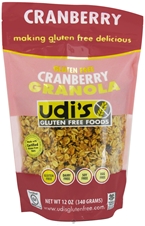 So finally I get to do a review of one of my favorite gluten-free products – Udi's Cranberry Granola! I love ALL the UDI granola varieties (Nuggets, Vanilla, Au Naturel, Hawaiian, Bananaberry and original), but my taste buds are drawn to the Cranberry! I sprinkle it on top of my yogurt, my ice-cream and add it to my home-made trail mix and because it contains plump, juicy cranberries and walnuts, you really don't need to add anything else for taste or texture. I have carried bags of Udi's through airports, on trains, and in my car on road trips!  Let's just say I don't leave home without it! Udi's granola is gluten, dairy, soy and egg-free, and contains simple wholesome ingredients, no added sugars or preservatives and is a great way to get some fiber into your diet! The oats are certified gluten-free, so no worries about gluten cross-contamination.
Crunchy oats and walnuts, plump cranberries and a mildly sweet honey taste. What more would you want in a granola? If you said bananas and strawberries, then try Udi's BanaBerry granola!
Ingredients: Certified gluten-free oats, wildflower honey, dried cranberries, canola oil and walnuts.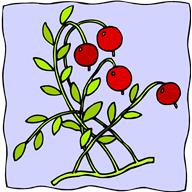 Why we also like Udi's Granola:
certified gluten free
made with certified gluten free oats
kosher certified
Check out Udi's site for some delicious recipes! http://udisglutenfree.com/recipes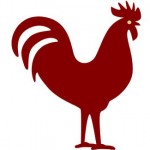 Camille's CritiqueCorner