TriumphDining's Essential Gluten-Free Grocery Guide (4th edition) – product review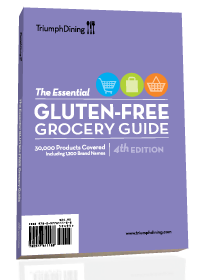 When TriumphDining sent me 3 of of their "Essential Gluten-Free Grocery Guides' (4th Edition) a while back, I planned on writing a review, and then having a Giveaway – of all 3. After all, I didn't think I would need the guide myself, as I am now a "seasoned" celiac, and have a pretty good handle on how to shop my favorite grocery store aisles.  Well, I have to say once I started looking through the guide I found myself not only being reminded of products which I knew to be gluten-free, but I learned of so many more that I was totally unaware of! Yes, Triumph's guide taught this old dog some new tricks!
The guide lists over 30,000 products, from Applesauce to Yeast, (1,200 of which include brand names), and including such categories as Dairy & Eggs, Beverages, Baking Aisle, Baby Food & Formula, Canned & Packaged Foods, Snacks, Novelties and many more. The guide will save you the time of calling manufacturers directly to inquire if a product is gluten-free and uses symbols to easily identify if, for example, the product was processed on a dedicated gluten-free line (i.e. no chance of cross-contamination), if gluten testing was performed, or if procedures are in place to avoid cross-contamination, in addition to other identifications to help you make an informed decision when purchasing.
The TriumphDining Gluten-Free Grocery Guide also contains:
–        a gluten free ingredients table which was created in collaboration with Shelley Case, RD,
who specializes in celiac
–        some great tips for grocery shopping
–        an overview of the Food Allergen Labeling and Consumer Protection Act of 2004 (FALCPA), and                           what is expected to change once the term "gluten-free" is defined
So not only is TriumphDining's guide a "grocery" guide, it is also an informative gluten-free resource!  The guide is a convenient size so you can easily pack it in your purse when heading to the market. It is useful for the newly diagnosed and, as I quickly learned, for the "seasoned" gluten-free shopper as well!
Visit TriumphDining at: http://www.triumphdining.com to see their other guides available; Facebook: http://www.facebook.com/#!/pages/Triumph-Dining-Gluten-Free-Publishing/88848623512
Enter to Win a FREE copy of TriumphDining's "The Essential Gluten-Free Grocery Guide!"
http://celiaccorner.com/celiac-gluten-free/giveaway-triumphdinings-essential-gluten-free-grocery-guide-24-95-value/