Top 10 Gluten Free Restaurants in New Zealand
---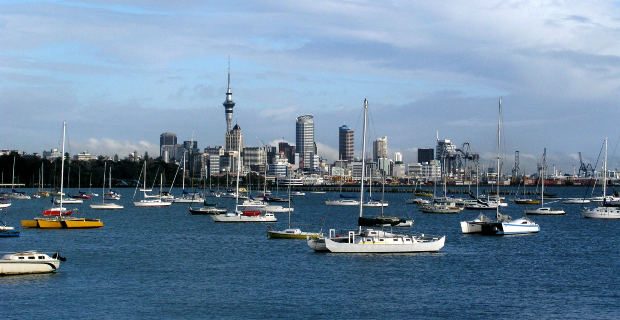 (photo of Auckland, New Zealand)
by Robert, guest author
Dining out is one of the best aspects of travelling. The opportunity to sample local cuisine is one that should be enjoyed by everyone. However, if you have specific dietary requirements beyond those that are often catered for, such as vegetarian, you could run into a bit of a problem. Many people, both for medical and general health reasons, are now choosing to eat gluten-free.
With that in mind, we explored New Zealand for the very best gluten-free cafes, restaurants and bars, coming up with the below Top 10 list, based on consumer reviews. If gluten is not a part of your diet, for medical reasons or otherwise, you will always be able to find a great place here to relax and have an awesome bite to eat. Check out some of these great eateries offering gluten-free options during your next visit to New Zealand.
 (NOTE: WE DELETED ONE RESTAURANT FROM THIS PAGE, DUE A COMPLAINT FROM A MEMBER OF COELIAC NEW ZEALAND, WHO HAD A BAD EXPERIENCE EATING THERE … THE LIST BELOW IS NOW THE TOP 9!)
If you are travelling across New Zealand this will be a must as you drive the South Island, with a great range of foods and drinks that cater for all dietary requirements.
Award-winning restaurant serving gluten-free options including Vegetarian Tart served with salad and chutney, and gluten-free bread options upon request.
3. Hinton's – Restaurant & Vineyard – Christchurch
This cafe/restaurant is located in a picturesque setting in the original homestead located on a lovely vineyard and serving many gluten-free dishes.
4. The Bean Café – Palmerston North
Bean is an 'Asian fusion' restaurant with more than a dozen of excellent gluten free dishes featured on its menu.
5. Barefoot in the Bay – Auckland
While this is actually a vegetarian specific restaurant, they specialise in gluten free options as well. One of the best restaurants in all of Auckland, this spacious eatery takes relaxed, indulgent dining to a new level.  Kid-friendly.
6. Filadelfio's – Multiple Locations
This franchise has restaurants all along the east coast of South Island, in Dunedin, Christchurch, and Oamaru. If you are looking for gluten free then Italian would not usually be your cuisine of choice, but gluten free pizza bases and pastas are available at all outlets.
If you are looking for amazing tasting Chinese food, then Great Wok is probably the best restaurant in the whole of New Zealand, let alone Christchurch. The gluten free options also make it great for specific dietary requirements, whether you are looking for main meals, appetizers, or desserts. Vegetarian meals also available.
8. Iguana Street Bar & Restaurant – Hamilton
While this is predominantly loved as a cocktail bar, the food here is something else, too. The open kitchen gives a relaxed and casual feel to what is still a high-end eatery catering for a range of dietary needs.
9. Crusoe's Cafe & Bar – Nelson
The majority of the menu is gluten-free. There is also a huge courtyard and play area for children, meaning younger travellers can build up an appetite before tucking in to some amazing food. Dairy-Free and Vegetarian options. Kid-friendly.
Is your favorite New Zealand gluten-free eatery mentioned above? If not, let us know by leaving a comment below.
Article written by Robert, a keen world-traveller and author for Transfercar a car hire cairns Australia service, providing travellers free transport for major cities in Australia.