The National Foundation for Celiac Awareness (NFCA) Receives Grant from FDA to Fund Research on Gluten in Medication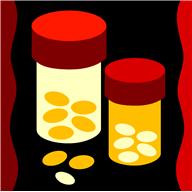 The National Foundation for Celiac Awareness (NFCA), a not-profit organization dedicated to raising awareness of Celiac, has been awarded a $50,000 grant from the Food and Drug Administration (FDA) which will fund the first ever scientific research in the area of gluten contained in medication.
In a recent Press Release from the NFCA, the project entitled "Gluten in Medication: Qualifying the extent of exposure to people with celiac disease and identifying a hidden and preventable cause of an adverse drug event" will address the problem of gluten in medication which, under current laws, is not required to be listed on the label, in addition to raising awareness of the harm to an individual if gluten is unknowingly ingested via medication. Drug manufacturers use excipients in medication which could contain gluten.
According to the NFCA Press Release, no scientific research has ever been conducted to study if the amount of gluten found in medication is harmful to Celiacs or individuals with non-celiac gluten sensitivity, though many have reported reactions after taking a medication.
Dr. Robert Mangione, Dean and Professor of Pharmacy at St. John's University along with his team of professionals will examine both over the counter (OTC) and prescription drugs which have been reported to cause ill health when taken by Celiacs.
The NFCA has worked tirelessly to keep the Celiac and gluten-sensitive community safe, and certainly this is a major accomplishment for their organization, and many will benefit from their research which commences this November. In early 2012, a survey will be distributed to the Celiac community to document any adverse effects suffered after taking a medication.
For more information on NFCA's Collaborations & Actions in the area of Gluten in Medication, and to view the Press Release visit www.CeliacCentral.org.