The National Foundation for Celiac Awareness (NFCA) Receives $2 Mil for Research & Awareness, from Anonymous Donor
---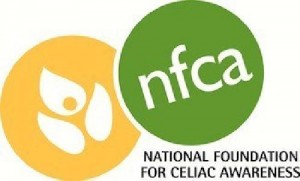 Press Release: 
AMBLER, Pa., Aug. 20, 2014 /PRNewswire-iReach/
"The National Foundation for Celiac Awareness (NFCA) has received a $2M contribution from an anonymous donor to support the organization's on-going efforts to raise awareness about the disease, advance research, encourage testing, and improve the quality of life for people who must maintain a lifelong gluten-free diet. The largest gift and first seven-figure contribution in the organization's history, this generous donation plays an important role in the future of celiac disease and gluten related disorders. It has been directed to ensure on-going support for NFCA, and was inspired by the organization's proven track record of significantly moving research and patient care forward since its inception in 2003, and also its commitment to advancing celiac disease research over the next decade.
Celiac disease is a genetic autoimmune disease that damages the small intestine and interferes with absorption of nutrients from food. This means that the body is essentially attacking itself every time a person with celiac disease consumes gluten, the protein found in wheat, rye and barley. 1 in 133 people have celiac disease – 3 million Americans – but 83 percent are undiagnosed. NFCA strives to reduce the time to diagnosis and, in the process, reduce the devastating effects of undiagnosed celiac disease, which can include cancer, osteoporosis and other autoimmune disorders. The organization was founded by NFCA President and CEO Alice Bast, who herself suffered from undiagnosed celiac disease for years and experienced devastating health challenges as a result. "This gift is a tangible vote of confidence in the direction we are headed and our commitment to the work, and we are truly grateful," noted Bast.
Driven by a passion to improve the quality of life of those with celiac disease, NFCA is an active contributor to the expanding world of celiac disease research, including accomplishments such as government grants, poster presentations at scientific conferences and publications. And, with a vision shared by the generous donor, NFCA is moving boldly into its second decade to dramatically improve the quality of life for those affected by celiac disease and other gluten-related disorders. Steered by NFCA's distinguished Scientific/Medical Advisory Council, NFCA is committed to helping physicians, scientists and researchers discover new findings that can improve celiac disease diagnosis and treatment through research conducted by NFCA and in collaboration with leading experts in the field, hospitals and universities, and prominent celiac centers."
For more information or to contribute to the NFCA endowment fund, contact Kimberly Yost Moyer at kmoyer@celiaccentral.org or (215) 325-1306 x. 110.
About the National Foundation for Celiac Awareness
NFCA, a 501(c)(3) non-profit organization, drives diagnoses of celiac disease and other gluten-related disorders and improves the quality of life for those on a lifelong gluten-free diet through empowerment, education, advocacy and advancing research. For more information, please visit www.CeliacCentral.org.
Media Contact: Claire Baker, National Foundation for Celiac Awareness, 267-419-2111, cbaker@celiaccentral.org
News distributed by PR Newswire iReach: https://ireach.prnewswire.com
SOURCE:  National Foundation for Celiac Awareness