The Gluten Free Cheat Sheet: Go G-Free in 30 Days or Less, by April Peveteaux, Author of Gluten Is My Bitch Blog (Review & Giveaway)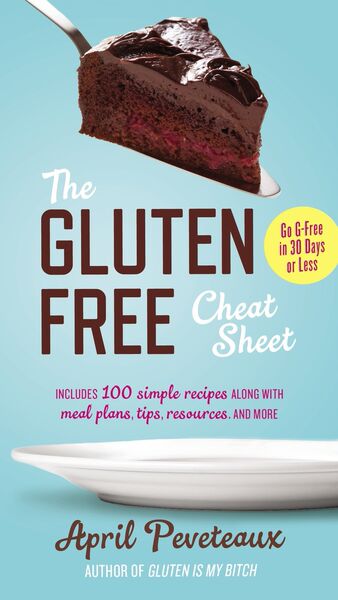 (SORRY, YOU JUST MISSED THIS GIVEAWAY!). I was sent a copy of the recently released "The Gluten Free Cheat Sheet: Go G-Free in 30 Days or Less" (a Perigee book, published by Penguin Group, NY), the second book by April Peveteaux, writer, editor and creator of the popular blog "Gluten is My Bitch". I took the paperback with me on a recent long weekend getaway and was excited to dive in. I've read countless books on celiac and the gluten-free lifestyle, but honestly I had the most fun reading this one due in part to April's humorous, irreverent, ever-charming, writing style. The Gluten-Free Cheat Sheet provides essential (and practical!) information for anyone new to a gluten-free diet – whether diagnosed with celiac disease, gluten-sensitivity, wheat allergy, or desiring to eliminate gluten for other reasons. April, diagnosed with celiac in 2011, writes of her commitment to following the GF diet …"Naturally, I jumped in with both feet, because no pastry is worth ruining your life" and she will inspire you to remain committed as well, while also making you laugh. April shares tips that she has learned along her celiac journey, so that your transition to a gluten-free lifestyle will be an easier, stress-free one.
"I've gone through the various stages of gluten grief and come out the other side with a heck of a lot of fantastic ideas and recipes to make me forget about my gluten-free woes. With my new attitude and arsenal of gluten-free helpers, I will take you on a journey for the next 30 days filled with many tears, much laughter, and so much high-fiving".
Chapters include The Problem with Gluten: Who, What, and Why; A Quick Lesson in What Foods to Avoid and What to Eat Instead; Can't Someone Else Just Cook for Me?; Depression, Anxiety, and General Crankiness; How to Rock Your First 30 Days; Your 30-day Meal Plan, and more …
The 30-day Meal Plan is a helpful guide offering healthy, gluten-free breakfast, snack, lunch and  dinner options to assist with meal planning. "Once you're at the end of these 30 days of gluten-free eating, you're going to be an expert on pulling together a delicious lunch for work or even a dinner party", April writes!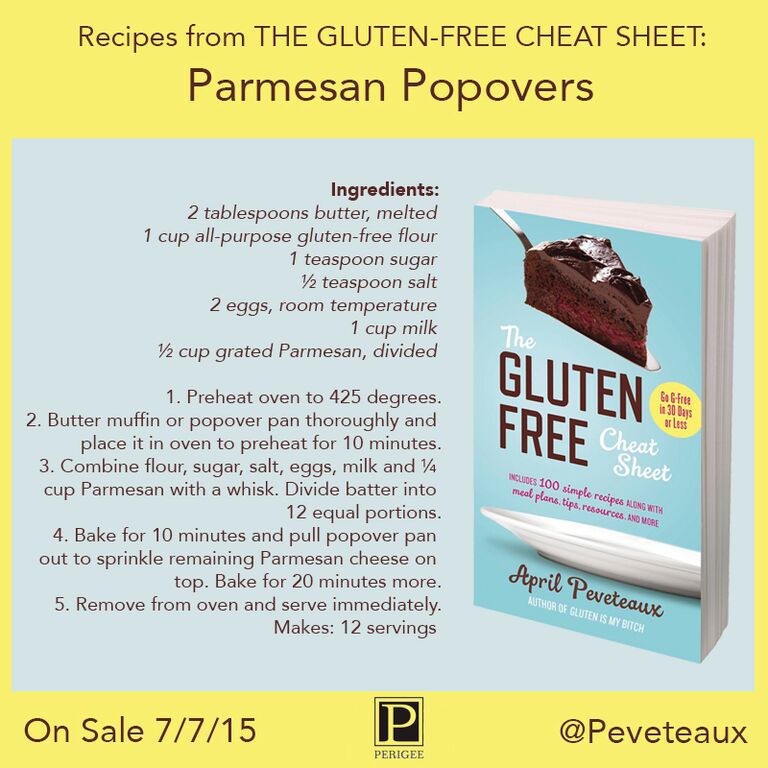 The book also contains 100 gluten-free recipes! Among them Leek and Bacon Quiche, Sweet Potato Hash Browns, Kale and Artichoke Dip, Polenta Crostini, Cuban-Style White Rice and Black Beans, Bacon-Wrapped Scallops, Cheesy Cauliflower Pizza, Coconut Flour Tortillas, Sesame Crusted Tuna Steak, Poutine, Quinoa Bowl, Brownies with Pumpkin Bourbon Sauce (yum), Buckeyes, Chocolate Beet Bundt Cake and a few beverage recipes including Pumpkin Spice Latte, Limoncello, The Perfect G&T!). See right for a recipe from the book. 
The book offers great resources such as lists of support groups, conferences and expos, recommended medical and cookbooks, favorite GF must-have's (bread, pasta, etc.) and more. In the back of the book is a "Best Local Gluten-Free Blogs" category where April includes nationwide blogs offering local support, GF restaurant and travel info. (I was pleased to see CeliacCorner.com among the blogs. April enjoyed our story on gluten-free dining in New Hampshire, thanks for including us April!)
The Gluten Free Cheat Sheet: Go G-Free in 30 Days or Less, available in paperback and for Kindle, is user-friendly and an easy, enjoyable read. It is full of great information on celiac and other gluten-related disorders, helpful advice, delish recipes, and a handy gluten-free meal plan. Check it out! Click on book cover above for ordering info.
XX  Enter Giveaway  XX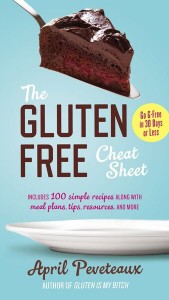 A big thanks to April Peveteaux and Perigee Paperback/Penguin Group for offering one lucky CeliacCorner winner
a FREE copy of The Gluten-Free Cheat Sheet: Go G-Free in 30 Days or Less
Enter Below, and Good Luck!
(One winner will be chosen and will have up to 2 days to claim prize. The book will be mailed out by the Publisher)
Open to US residents only (sorry to our Canadian & global followers)