The Boynton Restaurant & Spirits, worcester, ma
Review by  
Iris W.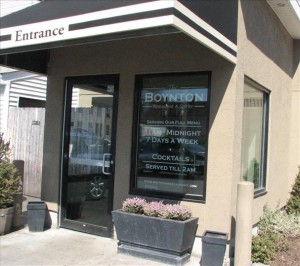 Over the years, people have mentioned the Boynton restaurant as offering gluten-free food, but only recently did I have an opportunity to dine in this once small tavern from the 1930's and named after a founding father of the nearby Worcester Polytechnic Institute.  The current owners purchased the tavern in 1969, and expanded it to a full restaurant and lounge. When we entered, I was immediately surprised by the volume of diners.  For a Monday night, I was expecting somewhat of a quieter dining experience.  Quite the contrary! The atmosphere was lively, bustling with youth, most likely college students from Polytechnic, as well as couples and families.  There wasn't a vacant seat at the bar, which easily accommodated 25 people, and at least that many more were standing.  The English Pub/Sports bar interior was warm and inviting with several booths leading up to and adjacent the lounge.  Several large flat screen TV's featured sport's games.  Having just travelled a bit of a distance to try out some new gluten-free "offerings", I have to admit when I opened and viewed the extensive "regular" menu, consisting of everything from burgers to Chicken Piccata, I was a little disappointed to find only gluten-free pizza.  I thought, if I wanted gluten-free pizza I easily could have ordered take-out from Uno's, which was a lot closer to home.  I asked the server if other dishes could be modified to be gluten-free, but after a very cautious warning about the possibility of cross-contamination, I opted for the pizza, which I was assured was prepared in a totally gluten-free working area.   The pizza choices ($8.99 to $12.99) consisted of a "build your own", and three other varieties: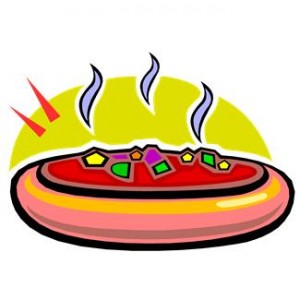 Broccoli, Feta & Onions; GF House Special; and the Red Hot Chicken.  I chose the Red Hot Chicken ($11.99, ingredients: white peppercorn sauce topped with spicy grilled strips and topped with a blend of mozzarella and parmesan cheeses).  Ah, my mouth is beginning to water and thoughts of a return trip in the very near future fill my head. The cubes of chicken scattered on the top were bursting with a fiery flavor (but not overly spicy hot), marinated in a BBQ sauce, but also something tangy.  After a sampling, my non-gluten-free dining partner commented that the Red Hot Chicken pizza should be eaten on a cold winter's day, to warm you from the inside out.  He wanted more and I found myself slapping his hand away! And for dessert … a smooth, silky triple chocolate mousse cake – gluten free! Granted, the gluten-free menu at the Boynton is basically limited to pizza and one dessert – but both are so deliciously satisfying, it is worth the trip!
Note: The gluten-free pizza crust and sauce are peanut & tree nut, dairy and casein free and also the bar offers three varieties of gluten-free beer
http://www.boyntonrestaurant.com/ordereze/default.aspx
Details:
Located at: 117 Highland Street (Route 9), Worcester, MA  01609
Hours: Open 7 days a week – serving full menu 11:00 a.m – 12:00 am
Reservations only for parties of 8 or more
Function room also available for booking
Ability to cater a full gluten-free event
There are two entrance doors, you can park in the back of the building, or directly in front.  If you park in the rear you will actually enter closer to the check-in desk.