Simple Polenta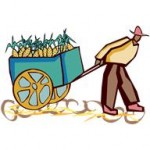 Polenta is the hearty cornmeal Italians have relished for hundreds of years. Dried corn is ground into meal and simmered in water like porridge, then poured into a dish, cooled and sliced. Add your favorite tomato sauce with basil as a topping.  The tastiest cornmeal is the freshest.  If you are unable to grind it yourself, then try to buy it refrigerated to ensure quality. Old cornmeal will result in bitter polenta. The ratio of corn to water varies from 1 to 2 to 1 to 4.
Equipment:
heavy pot
Ingredients:
2 cups of water
1 cup cornmeal, freshly ground preferable, but refrigerated or packaged will do
pinch of sea salt
Pour 3 cups of water into pot. Slowly add fresh or refrigerated cornmeal, stirring to mix without lumping (or follow directions for cooking packaged cornmeal). Bring to a boil over medium heat, stirring continually, until thickened. Lower heat, stir often, cook for 3o to 45 minutes. After cooking on stove, pour into oiled (olive) dish. Allow to cool and slice. Alternatively, once thickened pour into oiled baking dish and bake at 350 degrees F for 1 hour.
Variations:
– Roast cornmeal in skillet until nutty smell arises; cool; add water and cook;
– Polenta with Onions: add 2 or 3 onions, minced & sautéed; cook together;
– Fresh Corn Polenta: cut kernels off 3 to 4 ears of corn. Add to polenta after it has thickened. Cook 15 to 20 minutes;
– Fried Polenta: leftover polenta can be sliced and pan-fried in oil until golden;
– Top Polenta with favorite tomato sauce (be sure it is gluten-free, if bottled or canned).
Servings: 4 to 6
time:  1 Hour
Recipe provided by Mary Estella Bartlett.  Mary is a graduate of the Culinary Institute of America and was a guest instructor at the Natural Gourmet Cookery School in New York City. Her columns have appeared in the East West Journal and Vegetarian Times.  Look for more delicious gluten-free, as well as dairy-free recipes from Mary in our Recipe files.