Saffron Road (Gluten-Free, Halal Cuisine): Review & Giveaway
---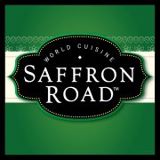 " … Saffron Road was born – out of a vision of a journey that is truly memorable and which could be shared and celebrated by friends and families of all cultures and faiths coming together for an epicurean meal … Saffron Road"
I was excited when contacted recently by a rep of the *award-winning Saffron Road company to sample a few of their products. I've noticed their frozen entrees at my local Whole Foods and my interest was peaked noticing many of them were among my favorite ethnic dishes  .. Chicken Tikka Masala, Chicken Pad Thai, Samosas, to name a few! I'm a huge fan of "world" cuisine, but very weary of frozen, packaged products, due to high sodium levels and artificial ingredients. Saffron Road products are lower in sodium than many other frozen meals on the market and contain all natural ingredients.Off to a good start!
Saffron Road Gluten-Free Products are:
Certified Gluten-Free, **Certified Halal, Certified Humane (chicken), MSG-free, free of artificial ingredients (Vegetarian, Dairy-free & Certified Organic & Non-GMO options) and they offer more than frozen entrees.
xx  See Giveaway Below xx
(NOW CLOSED)
Gluten-Free products include:
–        Frozen Entrees: Chicken Tikka Masala, Chicken Pad Thai, Lemongrass Basil, Chicken Biryani, Lamb Saag,
   Lamb Vindaloo, Manchurian Dumplings, Thai Basil Chili Tofu, Chana Saag
–        Cunchy Chickpea Snacks (Wasabi, Bombay Spice, Falafel)
–        Chicken Nuggets, Tenders & Bites (Tandoori Chicken Nuggets)
–        Artisan Broths (Classic Culinary Vegetable, Artisan Roasted Chicken, Traditional Chicken)
–        Simmer Sauces (Moroccan Tangine, Tikka Masala, Lemongrass Basil, Rogan Josh)
[Some Saffron Road product contain gluten, so be sure to check for the Gfree Certification Label at time of purchase!]
I sampled the following: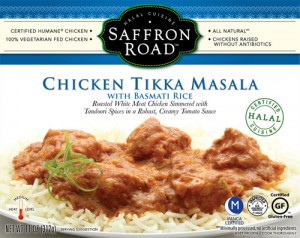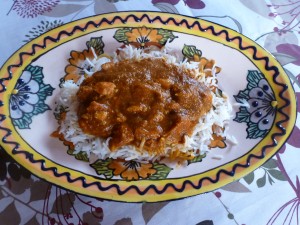 FROZEN ENTREE (Chicken Tikka Masala with Basmati Rice, minimally processed, no artificial ingredients – Certified Gluten-Free, Certified Halal, Certified Humane – see complete ingredient, nutritional & allergen info here.
I popped the container into the microwave and followed heating instructions. The dish was tasty, almost a match to what I would have ordered in an Indian food restaurant. The spiced tomato and yogurt sauce was delicious, the chicken tender, and the basmati rice aromatic and fluffy. Though there were definitely a good amount of chunks of chicken, I wish they were a tad bigger, though I still found the individual-sized portion filling.  Avg. price: $5.69 ea.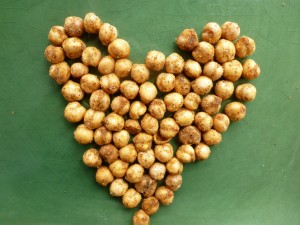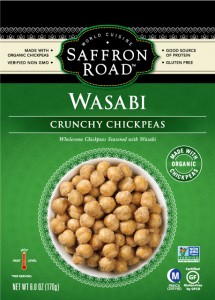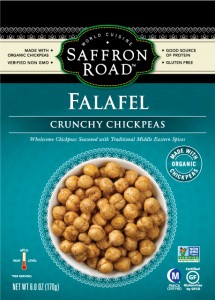 CRUNCHY CHICKPEA SNACKS: (Falafel & Wasabi flavors in a 6 0z bag –  Vegetarian, MSG-free, Certified Gluten-Free, Dairy-Free, Certified Organic, Certified Halal – see complete ingredient, nutritional & allergen info for Falafel  here & Wasabi here)
The Falafel was my favorite. Lightly salted, with turmeric, lemon & other middle eastern flavors making them a delicious, savory snack.  I'm not a fan of Wasabi, so this flavor was not a favorite, (my nose tingled when trying a few). However, my husband, a huge fan of Wasabi, gave them thumbs up and snacked on them for days! The Crunchy Chickpea snacks are a good source of protein and fiber, and the packages are labeled with a "heat level" which is helpful in determining which flavor is best for you and your family… not surprisingly the Wasabi was at the top heat level! The Falafel was considered "medium". Not only did I enjoy snacking on the Falafel chickpeas straight from the package, I sprinkled them on several salads during the week, for added flavor and crunch. Avg. price: $4.69 ea.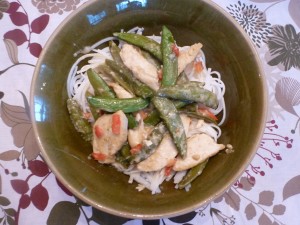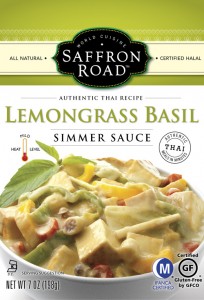 SIMMER SAUCE: (Lemongrass Basil, comes in a 7 oz. single serve packet: Vegetarian, Gluten-Free, Dairy-free, IFANCA Certified, MSG-free, see complete ingredient, nutritional & allergen info here)
Add your favorite oil and sauté poultry, fish, meat, and/or vegetable of choice, add simmer sauce until it bubbles and then pour over rice or noodles, etc. I happened to have a box of Thai noodles on hand. The aroma of lemon and lime wafted through the entire house. In fact, when the sauce was simmering, my husband walked in the front door asking "what smells so good"? The flavor of the simmer sauce was pleasingly sweet and tangy and combined well with the chicken, red & green diced pepper and noodles. Loved it! Avg. price: $3.69 ea.
I think it is important to note that Saffron Road, led by founder and CEO Adnan Durrani who has a history in organic farming, is committed to providing healthier consumer products. Their livestock is fed a 100% vegetarian diet; chicken & lamb are antibiotic-free; and the milk used for cheese is from cows not treated with rBST (what is that? read here).  Further, their livestock is treated humanely while being raised on family-owned farms (their chicken products are Certified Humane by the Humane Farm Animal Care). Read here for more reasons why you may want to reach for a Saffron Road gluten-free product over another!
Occasionally we need the convenience of a heat & serve meal, which is why I usually stock one or two in my refrigerator. Now that I have been properly introduced to Saffron Road, I look forward to trying more of their products … next in line Chicken Biryani … then Chicken Pad Thai … more of their flavorful simmer sauces and artisan grade broths!
Visit Saffron Road to learn more about all their products!
*Just a few Awards of recognition for Saffron Road:
–
Best Product Award – The Halal Journal Awarded our brand at the 2011 World Halal Forum in Malaysia
– Recognized as one of the Top Ten Brands to watch at the 2011 Fancy Food Show
– New Hope 360 includes Saffron Road as 2011's hottest natural foods and beverages
– PRWeek recognizes Saffron Road in its Digital Campaign of the Month featur
e (Jan. 2012 issue) for our campaign with Whole Foods Market during Ramadan 2011. – Cooking Light Magazine awards Three Cheese Lasagna with 2012 Tasties Award
** (from Saffron Road Website: Halal promotes the sacred tradition of respect for the land, fair treatment for farmers, humane treatment of livestock and clean, healthy food to eat. Much like Kosher foods, Halal is simply a choice that we believe consumers should have available to them.)
xx GIVEAWAY xx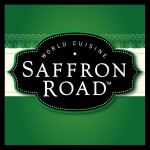 Courtesy of Saffron Road, one lucky CeliacCorner winner will receive 4 Saffron Road Coupons (max $10 value each – $40 total value) 
Giveaway begins Thursday March 28th 2013 at 12:00 noon (est) and ends Thursday April 4th 2013 at 12:00 noon (est)
GIVEAWAY NOW CLOSED
Giveaway Rules:
–        Tell us why (by leaving a comment below) you would love to try out Saffron Road Gluten-Free products including their Snacks, Frozen Entrees, Chicken Tenders Nuggets & Bites, Simmer Sauces and Broths. (comment awaits moderation)
–        LIKE Saffron Road and CeliacCorner on Facebook (leave a message on CC's Facebook page that you have entered Giveaway) and please SHARE on your Facebook page
–       FOLLOW CeliacCorner on Twitter if you are a tweeter, and tweet about the Giveaway at least once.
Open to US residents only (apologies to our world-wide visitors!).
One winner will be notified by email and will have up to 3 days to respond, otherwise another winner will be chosen.
The $40 worth of coupons will be mailed directly to winner by a Saffron Road rep.
Good Luck!