Rudi's Gives Back with their Spread The Bread Campaign (Giveaway)
---

Throughout the month of May, Celiac Awareness Month, Rudi's  Gluten-Free Bakery is giving back to the celiac community by donating up to $30,000 to various celiac organizations, via their SPREAD THE BREAD campaign! (Also see Celebratory Giveaway below!)
All you have to do is visit Rudi's Facebook page and select one of four celiac organizations – Celiac Disease Foundation (CDF), Celiac Sprue Association (CSA), Gluten Intolerance Group (GIG) and the National Foundation for Celiac Awareness (NFCA) to receive a one dollar ($1.00) donation from Rudi's. Visitors will also be able to download a $1.00 off coupon for any Rudi's product … so basically you will be getting $1.00 for giving $1.00 to a celiac organization of your choice!
Rudi's Spread the Bread campaign is a great way for you to give back to the celiac community, by asking Rudi's to make a donation to a celiac organization.  Just click and choose, and don't forget to download your coupon.
Continue to spread awareness during Celiac Awareness Month!
Rudi's has also generously offered one lucky CeliacCorner winner a fantastic celebratory package! (See Giveaway Details below)

xx  GIVEAWAY xx
NOW CLOSED
Rudi's Celebratory Package Full of Smile-worthy Goodies
(Apron, Gfree Coupons, Reusable Shopping Bag, Tee-shirt, bread clips and … Gluten Free on a Shoestring cookbook by Nicole Hunn – WOW!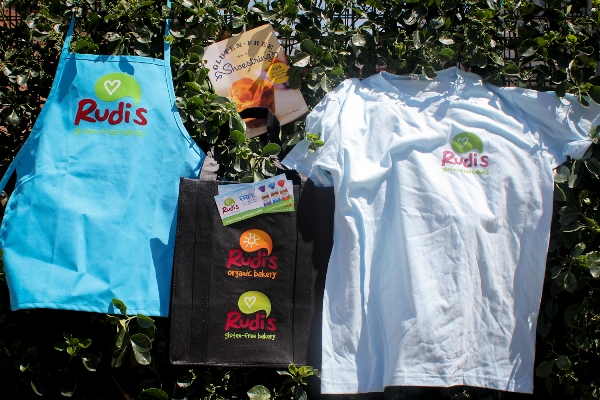 Giveaway Rules:
1. Leave a Reply BELOW telling us why you would love to win this fantastic Apron, Coupons, Shopping Bag, Bread Clips and Gluten Free on A Shoestring Cookbook! (note: your comment will not show up immediately as it awaits moderation)
2. Go to Rudi's Facebook page, Like it,  and be sure to select a celiac organization to receive Rudi's $1 donation!
3. Then go over to CeliacCorner's Facebook Page, and Like it.  Leave a Comment on our FB page that you entered our Rudi's Giveaway (don't forget to also leave a reply below)!
4. Follow Rudi's and CeliacCorner on Twitter, if you are a tweeter!
5. Please SHARE this post.
That's it!  Good luck! Giveaway ends:  Thursday, 24 May at 5:00 pm
Open to US and Canadian residents only