Rudi's Gluten-Free Bakery introduces new Soft & Fluffier Bread: Enter to win $1000 & Other Great Prizes, plus a Giveaway
---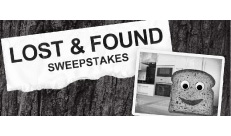 Have you been missing the "Soft & Fluffy" in your gluten-free bread? Rudi's Gluten-Free Bakery has revamped their gluten-free sandwich bread to be just that … softer and fluffier. To help get the word out, Rudi's is offering a fun way to win $1,000 and also fantastic weekly prizes  – two great ways to win from now through February 8, 2013.
(Don't miss CeliacCorner Giveaway below … wait until you see what the great folks at Rudi's are offering one lucky CeliacCorner winner!)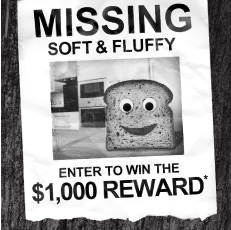 For a chance to win the $1,000 Reward:  All you "Detectives" out there just need to discover where "Soft & Fluffy" has been hiding (perhaps in your freezer or toaster, maybe in the store freezer!?). Once discovered, just text "FOUND" to 304.52.RUDIS (you will be typing in all numbers). Next, to show your proof of participation in the search and also to be entered to win fantastic weekly prizes  such as a Garmin GPS, Nikon CoolPIx Camera, to name a few, just snap a photo of where you found "Soft & Fluffy" hiding and SHARE on Rudi's Facebook page! Fans will need to post their detective photos each week to be eligible for that week's prize. You can also help spread the word about Rudi's new, improved gluten-free bread by sharing on your Facebook page and by downloading a Rudi's "Missing Soft & Fluffy" poster to post in your neighborhood! (See Rudi's Facebook page for more details, and see how others are posting their photos!)

Have fun finding "Soft & Fluffy"!
Doug Radi, senior vice president of market and sales for Rudi's Organic Bakery says "these sweepstakes give our fans a fun way to discover they now have a better choice when they're looking for bread that tastes, looks and feels like the real thing." Rudi's Gluten-Free Bakery Original, Multigrain and Cinnamon Raisin varieties have all been modified. Rudi's breads are free of artificial chemicals, preservatives and GMO's. The newer breads will have a longer shelf life, will contain double the fiber content (2g per serving), and are certified gluten-free.
So head on over to Rudi's Facebook page or their website to enter to win the $1,000 Reward and fabulous weekly prizes! Also click on the $2 off coupon which can be used to purchase the new and improved Rudi's Gluten-Free Bread products!
Rudi's sent me a loaf of Cinnamon Raisin and Multigrain bread to sample. Without a doubt, you can taste and feel the difference from their older formula. The slices are, as their slogan points out …  softer & fluffier! The bonus – more fiber (2 gr each) has been added making them a healthier option than many other gluten-free breads on the market! Go Rudi's!
XX Fantastic RUDI'S GIVEAWAY XX
GIVEAWAY NOW CLOSED! Thanks to all who entered!

Courtesy of Rudi's Gluten-Free Bakery, one lucky CeliacCorner winner will receive a gift pack valued at $100!  The "Theme" of the gift pack is "how you can treat "Soft & Fluffy" right!
(You don't have to enter Rudi's Sweepstakes to enter the CeliacCorner Giveaway)
You will win: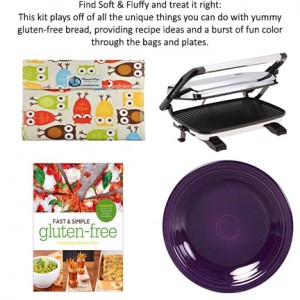 Colorful Reusable Bags
       Sandwich Press!!!!
    Gluten-Free Cookbook of Sandwich Recipes
Colorful Ceramic Plates
Giveaway Begins Thursday, 17 January 1:00 pm (EST) and ends Thursday, 24 January 1:00 pm (EST)
Giveaway Rules:
Comment(below) telling us your favorite sandwhich to make using Rudi's new & improved gluten-free bread!

LIKE Rudi's Gluten-Free Bakery on Facebook
LIKE CeliacCorner on Facebook (we check!)

SHARE (use share button below) this Giveaway at least once on Twitter & Facebook

Consider FOLLOWING Rudi's & CeliacCorner if you are on Twitter
 Open to US Residents only (sorry to all our global followers)
(CeliacCorner cannot be held responsible for the misuse of any products received or as a result of any adverse  reactions from consumption of food products)