Quest Protein Bars – nutritious, delicious and gluten-free!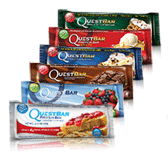 We are excited to announce Quest Bar has recently joined the CeliacCorner family of sponsors!  We thank Quest for choosing our site to help spread the word to the Celiac and gluten-sensitive community around the globe, that their protein bars are free of wheat, barley and rye, not to mention a few other unhealthy ingredients.  Readers, you can feel confident that Camille's product reviews are written with honesty and the opinions expressed have not been influenced. If a product tastes and looks like shoe leather, it will be described as such.
Like so many others at the start of a New Year, I decided to shred some extra pounds gained over the holidays.  Since I'd received a sample box of Quest bars, I decided to incorporate them into my "get healthy" plan (eating less, exercising more!). I've tried a few protein bars over the years, and have to admit they weren't my thing. I never felt satisfied, nor enjoyed the taste and quickly gave up on them. If I was going to include Quest bars as part of my daily food intake, either as a supplement or a replacement for a meal, not only would they need to provide the protein & fiber my body requires (who doesn't need more fiber?), they ultimately had to taste good!
Well, Quest had me at their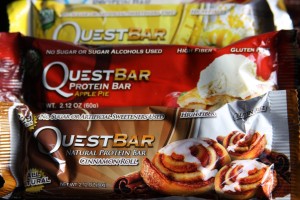 "Cinnamon Roll" bar!  I followed the recommendation for warming the bar on a plate in the microwave and thoroughly enjoyed it for breakfast.  Aside from the visual of the rectangular bar, I could imagine I was eating an actual cinnamon bun, save the extra fat and calories. Sure, I'm exaggerating a bit, but really the flavor comes pretty darn close.  In addition to the Cinnamon Roll bar, Quest's "Natural" line includes Chocolate Peanut Butter, Coconut Cashew, Lemon Cream Pie and Strawberry Cheesecake. Their "Original" line consists of such mouth watering creations as Vanilla Almond Crunch, Peanut Butter & Jelly, Peanut Butter Supreme, Mixed Berry Bliss, Chocolate Brownie and Apple pie! Each bar I tried contained just the right amount of sweetness (for my Gfree taste buds) and flavoring and one bar at breakfast kept me satisfied, until lunch.
Both Quest lines contain just a few ingredients, and are free of soy, sugar alcohols (Original line), artificial sweeteners (Natural line), and glycerin, and all are GLUTEN-FREE. In addition to being low-carb, and high in protein and fiber, they contain other nutrients such as phosphorus, magnesium, calcium, and iron. There were a couple of terms/ingredients I had to Google, but found they were healthier additions. Though many will know what they are, for the benefit of others, like me, who didn't know every ingredient and their respective benefits, definitions are below and quoted from Quest's website, (and verified via Google):
IMO Fiber (Isomalto-Oligosacchaide): "In order for Quest Bars to be usable as a complete meal, we wanted to ensure that they contained enough fiber to really matter. Almost every ounce of carbohydrate in our bars comes from fiber, which will keep your insulin levels low and your stomach satisfied. Fiber has been shown to do many things such as controlling hunger, improving digestive health and preventing certain diseases. IMO is a 100% natural fiber derived from plant sources that is very similar to the better known chicory root fiber. The two fiber sources are almost identical in taste, feel and texture but with one minor exception: IMO does not cause any intestinal upset whatsoever even for people with very sensitive stomachs. We use it to make sure that Quest bars can be complete meals for use whenever you want something convenient."
Quest uses the natural sweeteners below in their "Natural" bars, and Sucralose in their "Original" bars:
Lo Han Guo: "A natural herb that's been used as a sweetener in China for over 1,000 years. It only takes a TINY amount as it's 300 times sweeter than sugar."
Stevia: "is an herb in the Chrysanthemum family which grows wild as a small shrub in many parts of the world. The glycosides in its leaves, account for its sweetness and it has been used as a natural sweetener in many countries for many years."
Erythritol: "while Erythritol is classified as a sugar alcohol it is ENTIRELY different than all of the others. It does not upset stomachs, it contains only 0.2 calories per gram and has little to no impact on blood sugar. "
Sucralose, used in Quest's "Original" line of bars: "is generally recognized as the best artificial sweetener available. It's over 600 times sweeter than sugar so it's used in microscopic amounts." The "Natural" bars are sweetened with Lo Han Guo, Stevia and Erythritol.  Choices are a good thing!
Quest bars are high in what they should be (17 to 18 grams of fiber – a good dose of healthy prebiotics, and 20 grams of protein from whey & milk proteins), they contain the good fats (from almonds, peanuts & cashews), and are low in carbs, calories, sodium, and fat!  The perk – they taste good, so you won't mind substituting say a Strawberry Cheescake bar for a platter of pancakes you might otherwise have had for breakfast!  Though Stevia and Sucralose are considered safe by FDA standards, especially at the low levels used in the Quest bars, I would just be certain your body likes them. Certainly a better choice than Sorbitol, which has been known to cause bloating and gas in some.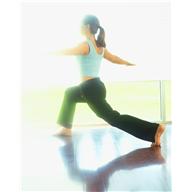 On a personal note, I have lost 6 pounds in two weeks since the start of my "get healthy" plan! Now, I'm not saying it is entirely related to the Quest bars, because I have also been faithfully working out, but I'm certain they have contributed to the loss, by satisfying my hunger, without the added calories and fat!
So, whether you want to take off a few pounds, are into building muscle, or just want to grab a healthy snack, consider Quest! Though they are available in some nutritional stores, you can easily purchase them on-line via their website below, or by clicking on the blue Quest ad on our page. Now is a great time to order as you can enter Quest's contest to win a year's worth of bars!  If you want to sample before ordering, you can request 2 samples! If you visit their Facebook page, you can view videos of people entering the contest to get some ideas.  If you leave a comment on their FB page, mention you heard about them from CeliacCorner! Let Quest know you appreciate the elimination of gluten!
To learn more about Quest Bar visit: http://www.questproteinbar.com/
Join them on Facebook http://www.facebook.com/#!/questbar & Twitter.com/questbar