Qrunch Quinoa Burgers, a veggie burger with a crunch: gluten-free, dairy-free, vegan, vegetarian, non-GMO (Review + Giveaway)
---

Quinoa. We've seen this grain-like super food being added to a wide-variety of gluten-free products to boost nutritional value. High protein, low-carb quinoa has a mild nutty flavor and contains 8 essential amino acids, calcium, iron, among other nutrients, and now you can find it in Qrunch Foods' Qrunch Quinoa (Veggie) Burgers.       
(See Giveaway below!)
The founders of Denver-based Qrunch Foods were inspired to create healthy, all natural and great-tasting, gluten-free veggie burgers for their very own gluten-intolerant family members. The burger recipe which included organic quinoa, high-fiber millet and a variety of organic vegetables was a hit and the original Qrunch Quinoa burger was born (note other flavors below)!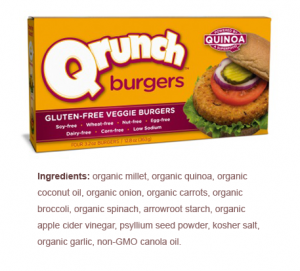 The Details: Qrunch Quinoa burgers are all natural and free of most common allergens. They are Gluten-Free, Wheat-Free, Soy-Free, Dairy-Free, Corn-Free, Egg-Free, Nut-Free, Non-GMO, as well as free from artificial flavoring and coloring. They are low in sodium with no added sweeteners. The burgers, which are made in a gluten-free and SQF (Safe, Quality, Food) facility, contain certified gluten-free and organic, as well as NON-GMO verified ingredients. The packaging is recyclable.
The pre-cooked Qrunch Quinoa burgers are available in 4 flavors: Original, Spicy Italian, Sweet Curry with Lentils and Green Chile with Pinto Beans. Four (3.2 oz.) burgers come in a box for a suggested retail price of $4.99/box.
The Results:  I sampled all four flavors. I found the original to be tasty with a mild nutty flavor, but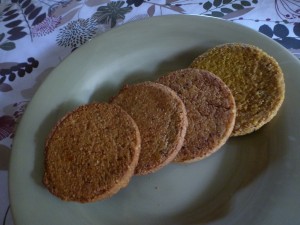 excitedly moved on to the other 3 because, well, I am a spice girl! The Spicy Italian was well seasoned, the Green Chile with Pinto Beans had a nice burst of flavor without being too fiery, and if I had to pick a favorite, I'd say the Sweet Curry with Lentils, because I'm a big curry fan.
Quinoa Qrunch burgers were not formulated to taste like a meat burger. The only similarity to a meat burger is the rounded shape. The burgers are uniquely different in their texture and taste and I found them all delicious. You don't see large chunks of veggies, but they are there (spinach, broccoli, carrots, garlic, onion) finely blended and providing nutritional value. The best part of these veggie burgers is the nutty quinoa flavor and the crunchy outer coating. It reminded me of  crunchy cornbread. Some other veggie burgers are softer, bordering mushy, so the crunchiness sets the Qrunch Quinoa burger apart from others. The box suggests cooking methods of oven, toaster, skillet and even on the grill.  I tried all methods (except the grill) and was satisfied with the results, though I added a little olive oil to the skillet and perhaps enjoyed the slightly browned one a tad more than the others. I didn't find the need to add additional seasoning (salt/pepper) to any of them, but tried one with a dollop of organic ketchup … delish!
Use your Qrunch Quinoa burger inside a gluten-free bun, to top a salad or as a base for an egg, for a super nutritious start to your day! They would even be good as a healthy, grab & go snack, as they come pre-cooked and can be quickly heated in the toaster. Both adults and kids will enjoy them!

(photo from www.qrunchfoods.com)
For complete list of product ingredients and nutritional information and to find a retailer near you visit the Qrunch Quinoa burger website.
Qrunch Quinoa burgers ranked No. 3 in a recent Washington Post Food Section Veggie Burger Taste Test (the only allergen-free burger to make the top 7) check it out!
XX GIVEAWAY XX
NOW CLOSED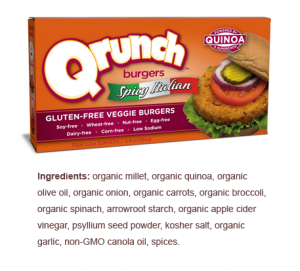 Courtesy of the nice folks at Qrunch Foods & KNS Promotion, Inc., one lucky CeliacCorner winner will receive four (4) coupons (each coupon is good for 1 free 4-pack of Qrunch burgers, any flavor)
Giveaway beings Thursday, June 27 at 1:00 pm (EST) and ends Thursday, July 11th at 1:00 pm (EST)
Giveaway rules:
Tell us which Qrunch Quinoa flavor you would like to try most (leave a comment below .. be sure to enter CAPTCHA code BEFORE hitting submit button)
Like Qrunch on Facebook, Like CeliacCorner on Facebook
Follow CeliacCorner on Twitter, and please tweet about Giveaway at least once
You can enter a second time (increasing your chances of winning!) if you post Giveaway to your facebook page (be sure to note this in your second comment below).
Open to US residents only (18 years and older)
Thanks for entering – good luck!