Picazzo's Organic Italian Kitchen for delicious gluten-free food
---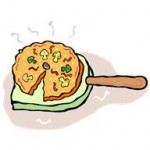 Before heading to Arizona on vacation, I researched restaurants with gluten-free menus.  Frequently Picazzo's Organic Italian Kitchen popped up on the screen, so it was added to my list. My first introduction to Picazzo's was by way of a take-out gluten-free Milano pizza which was brought back to our hotel in Sedona, accompanied by a slice of organic cheesecake. The Milano, topped with sweet caramelized onions, was one of the best gluten-free pizza's I had ever tasted, and the cheesecake was a little slice of heaven, if heaven rained a mildly sweet raspberry sauce. Yes, that good. Looking forward to dining in the next time, we headed over to their location on Highway 89A one evening after watching the sun go quietly down from Airport Loop Road, a must do if visiting majestic Sedona.  Both Picazzo's upscale casual dining room and cozy bar area, were packed with diners of all ages. In addition to a variety of organic gluten-free pizza, there is also a large assortment of gluten-free appetizers, entrees, and sweet endings to choose from! Gluten-Free pasta options included organic Ancient Harvest Quinoa Pasta, brown rice spaghetti, spirals, or penne and most anything on the menu could be modified to be gluten-free. Owner Rick Freedman, a Sedona resident, started the restaurant in 2002, but in 2010, decided to go all organic. Picazzo's menu now consists of fresh, organic and local ingredients, nitrate-free meats, and non-GMO oils to create even healthier meals.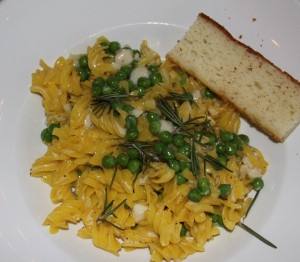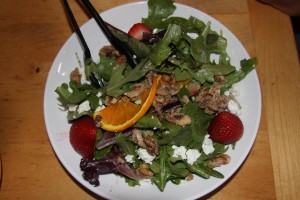 I opted for the wild berry salad with gorgonzola cheese, strawberries,caramelized walnuts was topped with a tasty dressing, and my nicely presented entrée of baby scallops over pasta with white wine, peas and fresh rosemary was satisfying. When the basket of gluten-free bread arrived to the table, you could probably hear my "sigh" from across the room. Having sampled the delicious organic cheesecake the night before, I passed on ordering dessert which also included organic apple cobbler, organic cheesecake, chocolate chip cookie, skillet brownie and a sundae ranging in price from $3.50 to $7.00.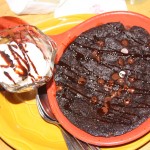 The kids, never passing on dessert, ordered a skillet brownie (gluten-free) and the two of them left the restaurant with a chocolatey smile upon their faces.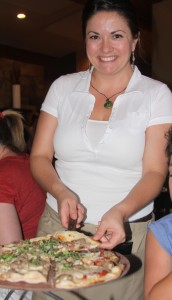 Picazzo's servers were helpful and very knowledgeable about Celiac and gluten-free.  In fact, our server's (pictured at right) mother had celiac and she mentioned several of the servers at Picazzo's either had celiac or were gluten-sensitive. Picazzo's is a delightful gem for the gluten-intolerant, and though this was probably far from reality, in my own mind, I imagined every table had a least one gluten-intolerant diner! While cross contamination is always a possibility, I felt unusually safe dining here. Picazzo's is a good value and the bill for the four of us came to $74.38, including taxes.
Throughout the duration of our stay in Arizona, I found myself planning our itinerary around lunches and dinners at the various state-wide Picazzo's! Whether gluten-intolerant or not, Picazzo's is an enjoyable dining experience.
Sedona location: 1855 W. Highway 89A – 928.282.4140.  Open Sunday through Thursday from 11:00 am to 9:00 pm, and Friday & Saturday 11:00 am to 10:00 pm.
Other Arizona locations: Flagstaff, Paradise Valley, Scottsdale & Tempe
http://picazzos.com/main-menu/