Outer Aisle Gourmet, Makers of Gluten-free, Vegetarian, Low-carb Veggie-based Food – Review
---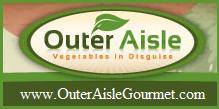 Recently I was contacted by a rep of Outer Aisle Gourmet, a fledgling company started by a California mom with help from her husband and kids. Out of a desire to feed her family healthier foods, while keeping it convenient, this busy mom (of 4 boys!) created four "staple" foods which are healthy and very easy to prepare. She now hopes to have the opportunity to share them with you. ["Outer Aisle", as we know, is the grocery store location, where the natural items can be found, while the "inner" aisles generally contain the processed, packaged foods.]
Outer Aisle offers a line of pizza crust, rice, bread & pasta which are not only gluten-free (& nut-free) but also made entirely with vegetables (the crust & bread contain just a few other simple ingredients). That's right … veggie pizza, bread and rice made with cauliflower and pasta made from zucchini, both nutrient-rich vegetables. The products do not contain added sugar, artificial ingredients or preservatives and are low in carbohydrates, fat and calories. I was beside myself with excitement to try the samples I was sent.
First, the Pizza Crust (made with 75% cauliflower, low-fat cheeses, Italian herbs and a few other GF ingredients … a complete list of ingredients can be found on website)
I visited the OAG website and discovered a recipe for the pizza topping. As suggested, I added olive oil, goat cheese & spinach, but tweaked the recipe a bit and added cranberries, ham and a sprinkle of Rosemary. Popped the single serving round into the oven and baked at 400 degrees for a brief 5 minutes. I don't think I can come up with enough complimentary adjectives to describe the result, so I'll mention the first that came to mind – OUTSTANDING! Indeed, the combo of melted toppings was delicious, but it was the cauliflower base that was so satisfying. I absolutely loved the unique taste and texture of this vegetable crust. The fact that 1 serving size contains 11.5 grams of protein (and is low in carbs and fat) was an added nutritional bonus. I also found no salt was needed. I'm now a devoted fan of this cauliflower crust, and would love to prepare this pizza recipe (& others) for my future dinner guests!
Next, the Veggie Rice (ingredient: cauliflower, yep that's it). I added a little olive oil to the pan, tossed in the rice, some organic peas, a little pepper (no salt), and served it alongside slices of apple & jalapeno chicken sausage. This is the first time I have tried cauliflower rice, and I was pleasantly surprised how much I liked it. It was not starchy (i.e. mushy), and had a slightly crunchy texture. I do believe I now prefer this cauliflower rice to my higher-carb rice, which often leaves me feeling bloated … not to mention I'm trying to cut down on the quantity of rice products I consume (due to arsenic levels).
And the Veggie Bread (made with 75% cauliflower, low-fat cheeses & other GF ingredients). Similar ingredients to the pizza crust and equally as delicious. I sprayed olive oil in a pan, topped the slices with ham and Swiss cheese, then used a spatula to take it out once the cheese melted. Totally Yum. Certainly you could prepare a sandwich without heating the slices, but I enjoyed it warm on what was a cool Autumn day.
Lastly, I prepared the Veggie Pasta (ingredient: zucchini). Emptied the package of zucchini into a pan and sautéed in a little olive oil, added garlic and then cherry tomatoes and topped with shredded Parmesan cheese. Delicious!
In addition to the delicious taste and added nutritional benefits of the Outer Aisle products, what I appreciated most was the convenience. Sure, if we had the time we could all make our own veggie pasta and rice, but I'm a busy mom with two boys and don't always have the time to be shredding zucchini or pulsing cauliflower in a food processor. Although I want my family to eat healthy food, occasionally convenience wins over nutrition. Having the convenience of reaching into the refrigerator and grabbing a bag of shredded zucchini pasta, pulsed cauliflower rice and good-for-you pizza & sandwich bases, will certainly help to keep us on a healthy track. (The products stay fresh in the refrigerator for 3 weeks or more.)
The Outer Aisle products are a great choice for the celiac and non-celiac gluten-sensitive community because they are gluten-free and healthy. But the products can be enjoyed by anyone looking to make healthier food choices … perfect for athletes, health-conscious eaters, diabetics, vegetarians, and those interested in low-carb eating for weight loss. Serve either of these products to your kids, and they will be getting their veggie serving for the day!
If you are wondering where you can sample these delicious products which are presently only available in the Santa Barbara area, here is what you need to consider. Outer Aisle has started a Kickstarter Campaign which runs through October 19th.  Founder Jeanne and her family are hoping to raise $30,000 so they can distribute the products to a wider base of consumers.  So for now, if you would like to sample their products, Outer Aisle asks that you make a contribution to their campaign.  To learn more about the Kickstarter campaign and meet Jeanne, open HERE. 
I hope Outer Aisle reaches its financial goal … I will most definitely be adding the products to my virtual cart once they are available! The company plans to move into a 100% dedicated gluten-free facility.
Businesses thinking about stocking Outer Aisle products can call (805) 682-1990 or visit their website for more info.
Follow OAG's  progress via Facebook & Twitter.
Enjoy OAG's Launch Party Video!
[Disclosure: CeliacCorner was sent product samples and was compensated monetarily for this review (reviews take hours … days to complete!). Please be assured, the opinions are my own, and have not been influenced.]