New Planet Gluten Free Beer – review
A few months ago New Planet sent CeliacCorner a few samples of their gluten-free beer. Though I enjoy a bottle of gluten-free beer occasionally on a hot summer's day, I didn't think I was equipped with enough knowledge about beer to write an informative review, because well, for beginners, I don't know the difference between a hop … and a jump! So when I thought about asking someone to taste test and write a follow up review, Dave immediately came to mind.  Dave, a former neighbor, dabbled in home brewing! Yep, Dave was the perfect guy for the job and following is his Review.
I have to admit, when asked to sample and write a review on gluten free beer, I was a bit skeptical.  As an avid home brewer and beer drinker, I've tasted and enjoyed beer from all over the world, yet I'd never tried one brewed with gluten free ingredients.  Would it look, smell, and, most importantly, taste like beer?  In short, would it be good?
I am pleased to report that the gluten free brews I tried were both flavorful and satisfying, and did indeed taste like beer.  The three brews I sampled had their own distinctive tastes, body, and attributes, and each one delivered a different beer drinking experience.
Best of all, I quickly forgot that I was drinking "gluten-free beer" and instead was able to focus on how they tasted and simply enjoyed drinking them.
Behind the Beer
The beers I sampled are produced by New Planet, a gluten free beer brewer based in Boulder, Colorado.  The company's founder, Pedro Gonzalez, began experimenting with gluten-free beer recipes after being diagnosed with Celiac disease in 2003.  Upon finding a recipe he liked, he launched the company and his first product in 2009.
Dedicated to providing a true gluten-free product, New Planet uses only FDA-approved, gluten-free ingredients.  To prevent contamination, the company's products are brewed in a closed-loop system, which means the beer goes directly from kettle, to fermentation tank, and then to conditioning tank before packaging.
New Planet's three beers are named after, in the company's words, "concepts that help do good things for the planet."  Thus, their line includes: Tread Lightly Ale, a reminder to leave as little impact on the environment as possible; 3R Raspberry Ale, named for the concepts of reduce, reuse, recycle; and Off Grid Pale Ale, a salute to alternative and renewable energies.
Off Grid Pale Ale
My favorite of the three beers is the Off Grid Pale Ale.  Reddish amber in color, the brew is made from sorghum, brown rice extract, molasses, tapioca maltodextrin, caramel color, and yeast.  It also contains three varieties of hops, which likely accounts for its pleasant, hoppy aroma.
Off Grid Pale Ale tastes much like a craft beer—it's not bitter, has ample carbonation, is nicely balanced, and has a smooth finish.  To me, it is reminiscent of Sierra Nevada Pale Ale and I found it to be very drinkable.  I wouldn't describe it as "good for a gluten-free beer."  Instead, it is a flavorful, full-bodied ale that I think any beer drinker might enjoy.
3R Raspberry Ale
3R Raspberry Ale is brewed using sorghum, corn extract, orange peel, hops, and yeast, as well as a natural raspberry puree made from Oregon-grown fruit.  I happen to enjoy fruit-flavored beers and this ale was no exception.  It has plenty of raspberry flavor, which nicely matches the beer's light reddish tint.
I did find that the ale itself seemed a bit too light-bodied for my taste, particularly with the rather strong fruity and alcohol aromas, but overall it is very refreshing and flavorful.  It provides a delicate raspberry flavor, which likely helped make it a favorite at the 2011 Los Angeles International Commercial Beer Competition, where it won the gold award in the gluten-free category.
Tread Lightly Ale
Made from sorghum, corn extract, orange peel, hops, and yeast, Tread Lightly Ale is a very light beer in both color and body.  It provides ample carbonation but not much of a head.  At just 120 calories per 12 oz. serving, this is truly a light beer.
After pouring it in a mug, Tread Lightly Ale gives off a nice hoppy aroma, but an aroma of alcohol was also noticeable.  I found this one to be a bit too thin in body and flavor; in this reviewer's opinion, it might benefit from a slightly lower sugar content.  But then, I must admit that I am not really a fan of light beers.
Overall, Tread Lightly Ale is both refreshing and thirst quenching and does provide a nice option for anyone looking for both a light beer and a gluten-free beer.
Coming to Stores Near You
New Planet's products are widely available in Colorado, and they are being shipped to more and more locales across the U.S.
For a list of the 25 states that now carry New Planet Beer, check the company's web site at www.newplanetbeer.com. New Planet Ales also can be purchased online at www.brewforia.com.  For more information, contact New Planet Beer Company, 3980 Broadway, Suite 103-PMB 116, Boulder, CO 80304, (303) 499-4978.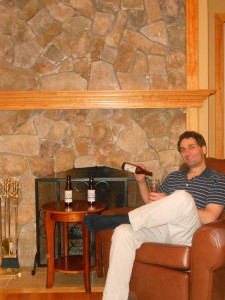 Dave Bedrosian is a full-time
Director of Software Development for a Boston-area
financial services firm and a part-time beer enthusiast.
He has been home brewing for nearly 20 years and, in his spare time, he enjoys sampling a wide variety of custom-crafted beers
from microbreweries around the world.
He holds a degree in software engineering
from MIT as well as three U.S. patents
.
Thanks Dave
!