Moroccan Lentil Vegetable Stew
by Hallie Klecker, Guest Food Blogger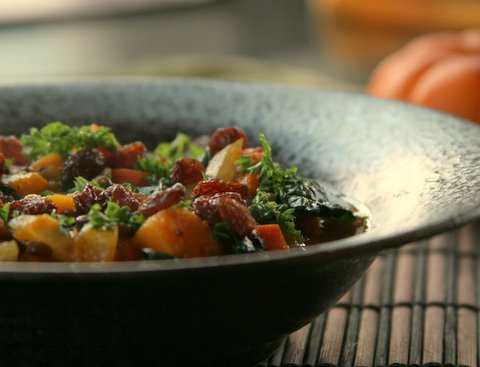 Ingredients:
2 tbs. olive oil
1 tsp. brown mustard seeds
3 cups peeled, seeded, and cubed butternut squash
½ medium yellow onion, chopped
2 carrots, peeled and chopped
4 garlic cloves, finely chopped
1 tbs. tomato paste
2 tsp. ground cumin
1 tsp. sweet curry powder
½ tsp. ground coriander
3 cups good quality vegetable broth
4 cups chopped kale (thick stems discarded)
1 ½ cups cooked brown lentils (see note below)
Sea salt and black pepper, to taste
For garnish:
Chopped fresh parsley
Raisins
Heat olive oil in a large pot or Dutch oven over medium heat. Add mustard seeds, squash, onion, and carrots. Cook, stirring occasionally, until onion is tender—5-6 minutes. Add garlic, tomato paste, cumin, curry powder, and coriander. Stir until spices are fragrant, about 1 minute. Add vegetable broth and bring stew to a boil. Reduce heat to low, cover, and simmer until squash cubes are tender—10-12 minutes.
Stir in the kale, lentils, and salt and pepper. Garnish bowls of stew with chopped parsley and a few raisins.
How to cook brown lentils: bring 1 cup brown lentils to boil with several cups of water in a medium pot. Reduce heat to low and simmer until lentils are just tender to bite but not falling apart, 15-20 minutes. Drain well and refrigerate until ready to use. (One cup of dry brown lentils will yield more cooked lentils than needed in this recipe. Save the leftovers for another use.)
Serves 4
Hallie Klecker authors the gluten-free food blog Daily Bites (http://www.dailybitesblog.com/),
where she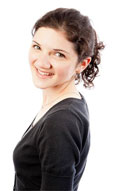 shares her enthusiasm for cooking with whole, natural, unrefined foods. Hallie is also the founder of The Pure Kitchen, a gluten- and dairy-free cookbook that emphasizes cooking with whole, natural foods. After experiencing health issues for several years, Hallie eliminated gluten and dairy from her diet in 2008 and, as a result, has never felt better.
Visit Hallie's blog for her complete bio and more delish recipes!